New York Protests Vent Anger Over Police Killings
@AFP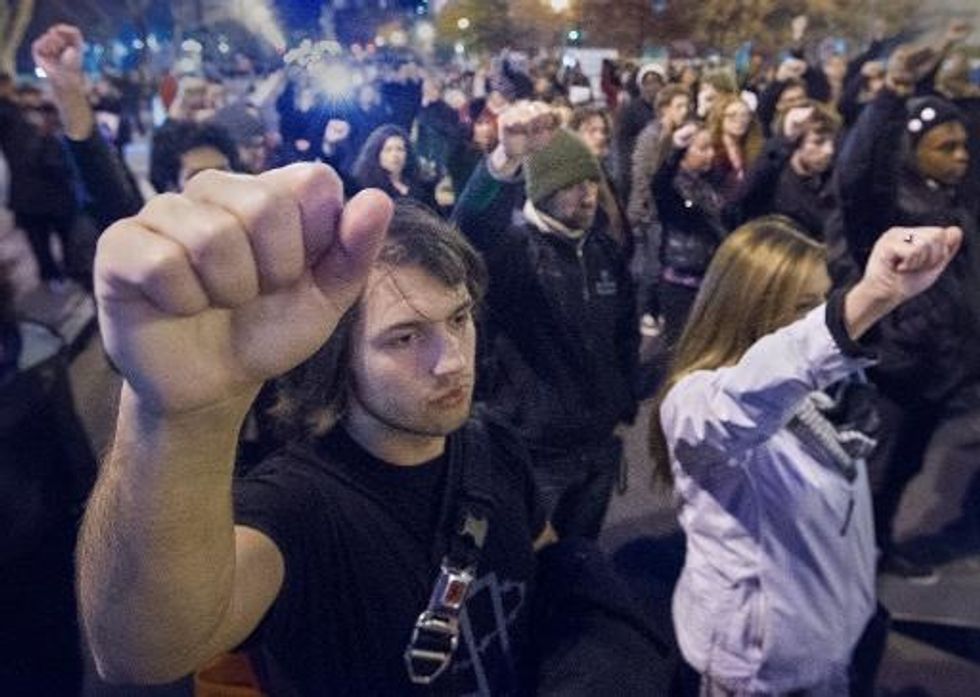 New York (AFP) — Thousands of protesters clogged streets in New York and other major U.S. cities for a second straight night to condemn police killings of young black suspects.
The largely peaceful demonstrations came as details emerged of another racially tinged death.
America's largest city of 8.4 million again saw bursts of outrage after a grand jury on Wednesday decided not to indict a white officer for the death by chokehold of an unarmed black father-of-six.
Demonstrators blocked roads, tunnels and bridges, with many of them shouting "I can't breathe" — the words that heavy-set asthma sufferer Eric Garner, 43, gasped repeatedly as police wrestled and held him to the ground during his arrest in July for selling un-taxed cigarettes.
Video of the arrest has been aired repeatedly on TV. Garner, a father of six, died of what was called a heart attack.
Dozens of people were arrested in Thursday's rallies, the New York Times reported, quoting police.
Demonstrations were also held in Chicago, Boston, Philadelphia, Baltimore and Washington DC, where they snarled traffic near the White House as President Barack Obama lit the national Christmas tree.
As helicopters hovered above, thousands of activists massed in New York's Foley Square, near the city police headquarters shouting "Shut it down" and carrying placards saying "Black Lives Matter" and "Racism Kills."
"We cannot tolerate police impunity. The government has to do something. They have a video showing what happened," said a 40-year-old demonstrator who gave his name only as Jonathan.
Police sealed off the Holland Tunnel, the key road link into New Jersey as U.S. media reported that thousands streamed up the west side of Manhattan, clogging streets in downtown Manhattan and shutting traffic on the Manhattan Bridge heading to Brooklyn.
Another group marched across the Brooklyn Bridge, with a black banner that said "this stops today" and ten black coffins inscribed with names of people killed by police in different city boroughs.
Hundreds then continued the march through Brooklyn, followed by police but an AFP reporter saw no incidents of unrest.
National controversy over Garner's death and a series of other incidents were fanned further Thursday by a damning U.S. federal investigation which concluded that police in Cleveland routinely employ "excessive force."
In Arizona meanwhile, police said a white officer shot dead a 34-year-old black man during a confrontation outside a convenience store.
Phoenix police said the officer involved shot dead Rumain Brisbon after mistakenly believing he was reaching for a gun inside his jacket. In fact he was unarmed.
The killing is the latest of several cases since the death of Garner which have triggered a national debate about how minorities are treated by police and the American criminal justice system.
Police shot dead a 12-year-old boy in Cleveland last month while another grand jury last week decided not to prosecute a white officer in Ferguson, Missouri who killed unarmed black teen Michael Brown in August.
Protests in New York have been overwhelmingly peaceful but police arrested 83 people following Wednesday's decision not to press charges in Garner's death.
At the Manhattan ferry terminal to Staten Island, the New York borough where Garner died, protesters briefly tried to break apart metal barriers erected by police.
"Here you can beg for your life but the police will not care," said protester Margarita Rosario, whose 18-year-old son Anthony and nephew were killed by New York police in 1995.
"Nothing will change here until people will react like in Ferguson," said Rosario, who lives in the Bronx.
The federal investigation into policing in Cleveland began 18 months ago and was not linked specifically to the killing on November 22 of black 12-year-old Tamir Rice in a city playground by police.
Officers responded to a report that a youth was brandishing a gun, but Rice was later found to be carrying a toy, and a video of the incident showed police opening fire within seconds of their arrival.
"We have determined that there is reasonable cause to believe that the Cleveland Division of Police engages in a pattern or practice of using excessive force," U.S. Attorney General Eric Holder said.
He blamed this on "systemic deficiencies, including insufficient accountability, inadequate training and equipment, ineffective policies and inadequate engagement with the community."
Holder has said federal civil rights investigations were being held both the death of Brown in Ferguson and Garner in New York.
"In recent days, millions of people throughout the nation have come together -– bound by grief and anguish – in response to the tragic deaths of Michael Brown… and Eric Garner," Holder said.
"And as President Obama and I have indicated, the time has come to do even more."
Obama, America's first black president, briefly addressed the inherent mistrust many black Americans have of police.
"We recognize this is an American problem and not just a black problem or a brown problem," Obama said.
Photo: Protesters march around the perimeter of the White House in Washington, DC, during the annual lighting of the Christmas Tree ceremony on December 4, 2014 to protest the death of an unarmed black man by a New York police officer (AFP/Paul J. Richards)