Newt Gingrich Stands By Akin At Missouri Fundraiser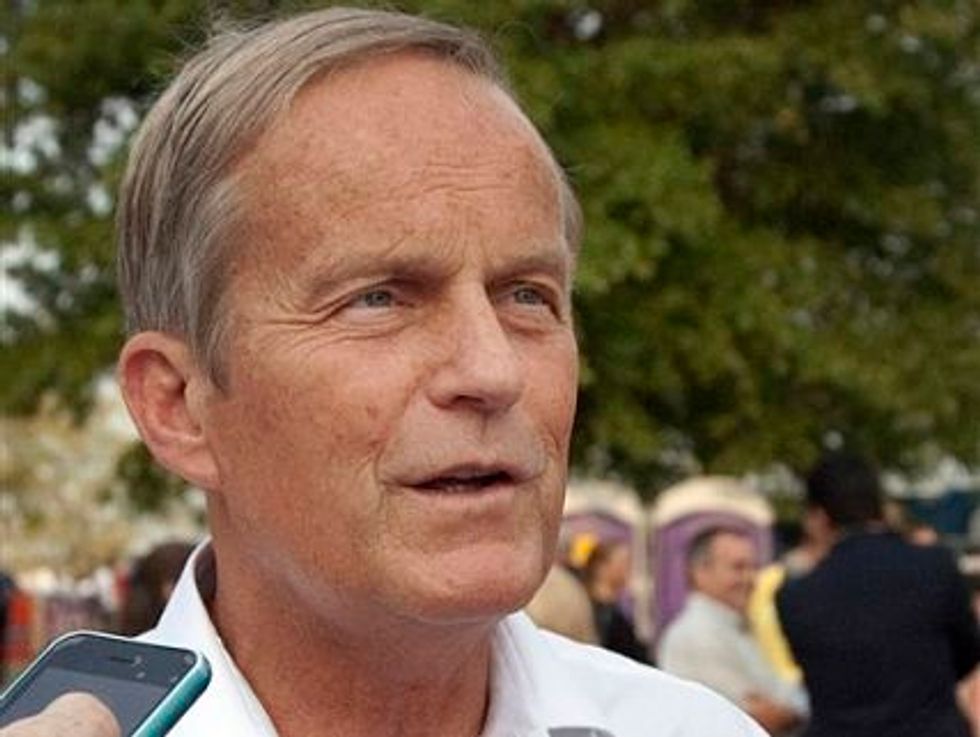 Appearing today at a fundraiser in Kirkwood, Missouri for Senate candidate Todd Akin, former Republican presidential candidate Newt Gingrich offered the support and encouragement that few others in his party have dared give.
Abandoned by the GOP after his infamous "legitimate rape" comments, and crucified by the liberal and conservative media alike, Akin vowed to remain in the Senate race for the "long haul" and emerge victorious.
After sharing his toxic views on women's health, Akin's conservative donors and supporters pulled out in droves, denouncing the candidate's statements. This despite the fact that in 2011 Akin had co-authored a bill with Paul Ryan to narrow the definition of rape to "forcible rape," in order to prevent the use of federal Medicaid funds on abortions.
During the fundraiser, Newt Gingrich expressed confidence in Akin's chances. "This is a winnable race," Gingrich said. "I don't see how any national Republicans…  have a choice after tomorrow."
Gingrich was referring to the September 25 deadline for Akin to withdraw from the race using a court order. Resisting the onslaught of Republicans who urged him to drop out of the race, Akin allowed an August 22 deadline to pass. After tomorrow's deadline, under Missouri state law, Akin's name will remain on the ballot no matter what. However, nothing suggests that Akin will pull out of the race before then.
The race in Missouri is one of the critical linchpins of the GOP's bid to regain the Senate majority. In the lead before his monumental gaffe, Akin now trails his Democratic opponent, incumbent Claire McCaskill, by 6 points, a Rasmussen poll shows. During the Kirkwood fundraiser, Gingrich stressed that this election was "a key to winning control of the Senate."
Rick Tyler, a former Gingrich aide now attached to Akin's Senate bid, addressed the issue of getting the conservative money machine back in order. "We are tilling that hard soil now — that is, reaching out to people who could potentially give significant amounts of dollars," Tyler said.
With the Senate Conservatives Fund — a group that has raised more than $11 million for other Republican candidates — now considering getting involved, Akin might just be on his way to restarting his campaign.
Photo credit: AP/Orlin Wagner, File