Nigeria Gas Depot Blast Was Suicide Bombing, Security Analysts Say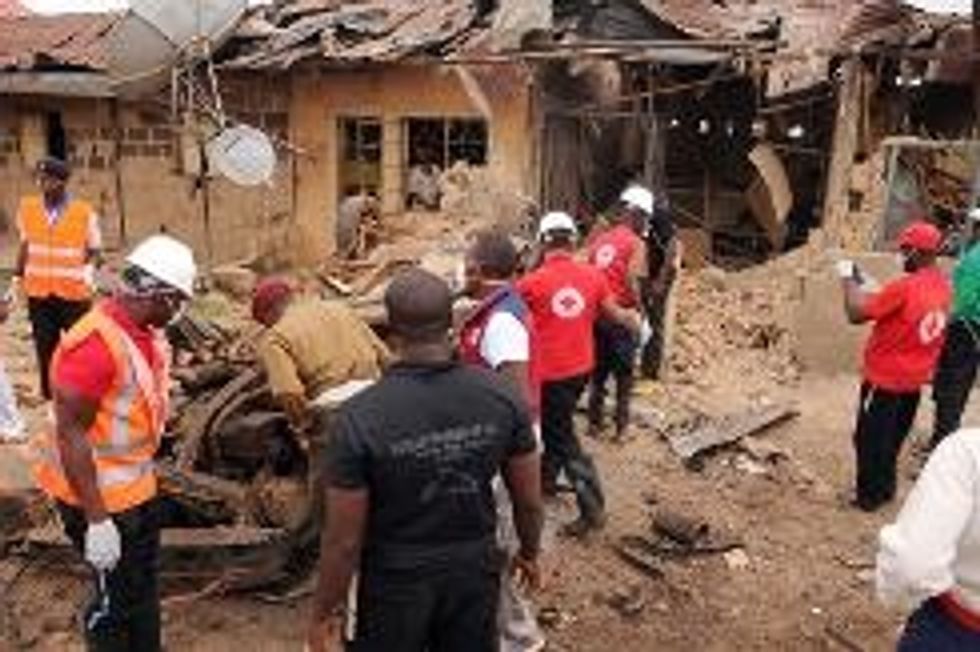 By Robyn Dixon, Los Angeles Times
JOHANNESBURG — Nigeria's nightmare scenario has been this: Islamist militias waging terror in the country's northeast launch attacks in distant Lagos, a chaotic megacity of about 20 million in the southeast and the country's economic engine.
Two weeks ago, Islamic extremists from Boko Haram, or an offshoot group, did attack Lagos, according to security analysts who believe the government and security forces hid the truth.
A female suicide bomber parked her car next to a gasoline tanker in Lagos' Apapa district beside a fuel depot and blew herself up June 25, said security analysts who viewed photographs of the aftermath. Moments earlier, an improvised bomb was thrown over a nearby fence, the analysts said.
The Lagos bombings, which reportedly killed several people, were coordinated to coincide with a shopping mall bombing the same day in Abuja, the capital, that killed 21 people, they said.
Authorities said the Lagos blast, which did not ignite the tanker, was a gas cylinder accident.
Analysts who believe a bomber was to blame said that if the woman had managed to blow up the tanker and trigger a massive blast in an adjacent fuel depot, the civilian casualties and the effect on Nigeria's fuel supply chain and economy would have been devastating.
Such violence also would have affected the political fortunes of President Goodluck Jonathan, who faces elections in February and whose political support base is in the south, a region hitherto insulated from the chaos and mayhem of the north.
An attack in Lagos indicates that the reach of Boko Haram and related groups, and their ability to inflict significant economic damage, is greater than feared. Analysts said Nigerian authorities covered up the cause of the blast because news of twin attacks on Lagos and Abuja would have embarrassed the government, which is struggling to overcome perceptions of incompetence and corruption in its failure to defeat the insurgency.
Boko Haram, a fragmented organization fighting to establish an Islamic state, consists of different factions and cells operating independently. The leadership appears to give broad directions to militant allies and sympathizers, said Thomas Hansen, Africa specialist with Control Risks, a security and risk-analysis firm.
Many of the country's fuel depots are in Apapa on the road to the port of Lagos. Immediately after the blast, the military descended on the scene, set up blockades and shut down the flow of information, according to security analyst Yan St-Pierre of Berlin-based Modern Security Consulting Group.
"At first they didn't even allow firefighters in," St-Pierre said in a phone interview.
Graphic photographs depicting the mangled remains of the suicide bomber left no doubt it was a terrorist attack, he said.
Bob Seddon, former head of bomb disposal in the British army, told the news agency Agence France-Presse that photographs of the shell of the badly charred car apparently used by the bomber ruled out a gas cylinder explosion. Seddon estimated that 55 to 110 pounds of explosives were used.
Analysts said four people were reportedly killed in the Lagos blast. But Samuel George, a security guard who said he was hit by shrapnel when the car exploded, told AFP that many people died.
Another worker also told AFP the explosions were bombings, not an accident.
Government spokesman Mike Omeri told AFP that law enforcement officials would look at all angles and possibilities in the blast.
St-Pierre described the significance of a violent attack in Lagos as "huge. It's really gigantic."
"What we have been able to monitor is that Boko Haram is very subtly and intelligently and strategically going down south. They're doing small attacks in the eastern part of the country. They're national park hopping, gaining forward bases," he said.
"The situation in Lagos was very frightening," St-Pierre said. "This was a tank farm. This was like trying to put a cigarette into a petrol station.
"Had it worked, it would have been dramatic. It shows how far Boko Haram have come."
St-Pierre said Boko Haram's likely ultimate goal was Port Harcourt in the Niger Delta, hub of the crucial oil industry.
"Lagos is important because it's a big city," he said. "It's where the rich and the elite live. But Port Harcourt goes to the heart of the Nigerian economic success story, and that's what they're gunning for.
"They have really accelerated. They're a lot closer to achieving their goals than we would have expected," he said.
AFP Photo/File
Interested in world news? Sign up for our daily email newsletter!