Obama Honors Senator Frank Lautenberg: 'He Improved The Lives Of Countless Americans'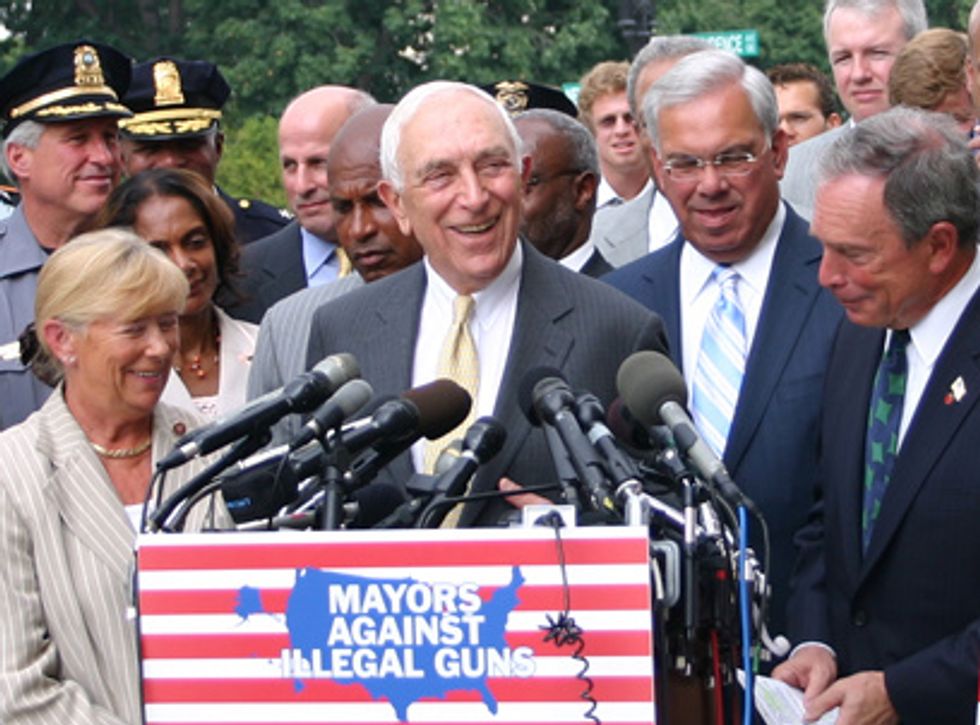 Senator Frank Lautenberg (D-NJ) — the last veteran of World War II still serving in the U.S. Senate — died Monday of complications caused by viral pneumonia, after more than three decades of accomplishments in the upper chamber of Congress.
A successful and influential New Jersey businessman, Lautenberg was elected to the Senate five times, the first at age 58. He championed public transportation and took on the tobacco industry with landmark legislation that banned smoking on all commercial air travel.
"With this legislation, non-smokers, including children and infants, will be free from secondhand smoke," Lautenberg said when his bill passed in 1989. "Working flight attendants will avoid a hazard that has jeopardized their health and their jobs."
"He improved the lives of countless Americans with his commitment to our nation's health and safety, from improving our public transportation to protecting citizens from gun violence to ensuring that members of our military and their families get the care they deserve," President Barack Obama said in a statement.
Lautenberg was behind the law that established 21 as the national drinking age by threatening states that refused to comply with a cut of 10 percent in federal highway funds. His "Toxic Right to Know" legislation forced disclosure of pollutants into communities. A beneficiary of the GI Bill, he helped pass the 21st-Century GI Bill for veterans of the Afghanistan and Iraq Wars.
The 1996 "Lautenberg Amendment" to the Gun Control Act of 1968 made it illegal for those convicted of domestic violence or under a restraining order to own, transport or possess firearms. It also made it a crime to sell firearms to those individuals.
Lautenberg retired from the Senate in 2000, but returned in 2002 for what he called his "second tour of duty." The senator had been sick and absent from Capitol Hill for most of the last year, and the chamber erupted in applause when he returned earlier this year to vote for stricter gun laws.
He announced that he would not seek another term, but only after Newark mayor Cory Booker revealed that he would pursue Lautenberg's seat.
New Jersey governor Chris Christie (R-NJ) can either name a replacement to finish out the rest of the senator's term or call a special election in November. Most expect the governor to appoint a Republican who will narrow the Democrats' slim majority in the Senate.
"We had some good fights over our time — battles on philosophy and the role of government," Governor Christie said Monday. "I think the best way to describe Frank Lautenberg and the way he would probably want to be described to all of you today is as a fighter. Senator Lautenberg fought for the things he believed in, and sometimes he just fought because he liked to."