No Accountability For Takedown Of James Blake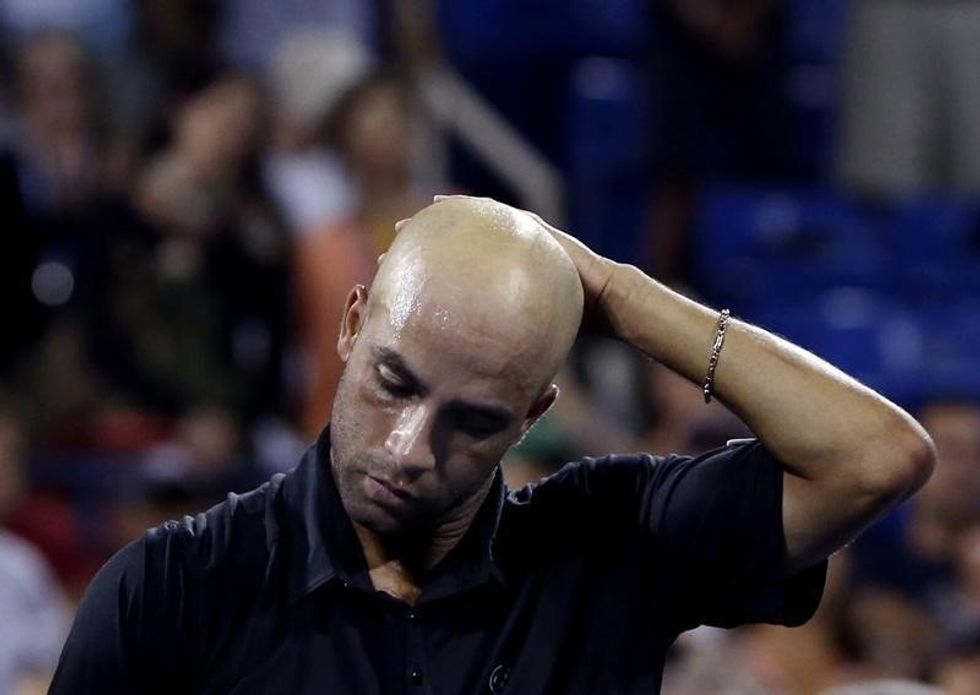 He was not a terrorist with a dirty bomb in his suitcase.
He was not a stalker with a Glock in his fist.
He was not even a mugger with a switchblade in his pocket.
James Blake was not, in other words, an imminent danger of the sort that might have justified a police officer in tackling him to the ground last week, as much of the world has now seen in a surveillance video. All Blake was — more accurately, all the police believed him to be — was a guy who had committed credit card fraud.
And he wasn't even that. Rather, Blake is a retired tennis star who was waiting outside a Manhattan hotel for a car that was to take him to the U.S. Open when he was grabbed and thrown to the pavement by James Frascatore, an undercover NYPD cop. This was for — it bears repeating — credit card fraud. Working from a tip and from a photograph, Frascatore attacked the wrong man. Blake says that during the assault, neither Frascatore nor his colleagues ever identified themselves as police.
Sadly, Blake's account meshes seamlessly with other recent tales of thuggish policing of the type you never saw from Officer Pete Malloy on Adam-12. In his book, The Divide, Matt Taibbi tells the story of a musician named Patrick who was assaulted by three cops at a subway station after they apparently mistook a roll-your-own cigarette for a marijuana joint. Patrick thought he was being robbed. Then he thought he was being kidnapped. "Call the cops!" he cried out to passersby. It did not occur to him that the people slamming his head against concrete were the cops.
Not to put too fine a point on it, but something's very wrong when you can't tell the cops from the robbers.
You should not be shocked to hear that Frascatore's colleagues apparently attempted to cover his backside; they failed to file required paperwork reporting the arrest. You should not be stunned to learn that his union stood up for him; union chief Patrick Lynch praised him for a "professional" takedown and criticized as "premature and unwarranted" Frascatore's restriction to modified duty. Finally, you should not be surprised to find out Frascatore has a history of brutality complaints and is reported to be a defendant in two federal cases alleging excessive force.
You should not be shocked, stunned or surprised because, let's face it: In America these days, a bad cop is more likely to win the lottery than be held accountable for his misbehavior. While we are apportioning blame for that sorry state of affairs, let's not forget the politicians and members of the punditocracy who pretend that questioning police is equivalent to hating them or that the person who is critical of law enforcement is the moral equivalent of the psycho who guns a cop down for fun.
"Power," Britain's Lord Acton famously wrote, "tends to corrupt and absolute power corrupts absolutely." What we accord police in the absence of accountability comes pretty close to absolute power. From McKinney, Texas, where a police officer pulled a gun and threw a 15-year-old in a bikini to the ground, to Ferguson, Missouri, where police used the citizenry as a kind of municipal ATM, to New York City, where James Blake was tackled like an ISIS courier with a briefcase full of anthrax, we are seeing what that looks like and it isn't pretty.
Blake has called for Frascatore to be fired, and that would be an excellent place to start. But we also need to talk about reform: better training, greater oversight, and strategies to interdict the cop code of silence — the "stop snitching" mentality — that makes too many good cops unwitting conspirators with too many bad ones.
At their best, police demand that crooks answer for what they do. It's high time we started demanding the same from them.
(Leonard Pitts is a columnist for The Miami Herald, 1 Herald Plaza, Miami, Fla., 33132. Readers may contact him via email at lpitts@miamiherald.com.) 
James Blake of the U.S. reacts after losing to Ivo Karlovic of Croatia at the U.S. Open tennis championships in New York in this August 28, 2013 file photo. REUTERS/Shannon Stapleton