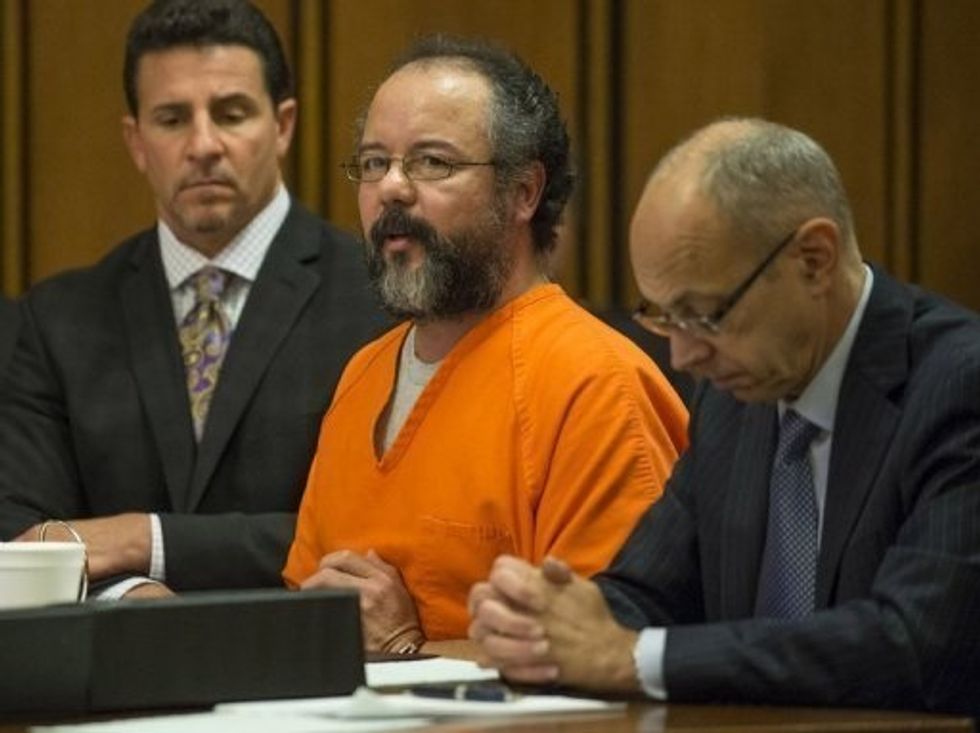 Ten hours after Ohio prison staff found Ariel Castro dead in his cell, Pam Zander Turos was standing in her kitchen in a Cleveland suburb. She was spreading cream cheese on bagels for her two young sons, when the TV came to life in the living room.
Instead of the usual cartoon sounds, she heard a Cleveland newscaster's voice. She dropped the knife and raced to shut off the TV.
Too late.
"Mom," her 10-year-old son said, "he killed himself last night."
"Do you know who he is?" she asked.
"I know the kids at school said he kept those three girls in his home for 10 years," he said. "And that he tortured them."
What he didn't say but what she feared he was thinking: Just like that boy who killed himself last week.
Only days earlier, the Turos family had talked about 15-year-old Bart Palosz, who killed himself after relentless bullying from classmates at Greenwich High School in Connecticut. Turos is a social worker, and she tried to steer that family discussion to the issues of bullying and suicide prevention.
"There is nothing you could do to make me think your life has no value," she told her son.
On Wednesday morning, there was no time for such a thoughtful conversation about Castro's death. Her boys had to leave for school in 20 minutes, but her elder son was full of questions.
"They checked on him every 30 minutes," he said. "And in that short time, he killed himself?"
"We'll talk about this when you get home," she told him.
"I could not find my words," she told me later in the morning. "Everything those children hear, they internalize. I just wonder what their minds are doing with this information."
It's a question we all should be asking ourselves, particularly if we're willing to cheer the suicide of Ariel Castro. Celebrations erupted on social media and in the comments threads of news sites. As if Castro's death rids us of what created him. As if the circumstances that made it possible for him to hold those three young women captive in the same neighborhood, same house, for more than a decade, have magically evaporated.
We don't want "closure." We want amnesia.
We want to pretend that Ariel Castro never happened, that his crimes were bizarre enough to make him an aberration, that he was unpreventable.
One of his lawyers, Jaye Schlachet, requested twice that Castro undergo a privately funded examination by an independent forensic psychologist after he was sentenced to life in prison. Twice, his request was denied. Now Castro's dead.
"Was it suicide? I'm not certain of anything," Schlachet said. "It's 8 a.m., and I still haven't heard from (prison officials). I heard about it when AP called me at 1 in the morning. They were able to find me."
In recent weeks, Schlachet and his co-counsel, Craig Weintraub, got so many threats that Cuyahoga County Prosecutor Tim McGinty took it upon himself to alert the police chiefs in their cities of residence. I join Schlachet in wondering where the wrath is for a prison system that has allowed two prisoners — on August 4, it was death row inmate Billy Slagle — to kill themselves in a month's time. Keep in mind that Castro was in "protective custody."
"This goes beyond Ariel Castro," he said. "The prison system is fundamentally dysfunctional. What kind of system would permit someone to harm himself? This should not have happened. What kind of society do we want to be?"
So far, my calls and emails to Ohio governor John Kasich and Ohio Department of Rehabilitation and Correction spokeswoman JoEllen Smith have produced few answers. Smith did confirm mid-day Wednesday that Castro hanged himself with a bed sheet.
The ordeal of Gina DeJesus, Michelle Knight and Amanda Berry – and Berry's young daughter, conceived in a rape – was a short-lived national obsession after they escaped Castro's home. Here in Northeast Ohio, it was — it is –something else: personal, as familiar as it is unbelievable.
In 2009, 11 women's bodies were discovered at the Cleveland home of Anthony Sowell, who was sentenced to death. Three years later, a 17-year-old student opened fire at Chardon High School, killing three kids and injuring others.
Each time, the tragedy prompts conversations with children who live a few miles — or just a few blocks — away. Each time, parents struggle to explain the unthinkable.
Parents such as Pam Zander Turos, who will try to explain to her sensitive child that suicide is always a tragic ending to a life, no matter how many grownups cheer.
Connie Schultz is a Pulitzer Prize-winning columnist and an essayist for Parade magazine. She is the author of two books, including …and His Lovely Wife, which chronicled the successful race of her husband, Sherrod Brown, for the U.S. Senate. To find out more about Connie Schultz (con.schultz@yahoo.com) and read her past columns, please visit the Creators Syndicate Web page at www.creators.com.