No Loonies Need Apply For GOP Veep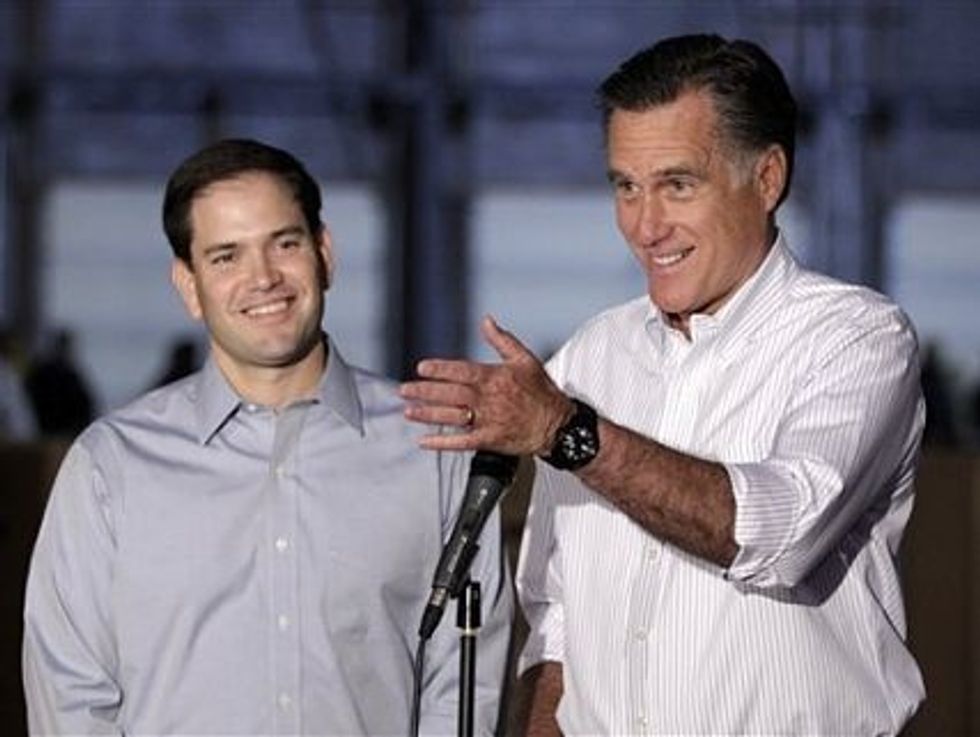 Sometime before the Republican National Convention in Tampa next month, Mitt Romney will pick a running mate.
Florida Sen. Marco Rubio repeatedly has said he doesn't want the job. Then he wrote a book about himself and made sure it was published this summer, before Romney decided.
It's possible that Rubio is 100 percent sincere about not joining the GOP ticket. Perhaps the only point of rushing his autobiography into print was to let America know what a fabulous vice president he would have made, had he been interested in the position. It's also possible that he'll jump at the offer if it comes his way.
For Romney, the first step in choosing a running mate is crossing the obvious losers off the list without offending their constituencies, however marginal and loony they might be. The first to go will be his opponents from the GOP primaries.
Newt Gingrich, who has written many more books than Rubio, won't be on the ticket because nobody else in the party wants to colonize the moon.
Michele Bachmann, whose own book bombed, won't be on the ticket because Romney is looking for someone who can pass as a sane person.
Herman Cain won't be on the ticket because of those sex allegations and, secondarily, an embarrassingly foggy grasp of world politics. During the primaries Cain spent $36,000 in campaign funds to buy copies of his own autobiography, prematurely titled "This is Herman Cain! My Journey to the White House."
Rick Santorum won't be on the ticket because he scares away women voters, moderate male voters and most of his home state of Pennsylvania. He published a book seven years ago, but says he doesn't remember writing parts of it.
Ron Paul, another prolific author, has blamed callous ghostwriters for passages published under his name that criticized AIDS patients and victims of workplace harassment. Paul won't be on the Republican ticket, either.
Jon Huntsman Jr., an extremely bright fellow, won't be on the ticket because Romney's advisers believe that running two Mormons would be a tough sell. (Huntsman doesn't have an autobiography, though his billionaire father once published a book about being a winner.)
Texas Gov. Rick Perry won't be on the GOP ticket partly because of his third-grade debating skills and partly because of his book, called "Fed Up!" In it, Perry forever demolished his chances with senior voters by describing Social Security as an "illegal Ponzi scheme."
For Republicans, the painful lessons of the 2008 campaign should be clear. Romney's not a dummy, but neither was John McCain and look what happened.
The decision to pick Sarah Palin was so sudden and unexpected that she didn't even have time to write an official autobiography. In retrospect, even an old high-school essay would have been illuminating.
Unlike McCain, Romney should actually meet his future vice-presidential nominee before announcing his choice. Have a cup of coffee, bat around a few ideas.
Maybe a geography quiz. Nothing too tricky — name the seven continents, whatever.
Prevailing cable punditry says Romney is going to pick someone "safe," meaning dull, white and male. The candidate will have more experience holding public office than Palin did, and he'll likely hail from an important swing state where moose don't outnumber independent voters.
That's why Rubio is still in the VP mix. Florida's electoral votes will be critical, and polls show that the race here between Romney and President Barack Obama is tight.
National journalists began focusing on Rubio last year, and fresh reporting forced him to revise his much-repeated life story, particularly as it related to the timeline of his parents' departure from Cuba (they left before, not after, Fidel Castro seized power).
Some say Rubio's more tolerant stance on immigration could hurt Romney's stock with the right wing. A counter-argument is that Rubio's presence in the race could attract Hispanic voters beyond Florida, which the GOP desperately needs.
Either way, Rubio's chances to make the ticket probably weren't damaged by his autobiography. He and his ghostwriter (and they all use ghostwriters) were careful to make sure nothing too wacky or incendiary appeared in the pages.
Even the title, "An American Son," was crafted free of exclamation points to sound like a personal journey, not a political manifesto. The book has generated virtually no controversy, which should please Team Romney.
Because, after what happened four years ago, the last thing a Republican nominee needs is a running mate who makes waves.
Forget feisty. Forget animated. Forget spontaneous.
All you want is somebody who looks harmlessly vice-presidential, stays on message and says nothing terrifying between now and November.
(Carl Hiaasen is a columnist for the Miami Herald. Readers may write to him at: 1 Herald Plaza, Miami, Fla., 33132.)