There Is No Pardoning Joe Arpaio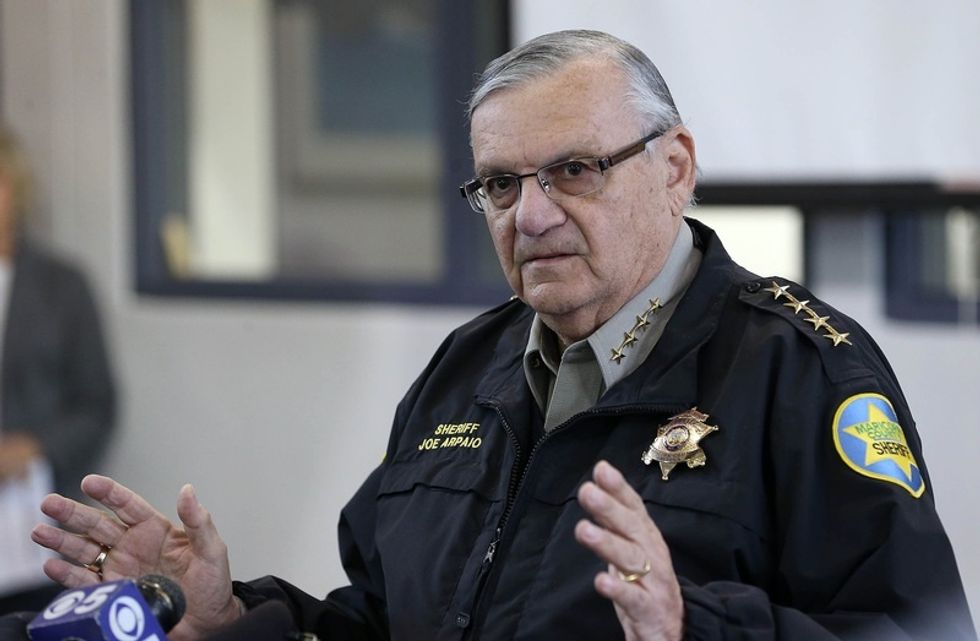 Reprinted with permission from Creators.
Nearly 10 years before Donald Trump pardoned him, Joe Arpaio made clear his racism, in a most public way.
In an appearance on CNN, the Maricopa County, Arizona, sheriff grinned after host Lou Dobbs asked him how he felt about being compared to the Ku Klux Klan.
"Well, you know, they call you KKK," Arpaio said. "They did me. I think it's an honor, right? Means we're doing something."
In this perilous time for our country, I feel the need to keep reminding people that our words reveal us. When President Trump says "some very fine people" marched with the neo-Nazis and white supremacists who inflicted their hate on Charlottesville, Virginia, it's clear which side he's on. When Joe Arpaio says it's "an honor" to be lumped with the KKK, there's no doubt how he feels about the people this hate group targets.
Four years later, he was a whole lot less smug when he was asked about his CNN comments during his civil trial for racial profiling. As The Associated Press reported, Arpaio "walked back" his comments and declared that he had no "use" for the KKK.
That's not condemnation. That's just another way of talking about "some very fine people" to avoid alienating your base.
Last year, after 24 years of inflicting his racism on people of color in Maricopa County, mostly Latinos, voters finally threw Arpaio out. In July, he was convicted of criminal contempt for, while still serving as a public official, knowingly violating a federal judge's order in a racial profiling case.
It's a misdemeanor conviction. At most, he would have faced six months in jail and had to pay a fine.
That was too much punishment to his buddy and fellow "birther" Trump, who called Arpaio an "American patriot" when he tweeted out his pardon.
Phoenix New Times reporter Antonia Noori Farzan managed to focus the national outrage by launching a Twitter thread that put names and faces to this sheriff's many atrocities.
"We've been covering Joe Arpaio for more than 20 years," she tweeted. "Here's a couple of things you should know about him…"
Among the 20 things she listed, all with links to stories:
"He ran a jail that he described as a 'concentration camp.'"
"Prisoners there died at an alarming rate, often without explanation."
"One of his jailers nearly broke the neck of a paraplegic guy who had the temerity to ask for a catheter."
"One time, as a publicity stunt, he marched Latino prisoners into a segregated area with electric fencing."
There's so much more.
For years, Arpaio's department invited visitors to its website to vote for mug shot of the day, meant to mock the photos of Latino detainees.
Also under Arpaio, the department failed to investigate hundreds of sex abuse cases, many of which involved children. As a result, reporter Ray Stern wrote in February 2012, "Rapists and child molesters got away with their crimes."
Arpaio used taxpayer money to send a deputy to Hawaii to look for Barack Obama's birth certificate. This after Obama had already released his long-form birth certificate to the media.
There's only one kind of person who wants you to believe that our first black president wasn't born in America.
One more story. In 2006, Ambrett Spencer was one of 1,578 pregnant women who passed through his jails. She was nine months pregnant when jail officials failed to heed warning signs of internal bleeding. Had they rushed her to the hospital, her 9-pound baby girl, Ambria Renee Spencer, would have lived.
They waited nearly four hours to get her to the delivery room. Her baby died from blood loss.
As the New Times reported, inmates in Arpaio's jails were typically denied the chance to see their babies after birth. Say that out loud, would you, please?
Hospital employees ignored the jail guard and let Spencer see her dead baby before the funeral.
Spencer later described for lawyers, during her deposition, the moment she met her dead baby: "I kept praying that she would just open her eyes, because she looked like she was alive."
No human pardon exists to absolve Joe Arpaio for all of this hate he inflicted on our world.
Connie Schultz is a Pulitzer Prize-winning columnist and professional in residence at Kent State University's school of journalism. She is the author of two books, including "…and His Lovely Wife," which chronicled the successful race of her husband, Sherrod Brown, for the U.S. Senate. To find out more about Connie Schultz (con.schultz@yahoo.com) and read her past columns, please visit the Creators Syndicate webpage at www.creators.com.