No Recess For The American Public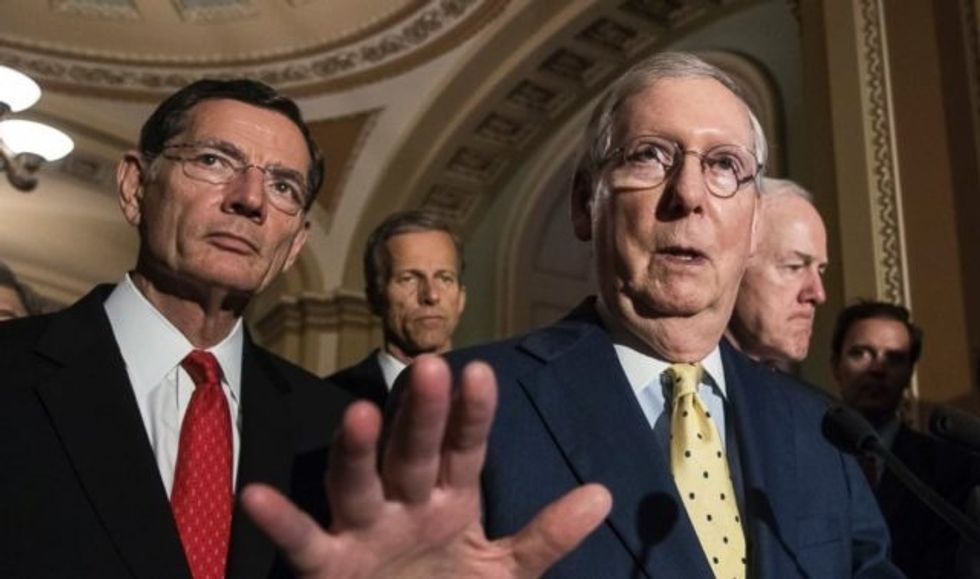 Reprinted with permission from Creators.
On Tuesday, public outrage forced the Republicans to postpone their vote to gut the Affordable Care Act and Medicaid.
Two hours later, I stood with a loved one in an emergency room in small-town Ohio and got an earful from the nurse taking care of him.
The nurse, with more than 20 years in the profession, had spent the workday running nonstop and hadn't heard the news. When I told her, she was relieved — and outraged.
"Thank God," she said. "They have no idea." She pointed out toward the row of other examining rooms. "Those senators? They have no idea what we're dealing with here."
She was talking about the opioid epidemic.
She was also talking about her daughter.
"We're one of the lucky ones," she said. "My daughter was addicted, but she survived — and went to prison." She waved off my sympathy. "No. She's 32 years old, and this was the best thing to happen to her. She's clean now and doing so much better. She told me, 'Mom, I'm so glad I have a roommate who doesn't want to date me or kill me."
Others, she said, are not so fortunate. She sees those addicts every week. Many of them live — thanks to an emergency dose of Narcan, an opioid antidote — but they are often ungrateful for the rescue.
"They're mad that we pull them down from their high," she said, shaking her head. "We can't keep them here. We can't force them into treatment. As soon as they're stabilized, they storm out of here."
Until next time. Many of them return, of course. Not all of them survive.
Without Medicaid insurance, more of them will die.
The Kaiser Family Foundation, a nonprofit organization that focuses on major health care issues in America, offers sobering numbers about our growing opioid epidemic.
A few snapshots:
In 2015, more than 2 million people in America were addicted to prescription opioids, and another 591,000 were addicted to heroin.
Between 2002 and 2015, opioid deaths tripled.
Medicaid covers a range of treatment services for more than 650,000 non-elderly adults with opioid addiction. This is in the states that expanded Medicaid coverage. Of the 26 states with an above-average rate of opioid overdose deaths, eight have not done so.
If you don't remember any other statistic here, please commit the following to memory for the next time someone tries to tell you the opioid epidemic is someone else's problem:
Between 2000 and 2014, opioid-related inpatient stays increased by 64 percent. Opioid-related emergency department visits increased by 99 percent.
That ER statistic — that's the one all of us should be citing: Opioid-related emergency department visits increased by 99 percent.
It is impossible to believe that congressional Republicans don't know this, if for no other reason than the polling that shows a tsunami of public opposition to Donald Trump's flippant notions of health care reform.
It is equally impossible to believe that Republicans don't see through Trump's willful ineptitude.
From Wednesday's Page 1 story in The Washington Post by Philip Rucker, Robert Costa and Ashley Parker:
"In private conversations on Capitol Hill, Trump is often not taken seriously. Some Republican lawmakers consider some of his promises — such as making Mexico pay for a new border wall — fantastical. They are exhausted and at times exasperated by his hopscotching from one subject to the next, chronicled in his pithy and provocative tweets. They are quick to point out how little command he demonstrates of policy. And they have come to regard some of his threats as empty, concluding that crossing the president poses little danger."
Glenn Thrush and Jonathan Martin for The New York Times, after the Republicans postponed the vote:
"When asked by reporters clustered on the blacktop outside the West Wing if Mr. Trump had command of the details of the negotiations, (Senate Majority Leader Mitch) McConnell ignored the question and smiled blandly."
McConnell said there will be no vote to repeal health care until after the Senate holiday recess. We have no idea how many of the Republicans will return to their states and face their constituents over the holiday weekend.
What we do know is that there is no recess for the American public.
I keep thinking of that emergency room nurse's lament: "Those senators? They have no idea."
Let's help them find one.
The U.S. Capitol switchboard's number is 202-224-3121.
Call your senators. Tell them. Every day, tell them what's at stake.
Connie Schultz is a Pulitzer Prize-winning columnist and professional in residence at Kent State University's school of journalism. She is the author of two books, including "…and His Lovely Wife," which chronicled the successful race of her husband, Sherrod Brown, for the U.S. Senate. To find out more about Connie Schultz (con.schultz@yahoo.com) and read her past columns, please visit the Creators Syndicate webpage at www.creators.com.