No, 'Both Sides' Don't Smear Prosecutors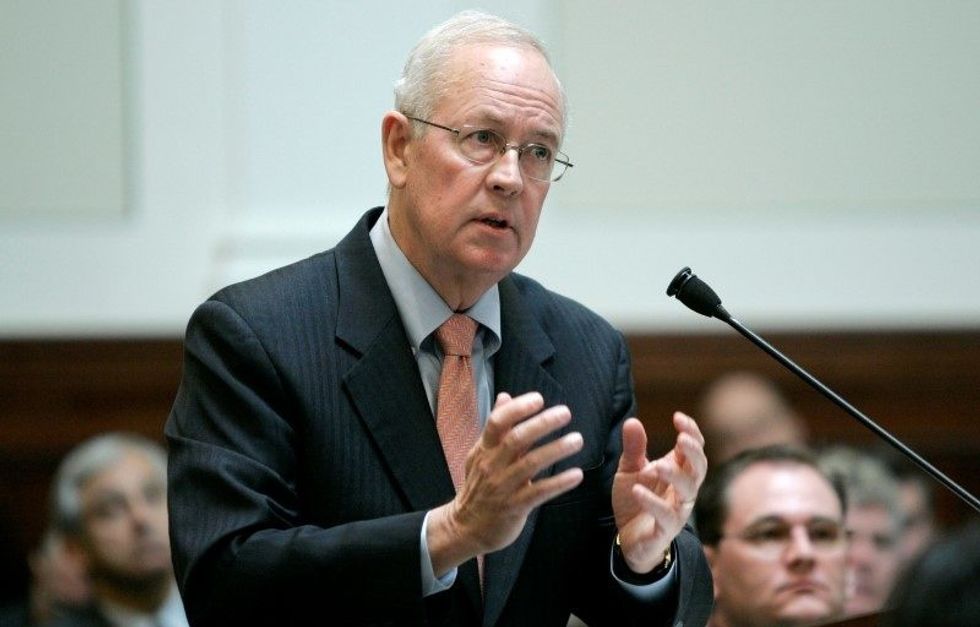 In American political journalism, the most comforting bit of conventional wisdom, the phrase that signals fairness and objectivity regardless of pesky facts, is "both sides."
So while the Trump administration and its chorus in right-wing media defame special counsel Robert Mueller as a partisan plotter, the Washington press corps endlessly reminds us that Democrats once objected to abuses by Kenneth W. Starr, the independent counsel who spent seven years and $50 million in pursuit of President Bill Clinton. See! Both sides have criticized prosecutors, which makes them equally guilty, or innocent, or something.
But that simplistic framework falls apart almost instantly under scrutiny. The Democrats who warned against Starr's partisan prosecution had ample cause, while the Republicans seeking to discredit Mueller have none at all.
When Starr was appointed by Republican judges in the summer of 1994 to investigate Whitewater — a real estate development that had lost the Clintons about $45,000 — the reasons for choosing him were obviously more political than legal. He had replaced Robert Fiske Jr., an experienced Republican prosecutor, whose inclination to wrap up the Whitewater probe quickly without charges had spurred the demands for his dismissal from conservatives who wanted the Clintons' heads. (Seven years and $50 million later, Fiske's initial conclusion about Whitewater was reluctantly ratified by his successors.)
Starr, a former appellate judge, had no prosecutorial experience. But he was an active party stalwart who had served as solicitor general under President George H.W. Bush, raised funds for Republican candidates, and operated within the ambit of the Federalist Society, a powerful organization of right-wing Republican lawyers. Immediately prior to his Whitewater appointment, he had considered running for the U.S. Senate as a Republican in Virginia. Naturally Starr named a full crew of resolutely right-wing Republicans to his team, including deputy counsels Hickman Ewing Jr., and Jackie Bennett, both renowned for political prosecutions as United States attorneys. And Starr's successor Robert Ray was another budding politician, who tried to run for the Republican Senate nomination in New Jersey as soon as he completed his stint as independent counsel.
Yet somehow nobody on the Republican side worried that Starr or Ray was too prejudiced to investigate a Democratic president.
In stark contrast to those prejudiced prosecutors stands Mueller, appointed by Trump's own deputy attorney general to conduct the Russia probe. Although he is at least nominally a Republican, Mueller is a career prosecutor who has never betrayed that professional commitment by serving the interests of either political party. That is why his appointment originally drew lavish praise from Republicans and Democrats alike.
Mueller's only politically inflected decision as special counsel was to rid his office last summer of Peter Strzok, an FBI counterintelligence official, as soon as he learned that Strzok had sent texts in 2016 criticizing Donald Trump. (Strzok had also texted nasty messages about the Clinton campaign, Chelsea Clinton, former Obama attorney general Eric Holder and others, but never mind.) Somehow in the Republican mind, this demonstration of wisdom and restraint taints the special counsel.
What this episode really proves is that Republican politicians and their media echoes dislike any prosecutor, of either party, who threatens to prosecute a Republican president or his aides by doing the job properly. Indeed, their enraged smearing of Mueller is nothing new.
When the late Lawrence Walsh, a lifelong Republican from Oklahoma, served as the Iran-contra independent counsel, he indicted Reagan aides and cabinet members — and was promptly denounced by Congressional Republicans for plotting to overturn the government. Patrick Fitzgerald, a Republican independent counsel and a Bush appointee, was excoriated in equally harsh terms when he indicted a Bush White House aide.
The pattern is plain: Ignore the facts, obscure the truth, defame the honest — and be sure to remind everyone that "both sides" do it, especially if they don't.
To find out more about Joe Conason and read features by other Creators Syndicate writers and cartoonists, visit the Creators Syndicate website at www.creators.com.