Norma McCorvey, Plaintiff In Roe v. Wade Abortion Ruling, Dies At 69
@reuters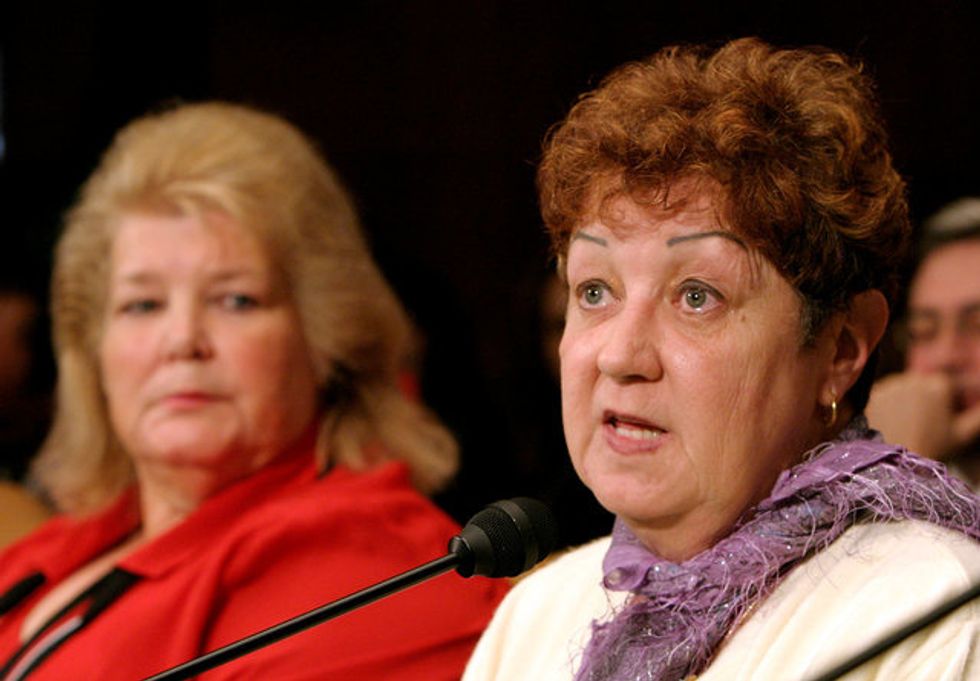 (Reuters) – Norma McCorvey, the anonymous plaintiff known as "Jane Roe" in the U.S. Supreme Court's landmark Roe v. Wade ruling legalizing abortion, died on Saturday at the age of 69, a journalist close to McCorvey said.
McCorvey died on Saturday morning of heart failure at an assisted living home in Katy, Texas, Joshua Prager, a journalist who is writing a book about the ruling, said in an email.
Her lawsuit, filed under the pseudonym, resulted in the court's 1973 decision that established a woman's right to an abortion.
McCorvey lent her real name to supporters of the abortion-rights movement in the 1980s. She did an about-face and later spoke out on behalf of anti-abortion campaigners, however.
In an article titled "The Accidental Activist" published in Vanity Fair magazine in February 2013, Prager wrote that McCorvey had never set out to further a cause when the Roe v. Wade lawsuit was filed in Dallas, Texas, in 1970.
Unwed and poor, she simply wanted an abortion after becoming pregnant for the third time and could not get one in the state.
Prager, who retraced her life through family, friends, and advisers, said McCorvey told her doctor she did not want to bring the pregnancy to term. But she could not afford to travel to any of the six states where abortion was legal at the time: Alaska, California, Hawaii, New York, Oregon, and Washington.
McCorvey never actually had the procedure, Prager said.
Celebrity attorney Gloria Allred, who represented McCorvey when she supported abortion rights, said she was very proud to have been "Jane Roe."
"Even though at the end of her life Norma thought women should be prevented from having an abortion and that abortion should be criminalized, her legacy will be Roe v. Wade, which has provided millions of women the legal right to choose abortion," Allred said in a statement.
The 1973 Supreme Court ruling has for decades been the focus of a divisive political, legal, and moral debate. It established that the U.S. Constitution protects the right of a woman to have an abortion until the point of viability.
The court defined that point as when the fetus "has the capability of meaningful life outside the mother's womb," generally at about 24 weeks into pregnancy. The court also recognized a right to abortion after viability if necessary to protect the woman's life or health.
Efforts to overturn the decision are heating up with the election of Republican Donald Trump as president and a conservative U.S. Congress. Trump has said abortion should be largely banned and has pledged to defund Planned Parenthood, a healthcare provider that draws the ire of many Republicans because it provides abortions, in addition to other services.
If the Supreme Court were to overrule Roe v. Wade, the procedure would remain legal only where state laws allow it.
(Reporting By Frank McGurty and Tom Brown; Editing by David Gregorio and Meredith Mazzilli)
IMAGE: Norma McCorvey, the anonymous plaintiff known as Jane Roe in the Supreme Court's landmark 1973 Roe vs. Wade ruling legalizing abortion in the United States, testifies before the Senate Judiciary Committee along with Sandra Cano of Atlanta, Georgia, the "Doe" in the Doe v. Bolton Supreme Court case, on Capitol Hill in Washington, DC, U.S. on June 23, 2005. REUTERS/Shaun Heasley/File Photo