Not Just Russia: Why Trump's Diplomatic Chaos Is So Dangerous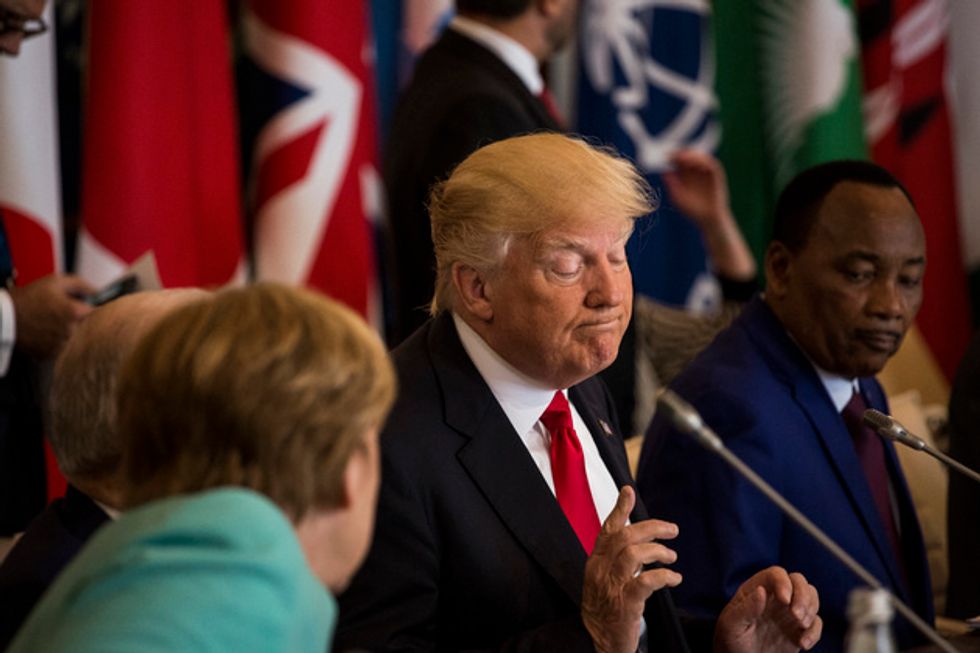 Reprinted with permission from Alternet.

How to make sense of Donald Trump's foreign policy? Is Trump an "America First" Jacksonian nationalist? An isolationist? A neoconservative? A conventional captive of the DC foreign policy establishment? A Russian puppet? An unhinged warmonger?
At any given moment he might appear to be any of these. But none of these labels quite capture Trump's most distinguishing foreign policy characteristic: he's a rube.
Consider what might be the most dramatic international development of Trump's still-young presidency: the crisis in the Persian Gulf that broke out over the past week. Qatar, the tiny Arab kingdom where more than 10,000 U.S. troops are stationed, is suddenly a pariah within the Gulf Cooperation Council (GCC), a six-member regional body dominated by neighboring Saudi Arabia. The Saudis and their allies, all of which the U.S. shares, are accusing Qatar of supporting extremist groups and of being a conduit for Iranian influence. Qatar is currently being blockaded and may run out of food, while regional affiliates of its state-backed TV network, Al Jazeera, are being shut down. (Disclosure: I am a former employee of the now-defunct Al Jazeera America, but have no current ties to that organization or to Qatar).
However this crisis plays out, it is surely not a coincidence that it comes on the heels of Trump's high-profile visit to the Saudi capital of Riyadh, where he posed with a glowing orb alongside the Saudi king and the Egyptian dictator after signing off on a $100 billion arms deal (maybe). Since the blockade began, Trump has voiced support for the Saudis, as have officials in Israel, which was Trump's next stop on his foreign trip. It certainly appears Trump gave the go-ahead, implicitly or explicitly, for a crackdown on Qatar, despite the aforementioned U.S. troop presence there.
One might conclude Trump is a strong supporter of Israel and Saudi Arabia, like many neoconservative policymakers, and earnestly believes that Qatar is the main source of extremism in the Middle East. But as Trump himself accurately pointed out not so long ago, Saudi Arabia is a major offender in this regard too. And even if he did hold this view, the neocon-dominated George W. Bush administration is responsible for building up the U.S. presence in Qatar. For better or worse, they didn't let their distaste for the Qataris get in the way of their grand imperial strategy in the region.
What seems likelier is that Trump is getting played. He enjoyed being feted by the Saudis and the Israelis, believed whatever they told him, and has now signed off on a profoundly destabilizing course of events that undermines basic U.S. interests in the Gulf. On top of that, on Friday Secretary of State Rex Tillerson affirmed the alliance with Qatar and was contradicted by Trump, which is an almost unprecedented level of dysfunction in setting the basic terms of foreign policy. Staffing shortages at the State Department mean that Trump, who knows almost nothing about the nuances of international affairs, is not getting informed perspectives to compensate for his ignorance. Whereas a better-advised and more competent president, regardless of ideological orientation, would want the U.S. to manage a feud between its allies, Trump was happy to take the Saudi side, thereby exacerbating the crisis he helped set off in the first place.
Trump's behavior regarding Qatar also helps account for the Russia scandal slowly eating away at his presidency. Various theories have been put forward for Trump's warm feelings toward Russian President Vladimir Putin, ranging from a deep ideological affinity, to the alleged existence of kompromat that could be used as leverage against him, to his willingness to accommodate energy companies looking to extract billions of dollars in crude oil from the Arctic Circle. But the simplest explanation may be that Trump, again, was duped. He trusted Michael Flynn, who was happy to take money from the Russian government and to attend RT's gala seated opposite Putin, whereas an even modestly well-advised presidential candidate would have shunned Flynn. (During Flynn's brief tenure in the Trump administration, he also pushed for a policy shift favoring Turkey, from which he had also taken a large sum of money).
Trump savored Putin's contempt for Hillary Clinton, and while anyone else might have been disturbed by the possibility of Russian hackers interfering in the U.S. election, he openly encouraged it. There may or may not be a deeper conspiracy at work here, but either way, Trump's ignorance, credulity, and casual willingness to be used by a foreign power at the expense of U.S. interests are what made any of this possible.
Sometimes, Trump's incompetence serves as a check on his most volatile instincts. For instance, after engaging in saber-rattling with North Korea and suggesting that the U.S. might act unilaterally without regard to Chinese interests, he actually spoke to Chinese President Xi Jinping and came away with a sober, mainstream approach to North Korea. On the one hand, this helped avert what could have been a very dangerous situation. On the other hand, it established that Xi, like his counterparts in Russia, Turkey, Saudi Arabia, Israel, and elsewhere, can easily manipulate the U.S. president to serve his interests.
At best, this means that the American Empire is going into accelerated and perhaps overdue decline under Trump. But the more disturbing implication is that it will encourage instability and regional wars. Trump may not be a puppet of any one country, but he's also not the puppet of every country; there will be winners and losers in an international system where the U.S. has no strategic vision. Qatar, an authoritarian monarchy with a terrible human rights record, might not be the most sympathetic example, but its current plight demonstrates just how unreliable the U.S. is under Trump.
Delicate arrangements that have long been taken for granted—the cold peace between China and Taiwan, or between Russia and NATO members like the Baltic states, or many others—are now open for renegotiation. Whether or not Trump intends to set off more crises, his very nature makes them more likely, and he lacks any qualities that will allow him to effectively manage them when they happen. If he really were a Russian puppet, it would almost be reassuring.
David Klion is a former editor for Al Jazeera America and World Politics Review. He lives in Brooklyn and has written for the Guardian, the New Republic, Gothamist, and other publications. Follow him on Twitter @DavidKlion.
This article was made possible by the readers and supporters of AlterNet.