The Numbers Are In: Trump's Trillion-Dollar Tax Cuts Will Take A Stunning Toll On American Society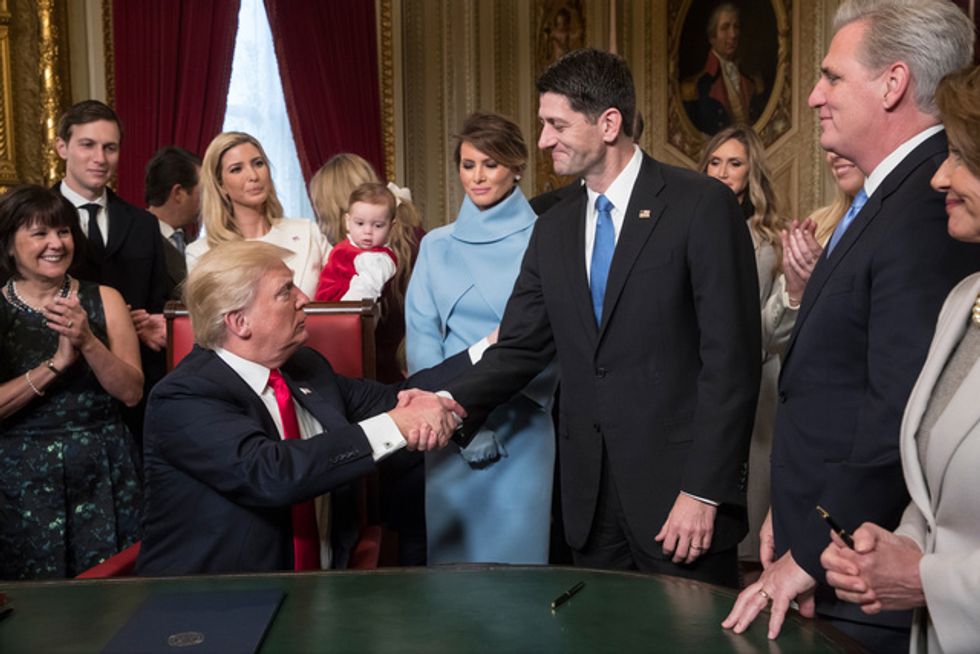 Reprinted with permission from Alternet.
Vox.com has compiled a list of what President Trump's $5.5 trillion tax cuts over 10 years could pay for, and it's nothing short of shocking.
The massive tax cuts are "so one-sided that Trump administration officials have even admitted, publicly, that they're not even sure if it's going to help the middle class at all," "Ring of Fire" co-host Farron Cousins began, in his breakdown of the report.
"Trump wants to eliminate the estate tax and the alternative minimum tax, thereby benefiting many of the richest taxpayers," reported Fox Business. The right-wing network says the plan's boost to the economy could be "mild" at best.
In a parallel America, that $5.5 trillion sum could be used to solve many of the ills afflicting the country's poorest, rather than grossly benefiting its richest.
According to Vox, $5.5 trillion is enough to cut the rate of child poverty in half, carry out Bernie Sanders' free college plan and eliminate all lead-contaminated soil, in addition to providing universal preschool and dramatically decreasing the ranks of the uninsured.
"We could drive down the cost of health insurance for every single person in this country and it would cost $1 trillion over 10 years," noted Cousins. "But instead of doing any of [the projects outlined by Vox], Donald Trump has decided to take that $5.5 trillion and give it to the wealthy."
"Keep in mind this is the largest tax cut in the history of the United States," Cousins added.
Watch:
Alexandra Rosenmann is an AlterNet associate editor. Follow her @alexpreditor.
This article was made possible by the readers and supporters of AlterNet.