New York City Mayor Candidates Bid To Kill de Blasio's Lead
@AFP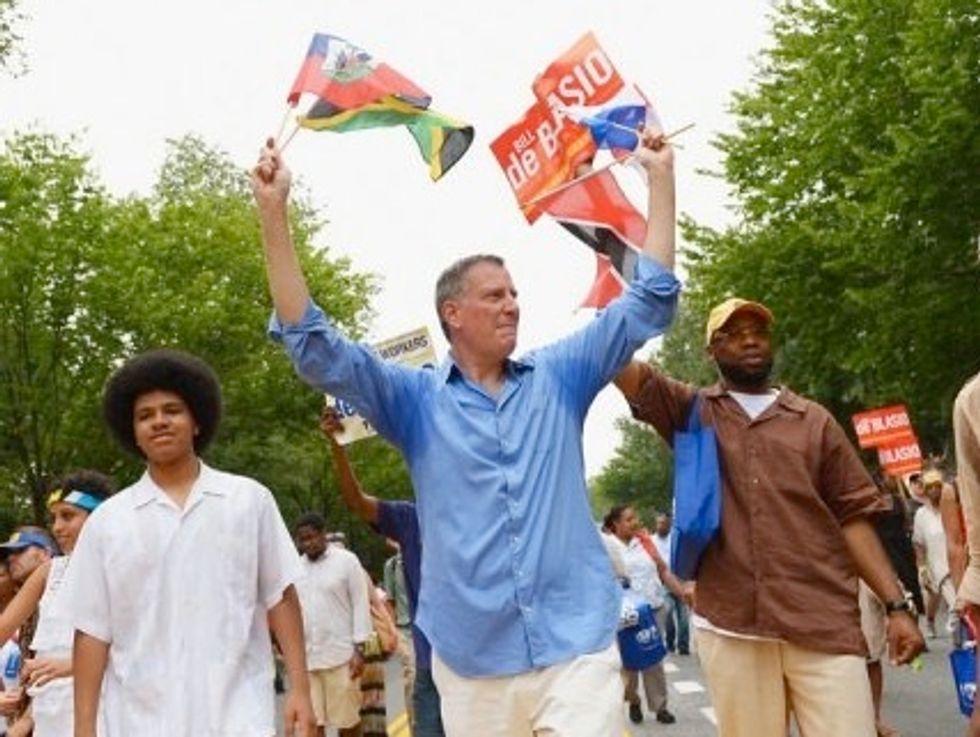 NEW YORK (AFP) – The top Democrat candidates in the New York mayoral race faced off Tuesday for their final debate, making a last-ditch effort to torpedo public advocate Bill de Blasio's massive poll lead.
A new Quinnipiac University poll showed De Blasio would win with 43 percent if the vote was held now, a week before September 10 mayoral primary elections.
William Thompson, who narrowly missed beating Mayor Michael Bloomberg in 2009 shifted into second place with 20 percent while Christine Quinn dropped to 18 percent.
Former congressman Anthony Weiner, an initial frontrunner who has suffered amid a sexting scandal, fell to seven percent.
De Blasio came under fire in the 90-minute debate for a vow to tax New Yorkers who earn over $500,000 to fund early education programs.
"His plan is dead on arrival," said Quinn, 47, who argues de Blasio will never get his "pie-in-the-sky" plan past state legislature.
De Blasio maintained he was confident he could keep his promise to fight inequality in a city where "the rich are getting richer and the poor are getting poorer."
"This is a city which has always believed in big bold ideas," said the 52-year-old.
De Blasio was forced to defend accusations of flip-flopping on key issues, while Thompson was said to lack "fire in his belly" and Quinn accused of having a short temper.
"If I have to occasionally raise my voice to get things done I am gonna do it. You don't want a mayor who is a pushover," said the openly gay Speaker.
All candidates came out against stop-and-frisk, a cornerstone of New York policing ruled unconstitutional by a federal judge in mid-August for racial profiling.
De Blasio's strong stance on stopping the practice is seen as one of the reasons he is supported by 47 percent of black voters compared to 25 percent for Thompson, who is African-American.
De Blasio's rivals also came down hard on him over reports he had accepted campaign donations from people he put on a Worst Landlords list, after their names were removed.
Weiner, who has admitted to sending sexual messages and photos to young women online, kept his humor throughout, saying he was "an imperfect messenger for the best ideas in this campaign."
All candidates revealed they had voted for former comptroller Thompson in the 2009 election.
A final question asked if Weiner would make a better mayor than Republican candidate Joseph Lhota who is leading with businessman John Catsimatidi.
All candidates said yes except for comptroller John Liu who abstained.
The Democrat and Republican candidates will battle it out on November 5, but the Big Apple is overwhelmingly Democrat so that parties candidate is seen as most likely to be the next mayor.
Photo Credit: AFP/Michael Loccisano