Obama Leads Early Voting Charge In Chicago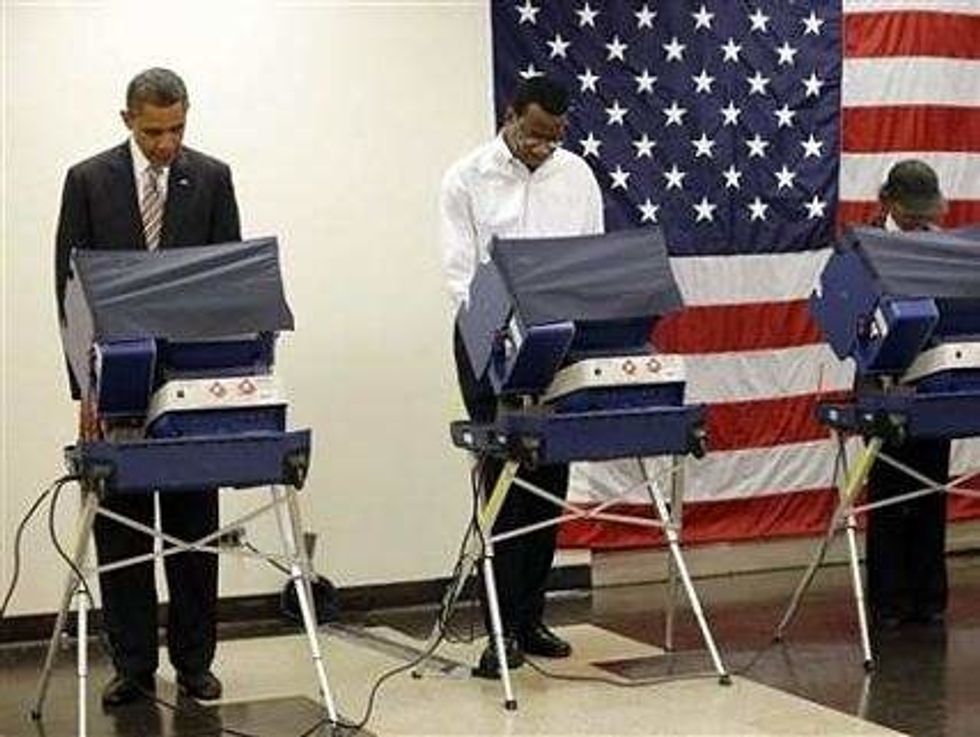 As part of a wide effort to encourage early voting in the swing states, Barack Obama on Thursday became the first sitting U.S. president to cast an early ballot. Opening the second half of a whirlwind tour of eight states in two days, the Obama campaign planned a pit-stop in Chicago, where the President would cast his ballot early and in person at a location near his South Side home.
Taking advantage of early voting has been a key strategy of the Democratic Party in this campaign. Campaign manager Jim Messina, in a conference call with reporters, explained:
"Early vote isn't only taking a finite number of voters and only changing the day they vote… What early vote does is help us get out our low propensity voters — voters called sporadic voters — which broadens our universe and frees up more 'get out the vote' resources later, especially on Election Day," Messina said.
Less than two weeks from November 6, approximately 8 million people have already cast ballots in the 32 states where early voting is permitted.
According to the latest polling numbers, the Democratic strategy seems to be working. In Iowa, where the two-day Obama campaign blitz began, early voting figures largely favor Obama. Democrats there have cast 46 percent of the ballots, versus 32 percent for Republicans.
In Nevada, where the Obama campaign landed yesterday, nearly 49 percent of ballots were cast by Democrats, against 37 percent for Republicans.
Determining the tilt of early voting numbers in Ohio is slightly more complicated, given that voters there do not register with a party affiliation. To determine how the Buckeye State is voting, analysts look at how each county and precinct voted in 2008, and compare those numbers with 2012. A memo sent out yesterday by the Obama campaign said that "In counties that Obama won in 2008, 10 percent of registered voters have already cast their ballots, versus only 7 percent in Republican counties." The memo also noted, "Voters in precincts that voted for Obama in 2008 have cast more than half (54 percent) of the 2012 ballots."
A Time magazine  poll released yesterday showed that among early voters, Obama led Romney 60 to 30 percent. Overall, the poll found a five-point lead for Obama, with a +/- 3 percent margin of error.
However, the Romney campaign found a different, more favorable way to interpret the numbers in Ohio. In a memo sent out Thursday afternoon, Scott Jennings, the senior advisor and Ohio state manager at Romney for President, explained why the Romney camp is confident about winning in that battleground state:
One thing all the public surveys have in common is that Governor Romney is winning among Independent voters. In the 19 polls released in the public realm since the first debate, Governor Romney leads among Independents in 15 of them (two did not include data among INDs). And, if you take an average of his lead among Independents in those 15 polls, the margin is 12 points (49-37).

The Time Magazine poll shows Governor Romney trailing by 5 points statewide, but winning Independent voters by a 53%-38% margin. That's just not possible. Write it down – if Mitt Romney wins independent voters by 15 points in Ohio, he'll be the next President of the United States.

…

The Obama campaign has only offered one metric to back up their implausible early vote statistics: that Obama '08 precincts are turning out more voters than McCain '08 precincts. Among the flaws in measuring voter turnout this way: redistricting took place since 2008, so the precincts aren't even the same, and there are countless "Obama '08 precincts" that are traditionally Republican and will be Romney precincts in 2012.
With a total of 18 electoral votes up for grabs, both campaigns are heavily investing in a victory in Ohio. According to NY Times analyst Nate Silver, there is a 50-50 chance Ohio will prove to be decisive in this election. But neither campaign is willing to bet on a coin toss.
Photo Credit: AP/Pablo Martinez Monsivais