Obama On Dogged Comeback Trail
@AFP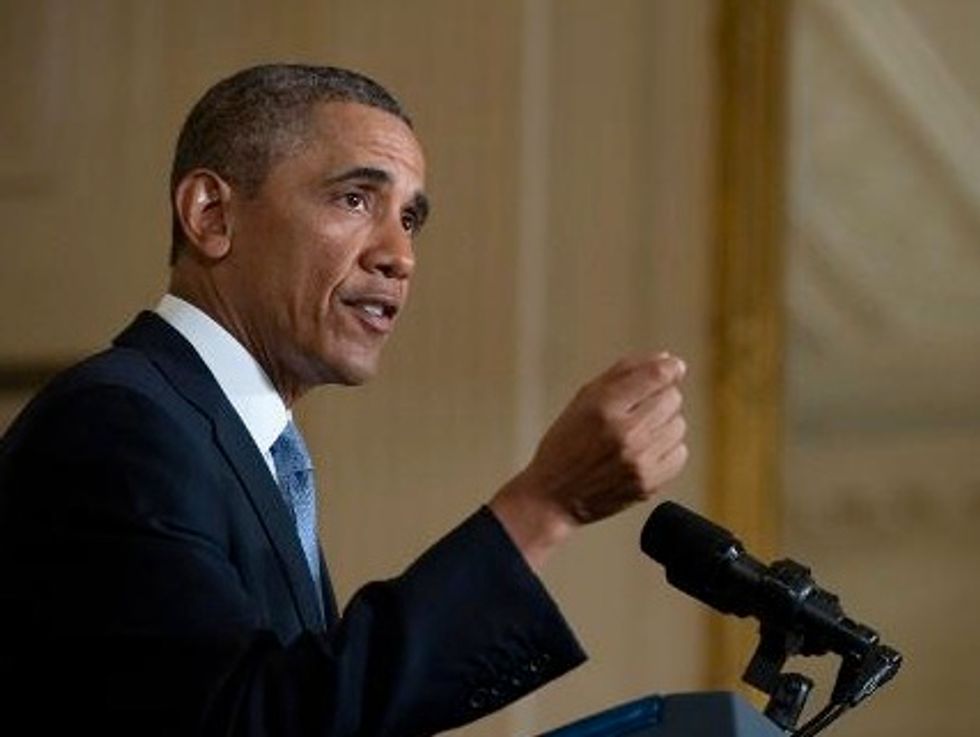 Washington (AFP) – With soaring ambitions trimmed, the White House is charting a dogged course to repair President Barack Obama's popularity and to limit a natural waning of his political powers.
Obama endured a brutal 2013 — which crushed the promise of much of his second White House term and pitched his approval ratings to 40 percent or below.
For once, his Hawaii Christmas vacation was uninterrupted by crises at home or abroad, and the president and his stuff — running on empty in December — were able to recharge.
Several new faces have also joined his famously insular White House crew, as the reenergized president tries to fashion a rebound in frigid Washington.
He took the stage Tuesday in his first public appearance of the New Year, demanding an extension to long-term unemployment benefits, which lapsed for 1.3 million Americans when Congress left town for Christmas without acting.
The event repositioned Obama as the warrior for the struggling middle classes — and Republicans as their hard hearted enemy — a tableau that swept him to reelection in 2012.
"When times get tough, we are not a people who say, you're on your own," Obama said.
"We're a people who believe that we're all in it together. And we know, 'there but for the grace of God go I.'"
It was perhaps the opening shot of this year's mid-term elections race in which a third of the Senate, and all of the House of Representatives will be up for grabs.
His words also played into a growing theme in American politics — the struggles of many people to make ends meet despite a quickening but uneven economic recovery.
Several Republican lawmakers, including possible presidential hopefuls Paul Ryan and Marco Rubio are expected to make speeches and unveil initiatives on poverty reduction in coming weeks.
The White House was Tuesday cheered by an early symbolic victory, after six Republican senators joined Democrats in the Senate to advance the move to extend unemployment benefits to a final vote.
The measure still faces a difficult path in the House, reflecting the cold reality of Obama's presidency — that Republicans have power to block or slow much of his agenda.
A year ago, Obama acted as though his handsome reelection win could rewire political dynamics in divided Washington and help him overpower Republicans.
But after 12 months of struggle, which saw his aspirations for gun reforms, job creation measures and immigration reform stall on Capitol Hill, and a government shutdown and a near debt default, his aspirations appear to have narrowed.
Senior administration officials now argue that the success of Obama's administration can no longer be judged entirely on what laws make it through Congress.
An senior Obama lieutenant said Tuesday on condition of anonymity that the president would fire off a executive actions on climate change and other issues that did not need agreement from Congress.
The official also stressed — with a rueful reference to the botched rollout of the president's signature health reform last year — that implementing big government programs already passed by Obama and fundamental to his legacy — Wall Street reform for instance — needed careful management.
The White House is also probing whether House Republicans will move on an immigration reform bill to provide a path to citizenship for 11 million undocumented aliens.
Rank and file Republicans have long balked at any policy they see as "amnesty" But party leaders know that continuing to alienate the growing Hispanic community is akin to throwing away the keys to the White House for a generation.
Obama will formally lay out plans for the year, shaped into a narrative of fighting for the middle class, in his State of the Union address on January 28.
The speech will also include a push for a raising of the U.S. federal minimum wage from $7.25 an hour that will likely prove popular but may be politically impossible to implement.
Before then, he will unveil proposed reforms to National Security Agency spying programs in the wake of the revelations by fugitive intelligence contractor Edward Snowden.
White House aides are daring to hope the worst failures of the Obamacare website may be over — and that the president's signature achievement beds down more smoothly.
Not only is the law crucial to Obama's legacy, its problems are a millstone around the neck of vulnerable Democrats in November's elections.
Republicans need only six seats to capture the Senate and have a better than even chance of a result that would consign Obama in his final two years in office to a uniformly hostile Congress.
While Obama's political aides — including new addition, respected Clinton era veteran John Podesta — are preoccupied with domestic troubles, international crises also stalk the White House.
A widening sectarian war and a resurgence of Al-Qaeda inspired groups in the Middle East, has Obama's regional policy under sharp scrutiny.
Obama also faces a tough sell in Congress for any final deal he can reach with Iran on its nuclear program.
And rising territorial tensions in Asia — which Obama will visit in April, also worry his foreign policy team.
AFP Photo/Nicholas Kamm