Obama Tells Americans Homeland Is Safe As Millions Set Off On Thanksgiving Travel
@reuters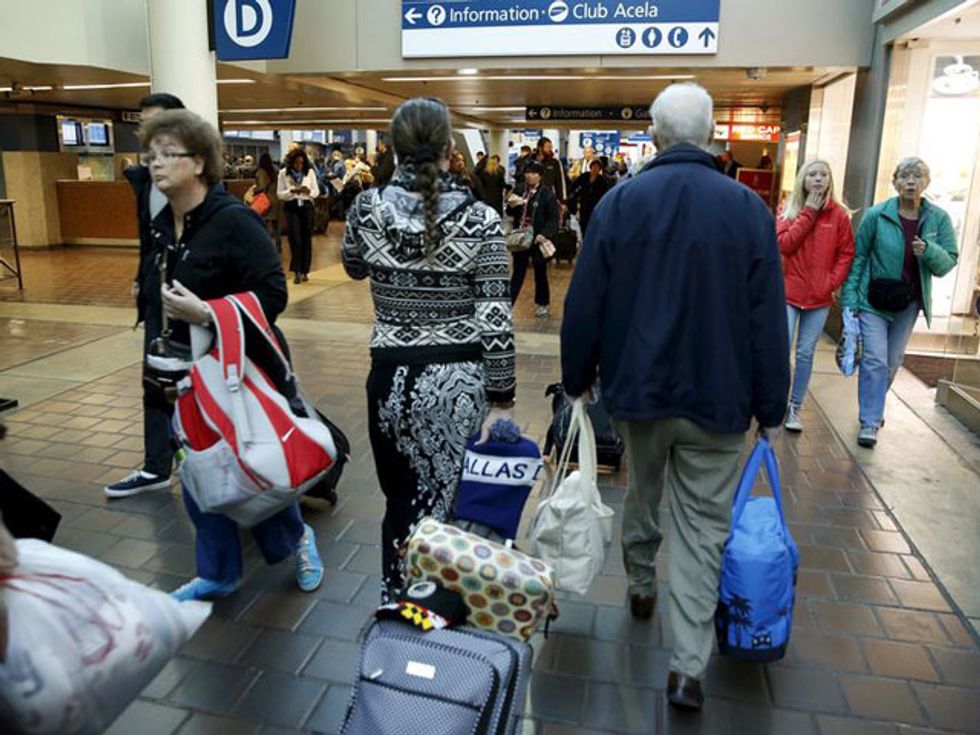 By Roberta Rampton and Kylie Gumpert
WASHINGTON/NEW YORK (Reuters) — President Barack Obama sought to reassure Americans they are safe as millions of people traveled on Wednesday for the Thanksgiving holiday, with security heightened at airports, New York City's parade festivities and other venues after the Paris attacks.
"Right now, we know of no specific and credible intelligence indicating a plot on the homeland," Obama told reporters at the White House, flanked by his FBI director and other top security officials.
"We are taking every possible step to keep our homeland safe," he said.
Nearly 46.9 million Americans will travel over the Thanksgiving long weekend – the busiest U.S. travel holiday of the year – with 3.6 million going by plane, according to the AAA, a motorist advocacy group.
Americans have become more concerned about threats since a series of attacks in Paris two weeks ago killed 130 people and now identify terrorism as the most important problem facing the nation, Reuters-Ipsos polling shows.
The U.S. response to Islamic State has become a top issue in the race to succeed Obama in the November 2016 presidential election. In his statement, Obama tried to allay Americans' concerns.
"I know that families have discussed their fears about the threat of terrorism around the dinner table, many for the first time since September 11th," he said, referring to the 2001 attacks by al Qaeda on New York and Washington.
But he told Americans they should "go about their usual Thanksgiving weekend activities" while remaining vigilant to any suspicious activities.
STAY VIGILANT
To underscore Obama's message, his Homeland Security Secretary Jeh Johnson held a photo op at Washington's Union Station just before boarding an Amtrak train to Newark, N.J., on the heavily traveled Northeast corridor, en route home for the Thanksgiving Day holiday
"It should be obvious to the public that there is a heightened presence" of law enforcement officers at train stations, airports and other public places, Johnson said. "We are working overtime to protect the homeland."
Some travel analysts expected airport delays as a result of the heightened security. Officials at the Transportation Security Administration, which oversees airport security, declined comment.
The FBI sent a bulletin earlier this week to police departments across the country warning of possible copycat incidents and sharing intelligence on how the assailants in Paris carried out attacks on Nov. 13 that killed 130 people.
The U.S. State Department also issued a world-wide travel alert on Monday warning American travelers to remain vigilant, particularly when visiting foreign countries.
'BUSINESS AS USUAL'
In New York City, officials stressed there was no specific threat, despite a video released last week by the militant group Islamic State that included images of New York. Islamic State has claimed responsibility for the Paris attacks.
As many as 3.5 million people were expected to line the 2.5 mile (4-km) route of the Macy's Thanksgiving Day Parade in New York City on Thursday, according to parade organizers. Many were expected to head to Manhattan's Upper West Side on Wednesday to watch the giant parade balloons being inflated on the eve of Thursday's parade.
The New York Police Department is ramping up its usual tight parade security, adding members of a new counterterrorism unit, officials said.
City officials have made numerous public appearances in recent days seeking to reassure New Yorkers and tourists.
"There remain no credible and specific threats against New York City," Mayor Bill de Blasio told reporters on Monday. "I'm very, very confident in the NYPD's preparation for the parade."
The 89th edition of the parade, which features 8,000 performers, kicks off holiday events in the city, including the lighting of the enormous Christmas tree at Rockefeller Center next week and the New Year's Eve celebration in Times Square.
More than 5 million visitors come to the city between Thanksgiving and New Year's Eve, according to the city's tourism agency. Chris Heywood, an agency spokesman, said all events are "business as usual."
(Additional reporting by Joseph Ax and Barbara Goldberg in New York and Jeff Mason, Doina Chiacu and Megan Cassella in Washington; Editing by Frances Kerry and Cynthia Osterman)
Photo: Commuters walk at Union Station in Washington, November 25, 2015. REUTERS/Yuri Gripas