Obama To Fight Climate Change With Regulation, Clean-Energy Research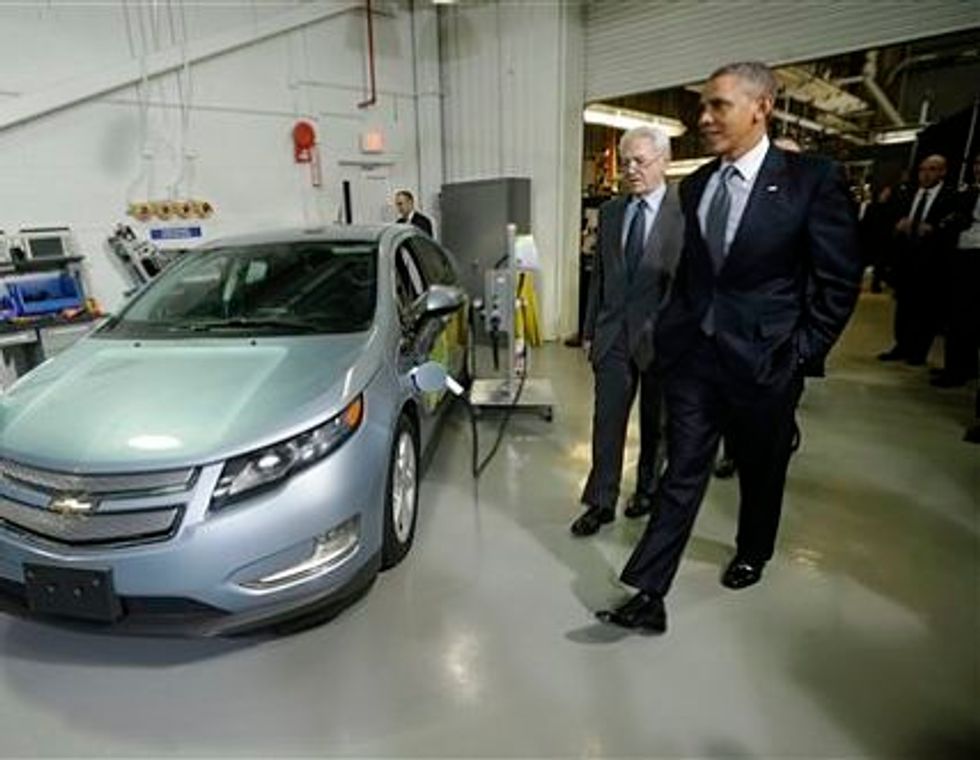 In his State of the Union speech, President Obama called on Congress to pass a market-based solution to climate change. The president followed up that request with a promise.
"But if Congress won't act soon to protect future generations, I will," he said. "I will direct my cabinet to come up with executive actions we can take, now and in the future, to reduce pollution, prepare our communities for the consequences of climate change, and speed the transition to more sustainable sources of energy."
He is now following through on that promise. Using the National Environmental Policy Act, signed into law by President Richard Nixon in 1970, Obama will direct federal agencies to assess the impact projects like pipelines and highways will have on climate change before granting approval.
At Argonne National Laboratory near Chicago on Friday, the president tied innovation necessary to fight climate change to growing the economy and breaking the cycle of escalating gas prices.
He also called for the creation of an "Energy Security Trust" to research alternatives to gasoline. Using increased revenue expected from the permitting and production of oil and gas production in the Gulf of Mexico, the fund would disperse $2 billion over 10 years. The White House shared an infographic that makes the case for the trust.
The idea for the trust came from a group of corporate chief executives and former military officers. But unlike regulation, this fund will require Congress' cooperation.
"For this proposal to even be plausible, oil and gas leasing on federal land would need to increase dramatically," Brendan Buck, a spokesman for Republican House Speaker John Boehner, told Reuters. "Unfortunately, this administration has consistently slowed, delayed, and blocked American energy production."
A recent government report found that carbon emissions are increasing at a pace that is faster than the worst-case scenarios given to world leaders. Scientists say the planet is now hotter than it has been for more than 11,300 years. And it's only getting hotter.
Needless to say, businesses are highly concerned about the threat of new regulation — even though the new standards will not be released for several weeks and some agencies already factor climate change impact in their assessments. The new regulations will be "across the board," likely requiring regular lifecycle reviews on projects like the Keystone pipeline and drilling for oil or gas on federal lands.
"It's got us very freaked out," Ross Eisenberg, vice president of the National Association of Manufacturers, told Bloomberg News.
Environmentalists, on the other hand, are pleased. "Agencies do a pretty poor job of looking at climate change impacts," said Rebecca Judd, a legislative counsel at the environmental legal group Earthjustice in Washington. "A thorough guidance would help alleviate that."

The last eight presidents have all called for an energy-independent future and oil imports have risen — until the last few years.
This is happening for a variety of reasons, the most significant being increased oil production in America.
"Since President Obama took office, responsible oil and gas production has increased each year," according to a fact sheet from the White House, "while oil imports have fallen to a 20-year low; renewable electricity generation from wind, solar, and geothermal sources has doubled."
Quietly, President Obama has launched a "clean energy revolution," according to Time magazine's Mike Grunwald.
The president also pointed out the devastating effects the sequester will have on innovation, effectively freezing all new government-funded research projects for the next two years.
His challenge in raising the public's concern about the sequester because the cuts' damage will happen slowly are a microcosm of how difficult it is to motivate Americans to fight climate change.
However, by tying energy independence to job creation and global competition, the president hopes to make strides for the environment without having to debate the science behind global warming.
AP Photo/Pablo Martinez Monsivais