Obama: U.S. Will Help, But Iraq Must Mend Divisions
@AFP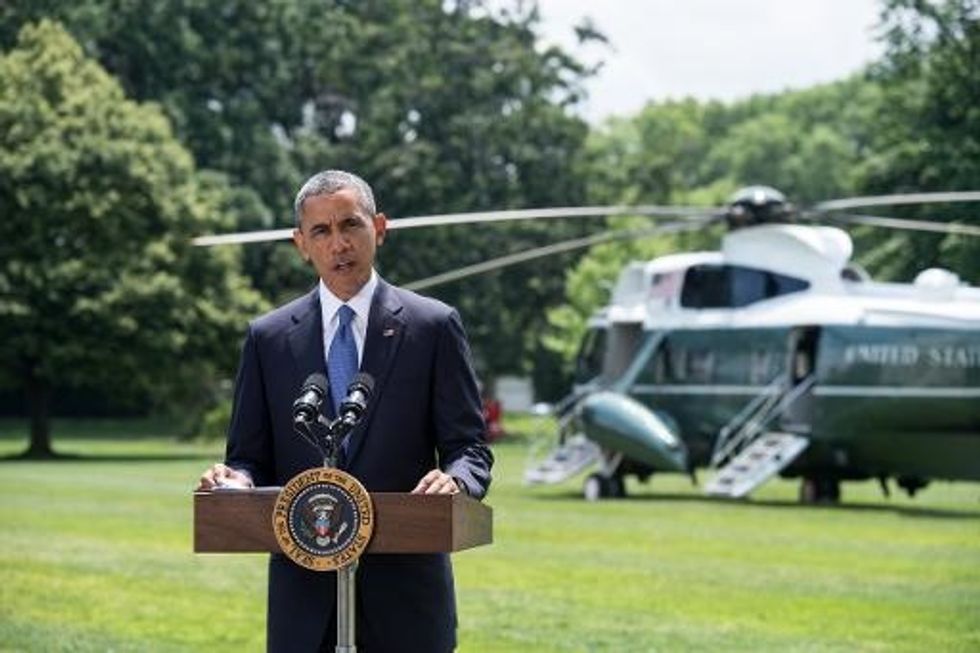 Washington (AFP) – U.S. President Barack Obama said Friday that he is examining options short of sending ground troops to help Iraq counter a Sunni extremist offensive, but warned the country must heal its own divisions.
"We will not be sending U.S. troops back into combat in Iraq, but I have asked my national security team to prepare a range of other options that could help support Iraqi security forces," Obama said.
Iraqi Prime Minister Nuri al-Maliki's government has asked the United States to provide military assistance to counter a stunning advance by ISIL, a Sunni extremist movement.
But, in brief remarks to reporters at the White House, Obama warned the Baghdad government that it had brought disaster on itself by failing to heal the divides between Sunni and Shiite camps in the country.
"The United States will not involve itself in military action in the absence of a political plan by the Iraqis that gives us some assurance that they're prepared to work together," he said.
"We won't allow ourselves to be dragged back into a situation in which while we're there we're keeping a lid on things and, after enormous sacrifices by us, as soon as we're not there, suddenly people end up acting in ways that are not conducive to the long-term stability of the country."
The United States withdrew the last of its occupation forces from Iraq in 2011, eight years after they overthrew the then dictator Saddam Hussein, but Obama sad he was studying options to increase ongoing support for the Iraqi military.
He added, however, that "any action that we may take to provide assistance to Iraqi security forces has to be joined by a serious and sincere effort by Iraq's leaders to set aside sectarian differences.
"Nobody has an interest in seeing terrorists gain a foothold inside of Iraq and nobody is going to benefit from seeing Iraq descend into chaos," he said.
"So the United States will do our part, but understand that ultimately it's up to the Iraqis as a sovereign nation to solve their problems."
AFP Photo/Nicholas Kamm