Obama Warns Republicans On Government Shutdown, Debt Ceiling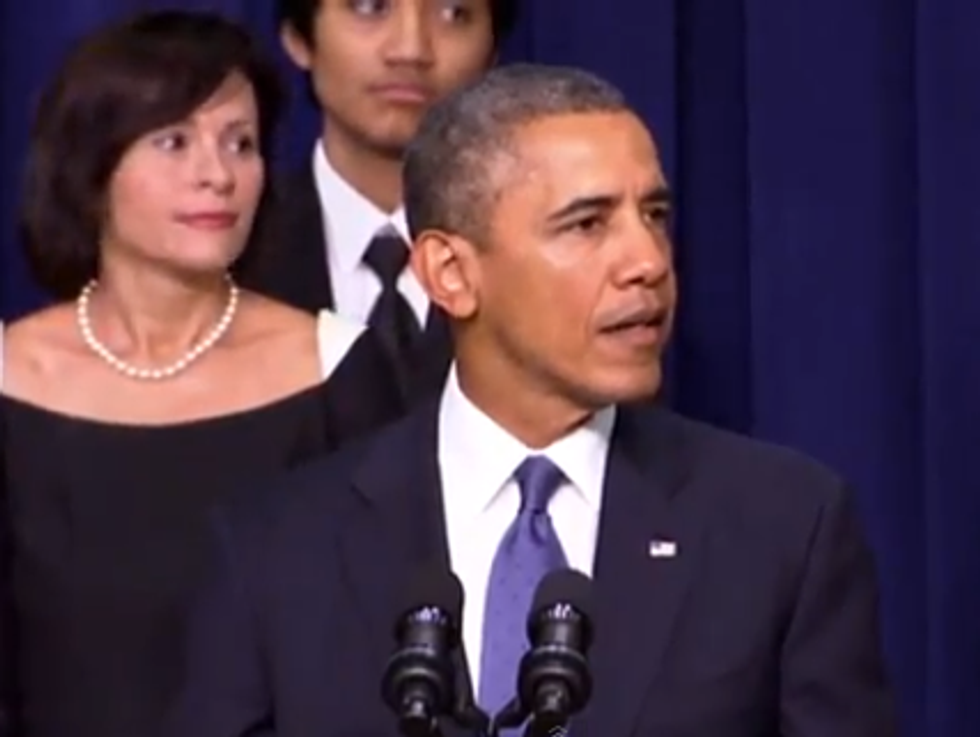 President Barack Obama denounced congressional Republicans' tendency toward crisis-to-crisis governing, and strongly warned against any attempt to shut down the government or refuse to raise the debt ceiling, during a Monday speech on the state of the U.S. economy.
"I cannot remember a time when one faction of one party promises economic chaos if it can't get 100 percent of what it wants. That's never happened before. But that's what's happening right now," Obama said.
"You have some Republicans in the House of Representatives who are promising to shut down the government at the end of this month if they can't shut down the Affordable Care Act," the president continued. "And if that scheme doesn't work, some have suggested they won't pay the very bills that Congress has already run up, which would cause America to default on its debt for the first time in our history and would create massive economic turmoil. Interest rates on ordinary people would shoot up. Those kinds of actions are the kinds of actions that we don't need."
Obama made it clear that he has no intention of negotiating over Obamacare, his signature legislative achievement. "The Affordable Care Act has been the law for three and a half years now. It passed both houses of Congress. The Supreme Court ruled it constitutional. It was an issue in last year's election, and the candidate who called for repeal lost," he said, in a reference to Mitt Romney.
"Are some of these folks really so beholden to one extreme wing of their party that they're willing to tank the entire economy just because they can't get their way on this issue?" the president later asked. "Are they really willing to hurt people just to score political points? I hope not."
Obama's comments served as another public warning shot to House Speaker John Boehner, who has repeatedly signaled his intention to demand significant spending cuts in exchange for raising the debt limit. The president has flatly rejected the premise of negotiating over a debt ceiling increase. Obama's remarks were also an attempt to educate the public on the true consequences of not raising the limit; although a debt default would spark a global economic crisis, recent polls have suggested that Americans don't support the White House's position on the issue.
In addition to sounding a warning over upcoming fiscal battles, the president devoted much of his speech — which coincided with the five-year anniversary of the financial crisis — to discussing the economic gains made during his time in office. Citing falling unemployment, expanded health care coverage, stricter rules on Wall Street, and changes to the tax code, the president declared that "we've cleared away the rubble from the financial crisis and we've begun to lay a new foundation for economic growth and prosperity." Still, he acknowledged, "As any middle-class family will tell you…we are not yet where we need to be."
In a return to rhetoric that worked very well in his 2012 re-election campaign, Obama stressed the need to fight the inequality that has come to characterize what he termed "a winner-take-all economy," and urged Congress to work with him to create policies that encourage middle-class growth.
"The problem is, at the moment, Republicans in Congress don't seem to be focused on how to grow the economy and build the middle class," Obama said. "So far, their budget ideas revolve primarily around even deeper cuts to education, even deeper cuts that would gut America's scientific research and development, even deeper cuts to America's infrastructure investment — our roads, our bridges, our schools our energy grid. These aren't the policies that would grow the economy faster."
At the beginning of his speech, President Obama took a moment to address the shooting that took place at the Navy Yard in Washington, D.C. on Monday morning.
"We send our thoughts and prayers to all at the Navy Yard who've been touched by this tragedy. We thank them for their service. We stand with the families of those who've been harmed. They're gonna need our love and support," Obama said.
A full transcript of the president's remarks can be read here.
Image: Screenshot/Youtube