Obama: 'We're Not Going To Wait Until The Next Newtown' [Video]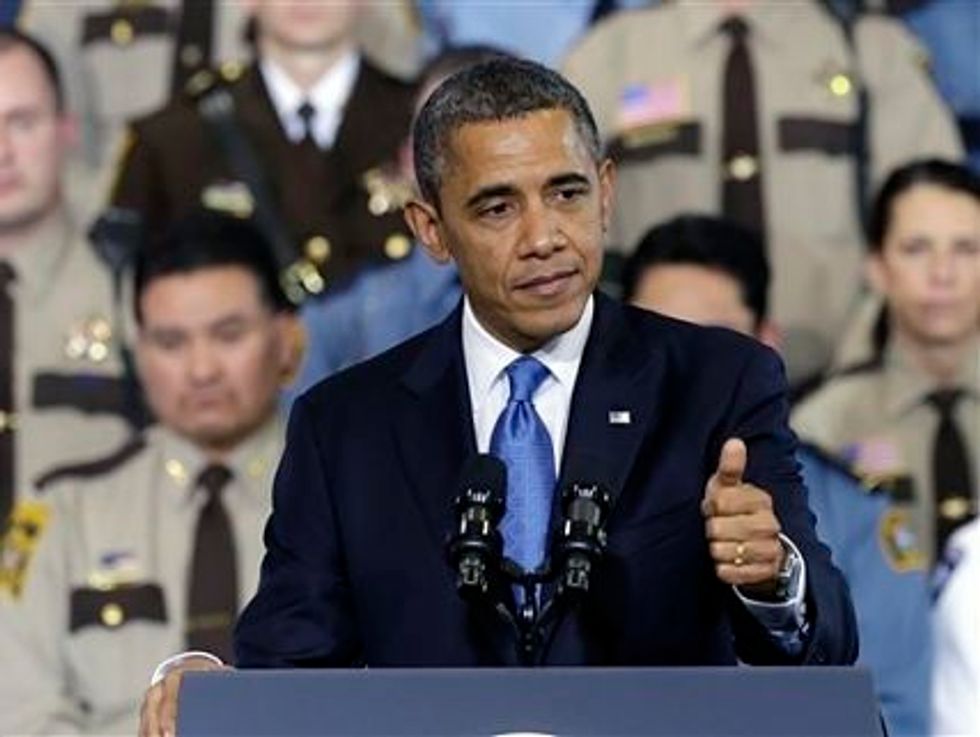 During a campaign-style rally in Minneapolis, MN on Monday, President Barack Obama pressured Congress to act on the White House's proposals to reduce gun violence.
"We're not going to wait until the next Newtown, or Aurora," Obama declared before a crowd of law enforcement agencies. "If there's even one thing we can do — if there's just one life we can save — we have an obligation to try."
After reminding the crowd that he's signed 23 executive orders relating to gun violence in the wake of the Newtown shooting, Obama noted, "Real and lasting change requires Congress to do its part, and to do it soon."
Specifically, he reiterated his desire to see Congress enact universal background checks, stressing that "the vast majority of Americans, including a majority of gun owners, support requiring criminal background checks for anyone trying to buy a gun." Indeed, a recent Johns Hopkins University poll found 89 percent of respondents — including 75 percent of NRA members — support expanding background checks on gun sales.
"That's not a liberal idea or a conservative idea," Obama said, "that is a smart idea."
The president also insisted that "we should restore the ban on military-style assault weapons and a 10-round limit for magazines, saying that "weapons of war have no place on our streets." He then called on Congress to bring up both proposals for a vote — a request that is complicated by Senate Majority Leader Harry Reid's ambivalence about both reforms. According The Huffington Post, Reid will hold a vote on the assault weapons ban, with the expectation that it will not pass.
Obama also took time to shoot down right-wing conspiracies about his gun control push. "There's no legislation to eliminate all guns. There's no legislation proposed to subvert the Second Amendment," Obama said. "These are things that the majority of Americans, when asked, support."
Obama's presence in Minneapolis — a city that has seen a 41 percent drop in youths injured by gun violence over the past five years — was another example of the president's eagerness to press his message outside of Washington. Obama previously held rallies at factories in Pennsylvania and Michigan to urge Congress to avoid the so-called "fiscal cliff," and last week he pushed for immigration reform in Las Vegas.
President Obama's full speech can be seen below:
AP Photo/Jim Mone