Obama's Inaugural Address: Progressive And Presidential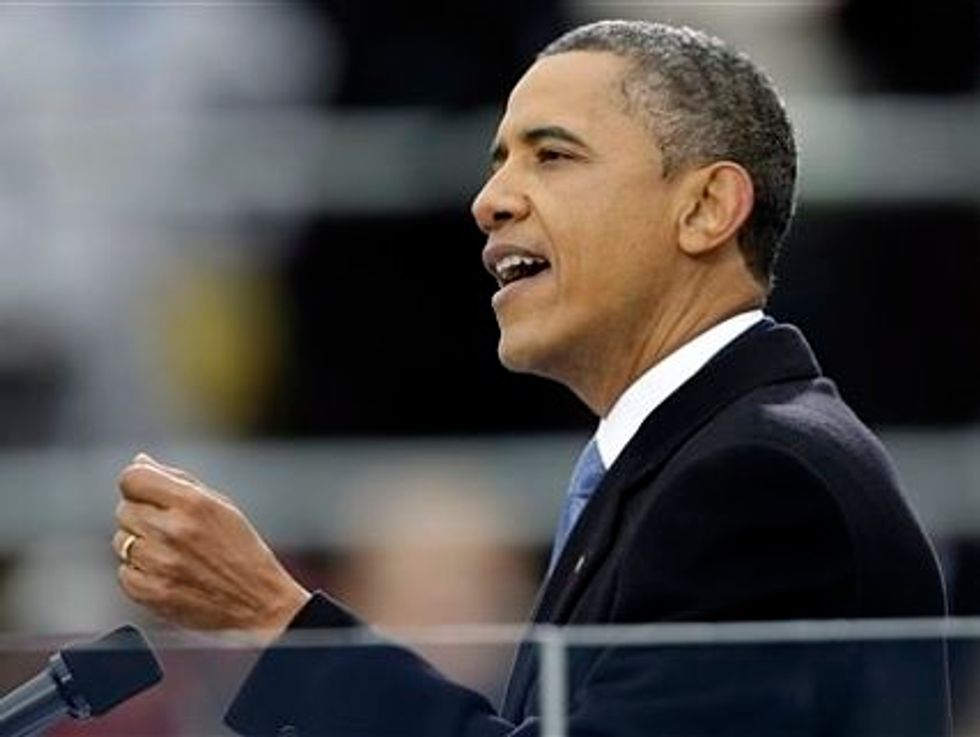 Skies were overcast, and the temperature was a chilly 40 degrees in Washington on Monday when President Barack Obama took the oath of office and began his inaugural address. Given his own cool reserve and his first-term penchant for pursuing a tepid, middle-right governing agenda, I didn't expect to get much warmth from him this go 'round.
I was surprised. In these major speechifying moments, Obama's rhetoric has always soared, but this time his agenda and political resolve did as well, for he seemed to have reached deep within himself and found an FDR-ish hotspot. (A brief digression for this historical tidbit: Roosevelt was sworn in as president four times, and Obama has now tied that record. In 2009, Chief Justice John Roberts botched the words of the oath of office at Obama's inaugural event, so they had to redo it the next day. This year, since the formal day for taking office fell on Sunday, Roberts quietly swore him in that morning, then did it again at Monday's public ceremony.)
Such trivia aside, in this year's address, Obama showed some FDR, jut-jawed, presidential flair. Unabashedly rooting his address in America's solid progressive values, he issued a call for the Great Majority of our people — the middle class and the poor — to join him in a nationwide campaign to rebuild our country's infrastructure, our ladder of upward mobility and (most importantly) our sense of shared purpose.
Gone from this year's expression of his presidential intent were the bouquets of appeasement, concession and even surrender that he tossed out four years ago in a futile effort to woo recalcitrant right-wing Republican leaders into bipartisanship. Again and again, he saw that they negotiated by hissy fit. So it has finally gotten through to him that the GOP is in the iron grip of ideological absolutists out to disembowel the U.S. government and disown any commitment to the common good.
Rather than continue a fruitless effort to "fix Washington," the president made clear in this inaugural address that he's going to the people themselves to rally them for the kind of sensible changes that America so desperately needs.
Predictably, right-wing pundits and defenders of the corporate order decried his address as a leftist screed and rudely partisan. And, of course, they rolled out that old chestnut: socialist. But, in fact, the best word to characterize the speech is simply "American." It was a straightforward restatement of the grassroots principles that the founders first articulated and that, over two centuries, has held this sprawling, sometimes brawling country together. It's no accident that his most-used phrase (five times) was "We the people" — the opening words of the remarkably progressive preamble to our nation's founding document.
"We the people still believe that every citizen deserves a basic measure of security and dignity," Obama reminded us. "For we remember the lessons of our past, when twilight years were spent in poverty, and parents of a child with a disability had nowhere to turn. We do not believe that in this country, freedom is reserved for the lucky, or happiness for the few. We recognize that no matter how responsibly we live our lives, any one of us, at any time, may face a job loss, or a sudden illness, or a home swept away in a terrible storm. The commitments we make to each other — through Medicare, and Medicaid, and Social Security — these things do not sap our initiative; they strengthen us. They do not make us a nation of takers; they free us to take the risks that make this country great."
Passages like that abound in his 18-and-a-half-minute presentation (read it all at www.whitehouse.gov/blog/inaugural-address). Some critics wanted loftier rhetoric "for the ages"; some wanted less of a litany of agenda items (from climate change to equal pay for women), and some regretted that a particular issue was not mentioned — I, for example, wished that getting corporate money out of our politics had gotten a nod.
But at this difficult juncture in America's long and uncertain journey toward egalitarianism, when powerful forces of elitism are trying to push our society down the dark alley of plutocracy, this was the speech we needed. Whether you like him or not, this was Barack Obama standing tall before the people to declare without guile and for all to hear: This is what I believe; these are my guiding principles; this is where I intend to move America.
That's political honesty. And it's presidential. Everything else said about the speech is nitpicking. Now comes the test of political will — both his and ours — to get it done.
To find out more about Jim Hightower, and read features by other Creators Syndicate writers and cartoonists, visit the Creators Syndicate webpage at www.creators.com.
Photo credit: AP/J. Scott Applewhite, File