Obesity Epidemic Is Taking A Partisan Turn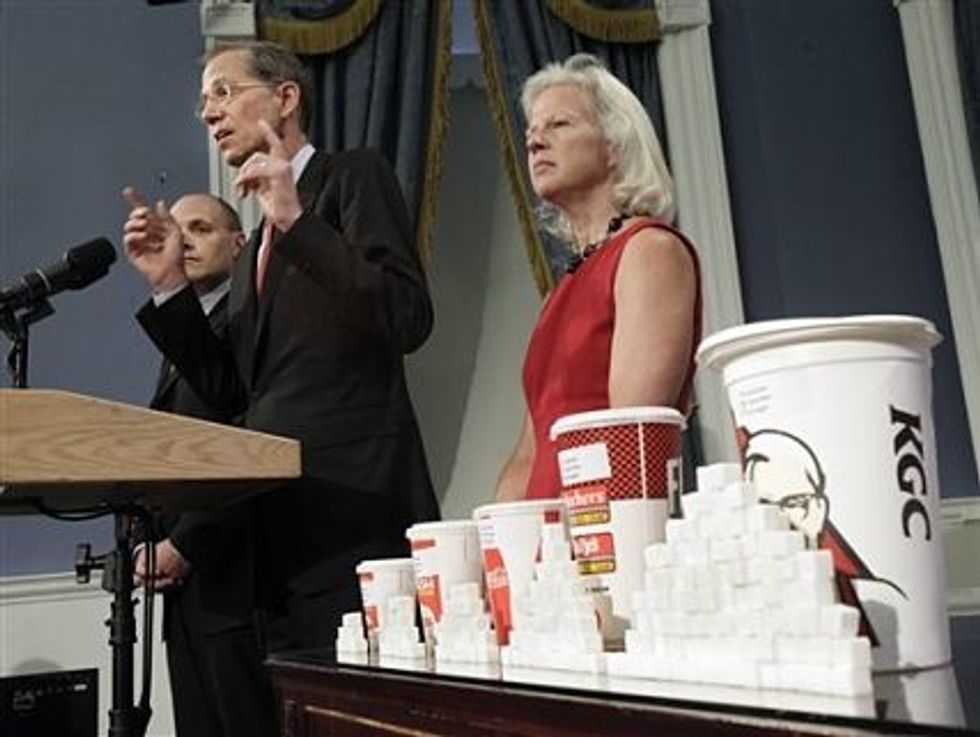 At Atlanta's Coca-Cola headquarters, the public relations team has rolled out action reports, contingency plans and lobbying proposals to combat the latest threat to corporate profits: the communists coming after your soda cans. Here's wishing those so-called communists, including New York Mayor Michael Bloomberg, the best of luck.
To combat the growing obesity epidemic, Bloomberg has proposed banning the sale of super-sized sweetened beverages — those larger than 16 ounces — at restaurants, theaters and street-side stands. Predictably, the mayor has been swamped with criticism from free-market lobbyists and anti-government activists, who have denounced the proposal as emblematic of an overweening "nanny" state.
In 2009, as first lady Michelle Obama was beginning to think about tackling childhood obesity, Coca-Cola chairman and CEO Muhtar Kent readied his rhetorical arsenal, calling the suggestion of a federal tax on soft drinks "outrageous."
"I have never seen it work where a government tells people what to eat and what to drink. If it worked, the Soviet Union would still be around," he told an Atlanta Rotary Club gathering.
The crisis of our growing corpulence has become enmeshed in partisan warfare, just another victim of our insanely warped political culture. That's dangerous.
This is a genuine public health emergency, as devastating in its own way as the polio epidemic of the 1940s and '50s. For the first time, national public health experts are warning that children of this generation may not live as long as their parents, largely due to diseases brought on prematurely by excess weight. That would be a stunning reversal in a nation where each generation has claimed a slightly longer life span.
But as soon as the first lady decided to make a campaign against childhood obesity her signature project, conservatives lined up against it. The right wing rebelled even though Obama was not naive enough to follow through with a proposal for a soda tax.
A couple of high-profile Republicans, including Mike Huckabee and Chris Christie, have defended Obama's voluntary program, which emphasizes healthy eating and exercise. Both men have personal experience with the toll of obesity.
But Huckabee and Christie are outliers among their party's partisan hustlers, who are willing to turn any and every issue into ideological combat. Sarah Palin has repeatedly taken jabs at the first lady's campaign, once falsely claiming that Obama had said "we should not have dessert."
Men among the crazy cons responded, as they are wont, with childish sexism. Rush Limbaugh said the very fit first lady doesn't look as though she follows her own dietary advice, adding that she wouldn't make the cover of Sports Illustrated's swimsuit issue. Corpulent Rep. Jim Sensenbrenner, R-Wis., was overheard on the phone attacking the first lady's figure, too: "She lectures us on eating right while she has a large posterior herself."
That faux outrage over Obama's sensible program fits neatly into the plans of a key Republican constituency: the corporate moguls of the food and beverage industries, who have responded to public health concerns about their products as tobacco executives did decades ago.
They have denied, attacked, parried and paid lobbyists, consultants and image-makers to ward off government intervention. According to The New York Times, the soda industry has already spent tens of millions of dollars to defeat soda taxes in two dozen states.
Meanwhile, public health researchers predict a growing toll from the diseases related to excess weight, including hypertension and diabetes, which can lead to kidney failure. That toll slices through every facet of American society. The individual decisions that result in obesity don't affect just those individuals; they affect the entire country.
The annual medical costs connected to excessive weight have doubled in less than a decade and may be as high as $147 billion a year, according to a recent study. Much of that cost is borne directly by taxpayers, who fund Medicare and Medicaid. The rest is borne indirectly, as businesses and individual consumers pay for the escalating costs of health care.
That doesn't count the ancillary costs. The Pentagon, for example, already considers obesity a national security threat because an estimated 27 percent of young Americans between the ages of 17 and 24, prime recruiting targets for the U.S. armed forces, are too fat to fight.
The holdovers from the old Soviet Union might wish they had thought of forcing us to drink all the soda we could hold.
(Cynthia Tucker, winner of the 2007 Pulitzer Prize for commentary, is a visiting professor at the University of Georgia. She can be reached at cynthia@cynthiatucker.com.)