Officials: At Least 42 Killed In Taiwan Plane Crash
@AFP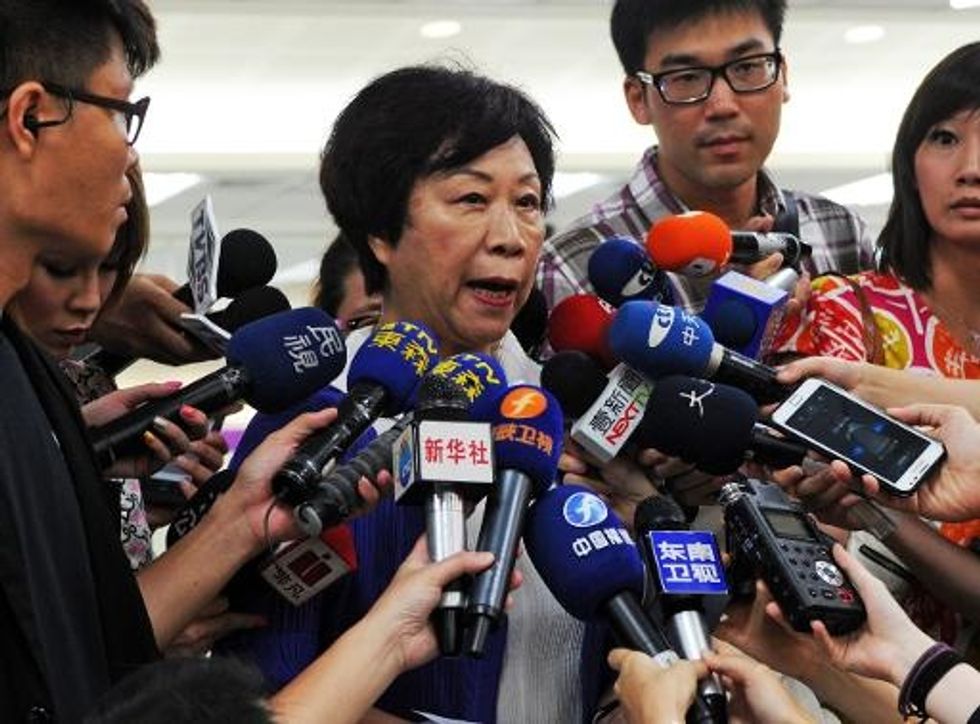 Taipei (AFP) – At least 42 people were killed in a plane crash in Taiwan on Wednesday, officials said, with witnesses and local media reporting the flight came down in a storm after an aborted landing.
TransAsia Airways flight GE222 was carrying 58 people on a domestic flight when it crashed into houses near Magong airport on the Penghu island chain after requesting a second attempt to land there, local media reported.
The ATR 72-500 twin turboprop was flying from the southwestern city of Kaohsiung to the islands off the west coast and had been delayed due to bad weather as Typhoon Matmo pounded Taiwan, according to the authorities.
"We have found 42 bodies and some body parts so far," an official surnamed Tsai at the Penghu county fire department told AFP early Thursday.
Television images showed firefighters working in heavy rain to douse the mangled plane and soldiers on the scene.
"There were 58 people on board including four crew members, four children and, so far, according to the information we have, 12 were injured and were sent to hospitals while 46 were missing," Transport Minister Yeh Kuang-shih told reporters earlier.
Two French nationals were on board the plane and the de facto French embassy had been notified, Yeh said.
There were no immediate reports of casualties on the ground after the plane smashed into houses in the village of Sisi, a couple of kilometres (about a mile) from Magong airport.
"I heard a loud sound and my instinct was that it's a plane crash," a villager surnamed Wang was quoted as saying by the Apple Daily Newspaper website after the plane crashed next to his home and damaged his house.
Wang said he smelt gasoline and saw some passengers with blood on their faces and bodies brought out of the plane.
Taiwan's Civil Aeronautics Administration director general Shen Chi earlier said 51 were feared dead in the crash, but later revised the figure to 47.
"The control tower lost contact with the aircraft soon after they requested a go-around (second attempt to land)," Shen told reporters.
The plane had requested a second attempt to land at just after 7:00 pm.
Local fire chief Hung Yung-peng told TVBS there were 11 survivors, with all others on board feared dead.
"The weather was bad and some witnesses said there were storms and lightning when the plane went down," said Hung.
"We rushed 12 people to hospitals soon after our arrival. One died at the hospital. We kept searching for the other passengers from the wreckage but with more and more bodies pulled out, I'm afraid the rest of them might be dead," Hung said.
Several television stations also quoted witnesses saying the plane was on fire before it crashed.
Television footage showed anxious relatives of passengers gathered at TransAsia's counter at Kaohsiung airport, with one woman sitting on the floor and wailing after she could not get in touch with her daughter.
TransAsia Airways president Chooi Yee-choong bowed in front of television cameras to apologize for the accident.
An airline official speaking on local television identified the pilot as 60-year-old Lee Yi-liang and co-pilot Chiang Kuan-hsin, 39, saying they had both accumulated more than 20,000 flight hours throughout their careers.
"He worked so hard to become a pilot, who can give me my brother back," Chiang's sister was quoted as saying by the Central News Agency.
French-Italian aircraft manufacturer ATR said the plane was manufactured in June 2000.
"At this time, the circumstances of the accident are still under investigation," it said in a statement, adding that the Aviation Safety Council of Taiwan would be in charge of the probe.
President Ma Ying-jeou's office said in a statement that it was a "very sad day in Taiwan's aviation history".
"All Taiwanese people feel the sorrow and will provide the survivors and families of the deceased the biggest support and assistance," the statement said.
"President Ma Ying-jeou is very saddened… and has instructed relevant units to clarify the case soon."
Premier Jiang Yi-huah said the government would spare no effort to assist the injured and families of the deceased.
TransAsia, Taiwan's first private airline, also flies to China, Japan, Singapore, South Korea and Vietnam and is due to launch the island's first low-cost airline later this year.
AFP Photo/Sam Yeh