Offshore Drilling And Trump's War On The Environment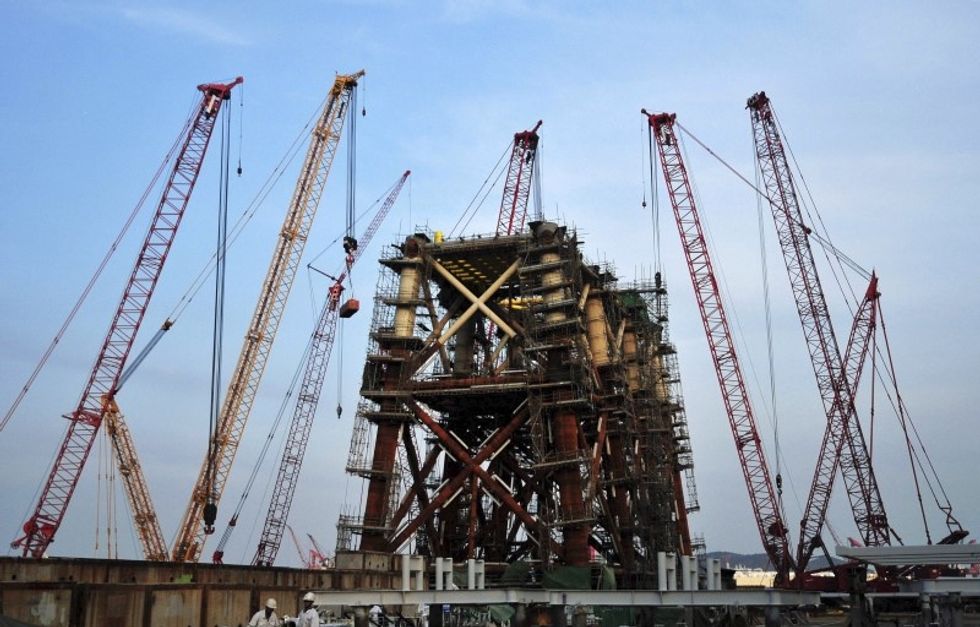 Reprinted with permission from Creators.
It's rare to see bipartisan agreement on much of anything these days. But an array of Republican and Democratic governors of states on the East and West coasts have found common cause in telling the Trump administration: Take your offshore oil rigs and put them where the sun don't shine.
A number of GOP leaders sounded as though they had just come from a two-week wilderness outing sponsored by the Sierra Club. "We cannot afford to take a chance with the beauty, the majesty and the economic value and vitality of our wonderful coastline," said South Carolina Gov. Henry McMaster, objecting to the Interior Department's plan to open thousands of miles of coastal waters to oil and gas exploration.
Maryland's Larry Hogan agreed with his fellow Republican. "Such drilling would create too great a risk to the health, safety and welfare of Maryland citizens, communities and businesses," he declared. New Hampshire's Chris Sununu and Massachusetts' Charlie Baker are also against the plan. Most conspicuous is Florida's Rick Scott — who was unique in persuading Interior Secretary Ryan Zinke to spare his state.
Apparently, there is a point at which some Republican officeholders can no longer abide the administration's indifference to environmental preservation. Until now, the prevailing attitude among them has been that nature is big enough to take care of itself. A broad rollback of protections by Donald Trump's appointees has proceeded with hardly a protest.
Young people may not believe that the federal Environmental Protection Agency came into being under and with the support of a Republican president (Richard Nixon). Or that the 1970 Clean Air Act passed almost unanimously. Or that a bipartisan majority overwhelmingly approved a 1990 update, signed by another Republican president (George H.W. Bush).
On the latter occasion, Sen. Mitch McConnell, now the Senate GOP leader, said proudly, "I had to choose between cleaner air and the status quo. I chose cleaner air." Today, however, he wants to encourage the production and use of coal, which is infamous for its filthiness. EPA Administrator Scott Pruitt is trying to advance the same goal by undoing the Obama administration's Clean Power Plan, even though his own agency estimates that it would save at least 1,900 lives a year.
Conservatives can rationalize inaction against global warming on the grounds that it's distant, speculative and resistant to tolerable remedies. But they somehow manage to overlook harms that are far more immediate, tangible and solvable.
They do so even though there is nothing logically conservative about tolerating pollution. Just as your neighbors have no right to smash your windows, they have no right to pump sewage onto your lawn. Nor should the factory down the road be allowed to emit substances that endanger your health or despoil your community. Preventing pollution is a basic function of government, like national defense and policing.
The pitifully low importance Trump and Pruitt put on this responsibility is reflected in their budget — which would cut the EPA's funding by 31 percent and slash its personnel. Pruitt, who accuses Obama of neglecting toxic waste sites, would reduce the budget to clean them up by 25 percent.
Deferring to the demands of industry is the operating mode of this administration. The EPA has scrapped regulations that blocked companies from dumping mountaintop mining debris into waterways and valleys — which ravages landscapes and presents risks to people. Under the Obama administration, the National Academies of Science, Engineering and Medicine undertook a $1 million study of the health hazards. The Trump administration canceled it.
The plan to expand offshore oil drilling betrays an equally callous attitude. The Interior Department announced the decision after it proposed to kill a rule — adopted after the 2010 Deepwater Horizon oil spill, the worst in American history — that tightened regulations designed to avert a repeat.
The Interior Department says removing these "unnecessary burdens" will save the industry $228 million over a decade — a puny amount next to the $17 billion worth of damage the Deepwater Horizon spill did to the Gulf of Mexico and the 11 lives it ended. The administration wants to stimulate offshore drilling while making it more dangerous.
"My top priority is to ensure that Florida's natural resources are protected," Gov. Scott said in reference to the offshore drilling plan, and the administration agreed. That's a sweet deal for him and residents of his state. But those people who would like to prevent environmental harms in the rest of the country? They can go sit on a drill bit.
Steve Chapman blogs at http://www.chicagotribune.com/news/opinion/chapman. Follow him on Twitter @SteveChapman13 or at https://www.facebook.com/stevechapman13. To find out more about Steve Chapman and read features by other Creators Syndicate writers and cartoonists, visit the Creators Syndicate website at www.creators.com.