Ohio Supreme Court To Decide Whether Execution Survivor Can Be Killed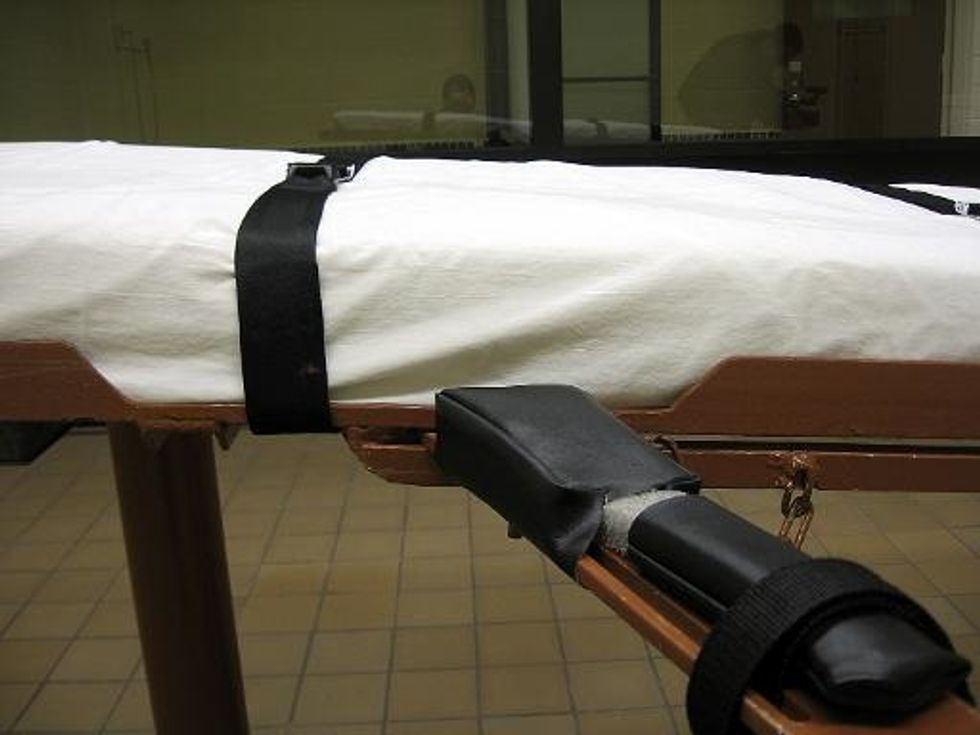 By Michael Muskal, Los Angeles Times
Ohio's top court will decide whether it is legal for the state to again try to kill the only living person to survive an execution attempt, or whether another effort to use lethal injection would violate his constitutional right to avoid cruel and unusual punishment.
The case, accepted by the state's top court last week, is the latest twist in what has become the increasingly convoluted road to capital punishment in Ohio and in other states. Earlier this year, an inmate in Ohio took an extended period to die from a lethal injection and appeared at times to be suffocating and writhing in pain. All executions in Ohio are on hold until August to allow time to work out a new protocol for the deadly injections.
The current case involves Romell Broom, 57, sentenced to be executed for the rape and slaying of 14-year-old Tryna Middleton in 1984. Broom was convicted of abducting her in Cleveland as she walked home from a football game.
On Sept. 15, 2009, executioners were preparing to put Broom to death and tried for at least an hour to find a suitable vein for an intravenous line to be inserted. The executioners reportedly kept hitting muscle and bone but never found a suitable vein. Broom was eventually sent back to death row to wait for the legal issues to be resolved.
Broom's lawyers, Tim Sweeney and Adele Shank, argued in papers sent to the Ohio Supreme Court that their client has suffered more than any other inmate, so that a second attempt to execute him would be double jeopardy as well as an example of cruel and unusual punishment.
"Once the phrase 'close enough for government work' was a reference to high quality and integrity," they wrote. "In current usage it is a tongue-in-cheek acknowledgment of government failure to meet acceptable standards. The way in which a capital sentence is carried out should not lend validity to doubt and distrust of the legal system or its mechanisms."
The state, however, argues that Broom never went through the execution process since the procedure was canceled without the deadly chemicals being injected.
Since the state's only failure was preparing Broom for an execution attempt, Broom "cannot be held twice in jeopardy by a second execution proceeding as a first execution attempt was never made," Matthew Meyer, an assistant Cuyahoga County prosecutor, said in a June 2012 court filing.
Broom is the only person in the United States who has survived a failed execution, his lawyers argue.
"Since the resumption of capital punishment in Ohio with Wilfred Berry's execution in 1999, no inmate besides Broom has survived a failed execution attempt, and Broom is unaware of any other Ohio inmates in the 20th century that survived a failed attempt," the lawyers wrote.
In 1947, Louisiana executed 18-year-old Willie Francis by electric chair a year after an improperly prepared electric chair failed to kill the teen. The U.S. Supreme Court ruled 5-4 to allow the second execution to proceed, rejecting double-jeopardy arguments.
U.S. District Judge Gregory L. Frost last week put all executions in Ohio on hold until at least August 15 while the state and defense attorney study a new protocol for lethal injection. Ronald Phillips of Summit County had been scheduled to be executed July 2 and William Montgomery of Lucas County was scheduled to be executed August 6.
After the Ohio case, a botched execution in Oklahoma also drew attention and led to an ongoing investigation there.
Clayton Lockett was seen writhing in pain during his execution in Oklahoma. Lockett eventually died of a heart attack more than 40 minutes after the botched execution began. Officials blamed a blown vein for the problems.
AFP Photo/Caroline Groussain