Oklahoma Delays Execution After Botched Lethal Injection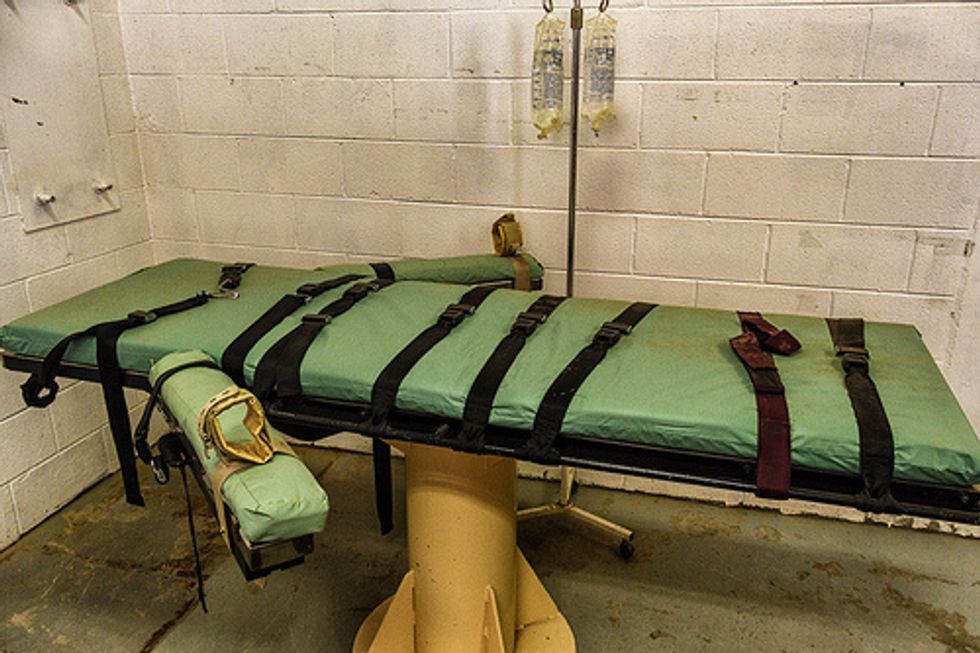 By Molly Hennessy-Fiske, Los Angeles Times
Oklahoma's attorney general agreed Thursday to delay for six months an execution that had been scheduled to take place hours after last week's botched lethal injection of Clayton Lockett.
Attorney General Scott Pruitt's office agreed to reschedule the execution of Charles Warner for Nov. 13, pending a review of execution protocols by the state's public safety commissioner, according to a filing by Assistant Attorney General Seth Branham in the Court of Criminal Appeals.
In a separate filing Thursday, the attorney general's office said the state plans to set an execution date in the next 60 days for convicted murderer Richard Glossip, "to provide certainty to the public" and the victim's family. Glossip, 51, an Oklahoma City motel manager, was sentenced to death for the 1997 murder of the motel's owner.
Both filings noted that the governor has committed to stay all executions pending the state review by Commissioner Michael Thompson.
"I support the decision to delay Charles Warner's execution," Gov. Mary Fallin said in a statement. "It is important to give Commissioner Thompson time to conduct his review of the Department of Corrections' protocol, and then to train DOC employees on any protocol improvements that might be made."
Warner's attorneys had requested at least a six-month stay after Lockett's lethal injection on April 29. They said in court documents that because Lockett's execution went "horribly wrong," the appeals court should compel the state to provide evidence that officials can "carry out a humane, constitutional execution."
"Very glad to see the state acknowledge a stay is necessary, given their inability to carry out a constitutional execution right now," Warner's attorney, Madeline Cohen, told the Los Angeles Times on Wednesday, "We hope the court acts quickly to enter the stay."
Warner's attorneys had hoped for an indefinite stay pending the state review, but the attorney general's office disagreed, saying it was unnecessary because the state would notify the court if more time was needed to complete the investigation.
Warner, 46, was originally scheduled to die hours after Lockett for the 1997 murder and rape of his girlfriend's 11-month-old daughter.
Lockett, 38, received the death penalty for the 1999 murder of a 19-year-old girl who was kidnapped, raped, shot and buried alive.
Fallin had pushed for the executions, battling with state courts and citing the heinousness of the crimes. After Lockett's death, she insisted that justice had been served, but postponed Warner's execution for two weeks and ordered what she described as an independent review by Thompson.
Oklahoma is among several states that have begun using a new mix of lethal injection drugs after manufacturers facing international protests stopped distributing previously used drugs. After Lockett was injected with the new mix of drugs, witnesses said, the inmate twitched and writhed, muttering until he was obscured from view by prison officials.
Those officials later said a vein had ruptured; about 40 minutes after the execution began, he suffered a heart attack and died.
Fallin asked the Dallas medical examiner's office to handle Lockett's autopsy, which is expected to take months.
Critics, including Lockett's attorneys and some Oklahoma state lawmakers, have demanded that all executions be stayed pending a review by a non-state agency.
President Barack Obama has called the botched execution "deeply disturbing" and last week ordered U.S. Justice Department officials to review how the death penalty is carried out by the states.
Photo: Ken Piorkowski via Flickr