On Christmas, Trump Claims He Made '115 Mile Long Contract' For Border Wall
@FAWFULFAN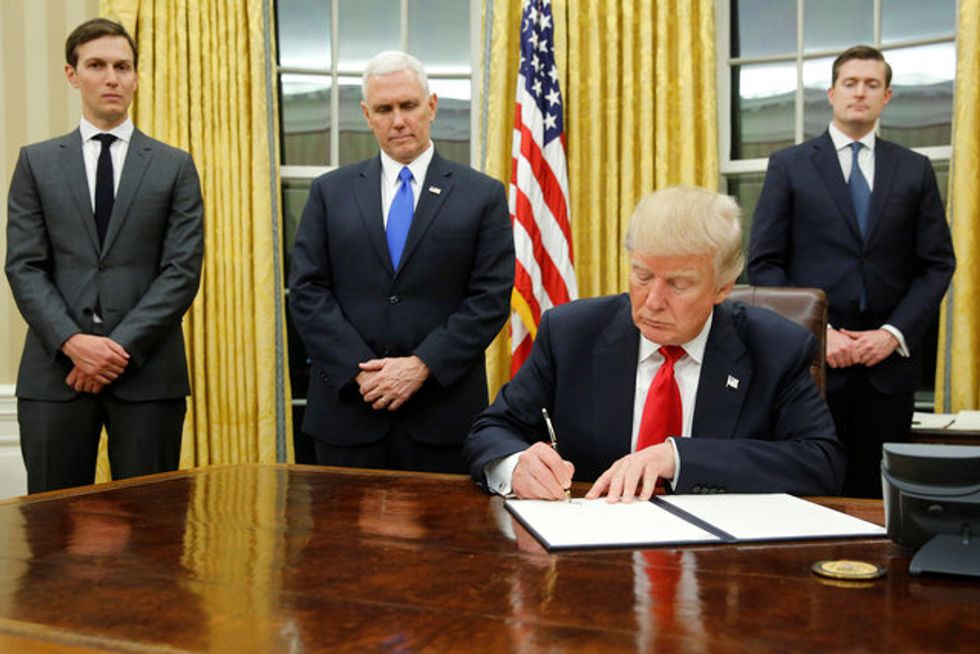 Reprinted with permission from AlterNet.
On Christmas Eve, with the government in the throes of a federal shutdown putting tens of thousands of workers in limbo, President Donald Trump boasted that he is already beginning work on the border wall:
I am in the Oval Office & just gave out a 115 mile long contract for another large section of the Wall in Texas. We are already building and renovating many miles of Wall, some complete. Democrats must end Shutdown and finish funding. Billions of Dollars, & lives, will be saved!

— Donald J. Trump (@realDonaldTrump) December 24, 2018
Leaving aside the fact that Trump, not Democrats, shut down the government (and boasted that he would take credit for it), the president is obviously lying. Congress would need to appropriate funds to hire a contractor to work on the construction of a wall, and the Republican-controlled Senate is not doing any such thing.
Social media quickly pounced on Trump's absurd boast:
That isn't how federal contacting works. https://t.co/NhZFnIcfJN

— Bradley P. Moss (@BradMossEsq) December 24, 2018
1. It's pathetic that Trump feels compelled to tell us he's actually working ("I am in the Oval Office")

2. Trump hasn't gotten a cent for his wall, so he's either lying about this "contract" or living in fantasy land https://t.co/Io9CbJ3AWo

— Aaron Rupar (@atrupar) December 24, 2018
The president cannot give a contract to anyone to do anything, which means Trump is sitting alone in the Oval Office, snorting Adderal, and tweeting out his drug-fueled fantasies. https://t.co/ENumIxb5Hp

— Reza Aslan (@rezaaslan) December 24, 2018
And some other people mocked Trump's broken English reference to a "115 mile long contract":
Trump just broke the world record for 115 mile long contract, that's alot of paper.

— Clazzex (@CJLavEd) December 24, 2018
Trump just tweeted that he signed a 115 mile long "wall" contract which comes very close to matching the length of my last CVS receipt.

— Matt Dalton 🍕 (@MattDaltonRules) December 24, 2018
Just a footnote in Trump's 115 mile long contract. pic.twitter.com/MeFDtBZUgW

— Radio Justice 📻🎙 (@justiceputnam) December 24, 2018