On Clinton's Gender And Obama's Race, Two Different Rhetorical Styles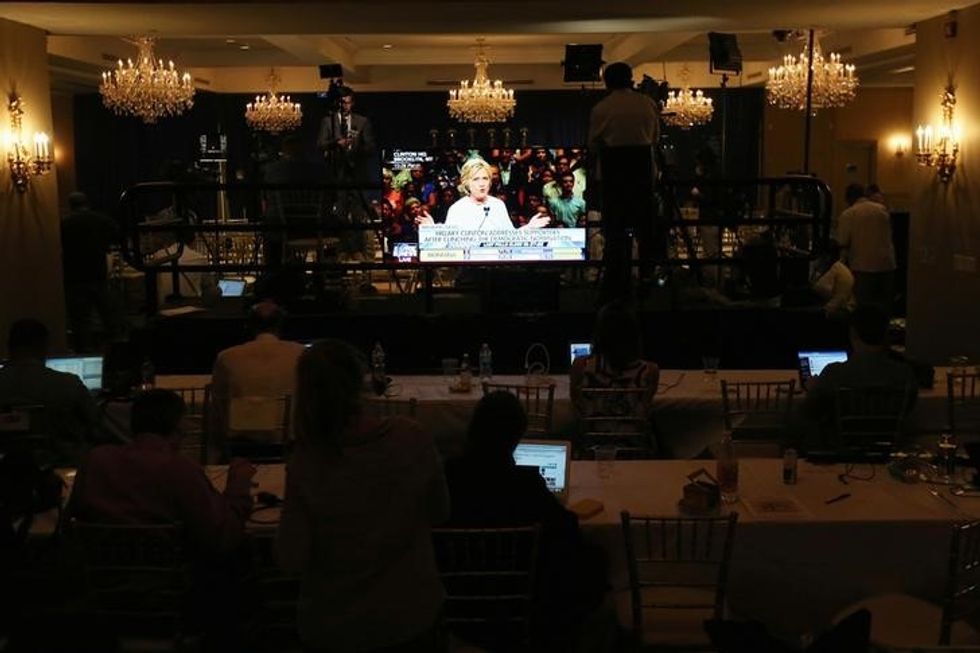 In her first speech as the presumptive Democratic nominee on Tuesday evening, Hillary Clinton did not sidestep the historic implications of her victory.
"Thanks to you, we've reached a milestone – the first time in our nation's history that a woman will be a major party's nominee for president of the United States," she told the crowd at Brooklyn's Navy Yard.
Recalling the women in her family, the Seneca Falls Convention, and the passage of 19th Amendment, Clinton framed her achievement as the next step in the American crusade towards equality, between genders and otherwise.
"Barriers can come down. Justice and equality can win," she said. "Our history has moved in that direction – slowly at times, but unmistakably – thanks to generations of Americans who refused to give up or back down."
Historic and momentous as it is, Clinton's shattering of this glass ceiling evokes another recent episode in American electoral history — when Barack Obama became the first Black man to receive a presidential nomination from a major party, just eight years ago. 
Indeed, Clinton's declaration that "great things [can] happen in America" and that her campaign is about "making sure there are no ceilings, no limits on any of us" would be just as relevant eight years ago as it was on Tuesday.
Unlike the presence of gender in Clinton's remarks, though, Obama's speech in June 2008 barely touched on the racial significance of his victory. Closing the Democratic primary season, he said the words "African American" and "Black" one time each, and never mentioned race again beyond that.
His thoughts on the role of race in his campaign instead came a few months earlier, in speech dubbed "A More Perfect Union," his response to the scrutiny surrounding his ties to the controversial Rev. Jeremiah Wright, in whose church Obama had been a member.
That speech, one of the most memorable of the 2008 campaign, poses a striking similarity to Clinton's address in Brooklyn. What "A More Perfect Union" was to race, Tuesday's speech could be to gender.
In March 2008, Obama compared his relationship with his maternal grandmother to his ties to Wright.
"I can no more disown him than I can my white grandmother — a woman who helped raise me… but a woman who once confessed her fear of black men who passed by her on the street," he said. "These people are a part of me. And they are a part of America, this country that I love."
Clinton, this week, called her mother her "rock, from the day I was born till the day she left us," noting the symbolic importance of her mother's birthday in American history: the passage of the 19th Amendment.
"She overcame a childhood marked by abandonment and mistreatment, and somehow managed not to become bitter or broken," Clinton told her supporters. "My mother believed that life is about serving others. And she taught me never to back down from a bully, which, it turns out, was pretty good advice."
The context behind these stories, though, also highlights a key difference in their rhetoric. Clinton highlights her achievements as a female candidate, while Obama emphasized the need for racial harmony over the political significance of his role in the primary. He used his accomplishments as a candidate to combat volatility; hers are placed in a narrative about continuing a centuries-long fight.
"Tonight's victory is not about one person. It belongs to generations of women and men who struggled and sacrificed and made this moment possible," Clinton said. "In our country, it started right here in New York, a place called Seneca Falls, in 1848, when a small but determined group of women, and men, came together with the idea that women deserved equal rights."
Obama was much more stark: "We can accept a politics that breeds division, and conflict, and cynicism. We can tackle race only as spectacle — as we did in the OJ trial — or in the wake of tragedy, as we did in the aftermath of Katrina — or as fodder for the nightly news," he said. "Or, at this moment, in this election, we can come together and say, 'Not this time.'"
Clinton has not gone without sexist criticism in the media, but her response to these critics stands on less controversial ground — perhaps because of her 2008 campaign, perhaps in spite of it. Obama's remarks on race were less of a celebration, and more of a contextualization in history. But for both candidates — at times, fellow senators and collaborators, electoral rivals and opponents, coexisting representatives for their respective identities — the history of the "unfinished promise of America," as Clinton called it, served as a way to call for unity.
Where Obama focused on the Constitution as a document that unsuccessfully strived for equality, Clinton instead looked to the Declaration of Sentiments as the origin of feminism in the U.S.
"We believe that cooperation is better than conflict, unity is better than division, empowerment is better than resentment, and bridges are better than walls," she said, later adding, "we want to write the next chapter in American greatness, with a 21st century prosperity that lifts everyone who's been left out and left behind."
Obama, likewise, looked back at past efforts for equality and forward at efforts needed to fully achieve this goal — one that he and Clinton both admitted cannot be won only through a presidential victory.
"This union may never be perfect, but generation after generation has shown that it can always be perfected," he said.
Some voters have criticized Clinton's stance on issues of race, gender and social justice. They say she has shown a tin ear to the Black Lives Matter movement, de-emphasized criminal justice reform, and promoted policies that fail to fully empower women, especially low-income women. In short, they say, her campaign is not as symbolic as it appears to be.

Obama, similarly, has been taken to task by many Black leaders in politics and academia, including Bernie Sanders endorser Cornel West, for not focusing directly on racial issues head-on.
Those claims aren't unjustified, and it's already clear that gender will play out differently in Clinton's campaign than race did for Obama in 2008. But her remarks on Tuesday suggested that both candidates may go down in the history of the American presidency as a pair of successive firsts.
Photo: U.S. Democratic presidential candidate Hillary Clinton speaks on a TV broadcasting in the media workspace at U.S. Republican candidate Donald Trump's campaign event on the day several states help presidential primaries including California at the Trump National Golf Club Westchester in Briarcliff Manor, New York, U.S., June 7 2016. REUTERS/Carlo Allegri