On Holocaust Tour In Europe, Rep. King Detours To Meet Neo-Nazi
@FAWFULFAN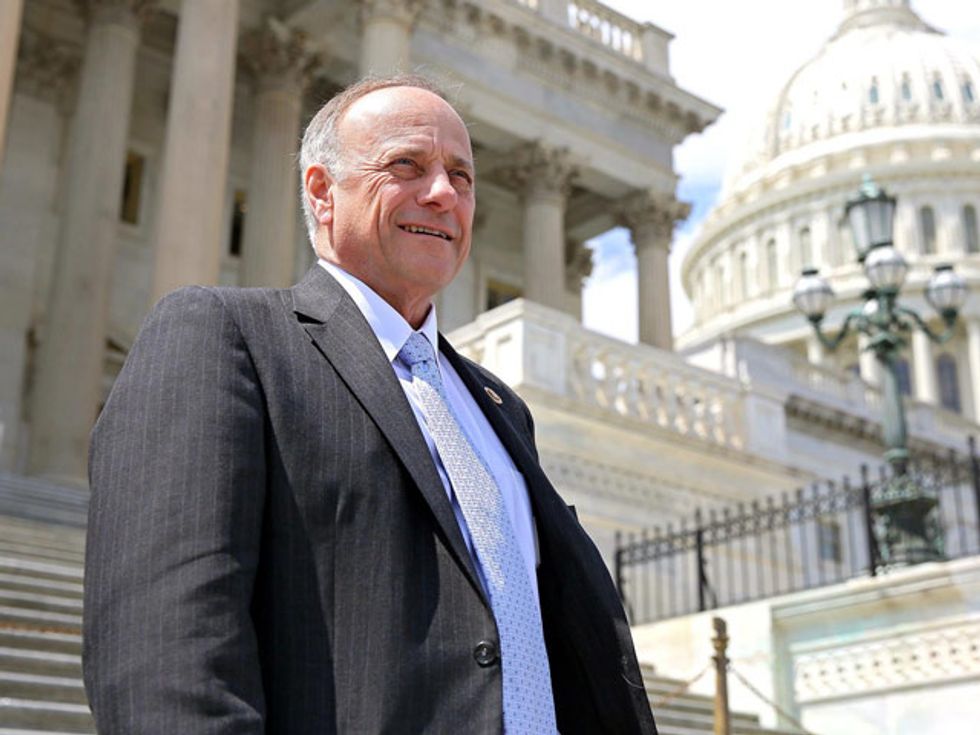 Reprinted with permission from AlterNet.
Last week, Rep. Steve King (R-IA), a congressman known for his overtly racist views, was plunged into fresh controversy after the Huffington Post reported an interview he gave to Unzensuriert ("Uncensored"), an extremist publication with ties to the far-right Freedom Party of Austria (FPÖ).
But it turns out that the whole saga was even worse than it first appeared.
According to the Washington Post, King met with leaders of FPÖ in Vienna immediatedly after concluding a five-day tour of Europe, and of the Nazi death camps in Poland, paid for by From the Depths, a nonprofit organization that educates politicians worldwide about the Holocaust. Four other GOP congressmen joined King and his wife on the trip, but they did not travel on to Austria after the conclusion of the tour.
Questioned about this trip, King said it was a "very, very powerful experience" to get a "Polish perspective" on the Holocaust, and added that the Poles "don't know" whether Nazi or Soviet occupation of their country was worse. He also denied that FPÖ is an extremist party.
FPÖ was founded by an SS officer and is currently led by Heinz-Christian Strache, who formerly participated in neo-Nazi groups. The party now distances itself from past connections to the Nazis, but even today takes an extreme, hardline stance on immigration reminiscent of President Donald Trump's.
In the Unzensuriert interview, held in August and published in September, King openly endorsed white nationalism, saying that Europe and America are threatened by low white birthrates and an influx of Hispanics and Muslims, and that "If we don't defend Western civilization, then we will become subjugated by the people who are the enemies of faith, the enemies of justice." He added, "What does this diversity bring that we don't already have? Mexican food, Chinese food, those things — well, that's fine, but what does it bring that we don't have that is worth the price? We have a lot of diversity within the U.S. already."
King also expressed his belief in the "Great Replacement", a conspiracy theory that nonwhite immigration is an orchestrated plot to replace the white population of Europe. He suggested that George Soros, the Hungarian-born liberal billionaire philanthropist and Holocaust survivor, is behind it, insisting, "if you trace it back, you can connect it to his foundation."
According to the Post, King stands by his claims about Soros, calling him "a leftist operator that's been engaged in upsetting freedom," and echoing a right-wing smear that, instead of being a Holocaust survivor, Soros actually collaborated with the Nazis as a teenager.
Jonny Daniels, president of From the Depths, said that he had no idea King had gone to meet with FPÖ leaders after the end of the tour, but expressed his dismay. "You sort of hope that a trip like this gives a better understanding to a parliamentarian, understanding that the connection between hate speech and hatred of any people or nation leads directly to places like Auschwitz-Birkenau."
King has met with a number of other far-right European politicians, including French National Rally leader Marine Le Pen and Dutch anti-Muslim firebrand Geert Wilders. He also recently retweeted a Nazi sympathizer activist who has praised Adolf Hitler, and refused to apologize when questioned about it.
This November, King faces a challenge from Democratic former professional baseball player J.D. Scholten.
Matthew Chapman is a video game designer, science fiction author, and political reporter from Austin, TX. Follow him on Twitter @fawfulfan.