On Parkland Anniversary, Trump Tweet Insults Survivors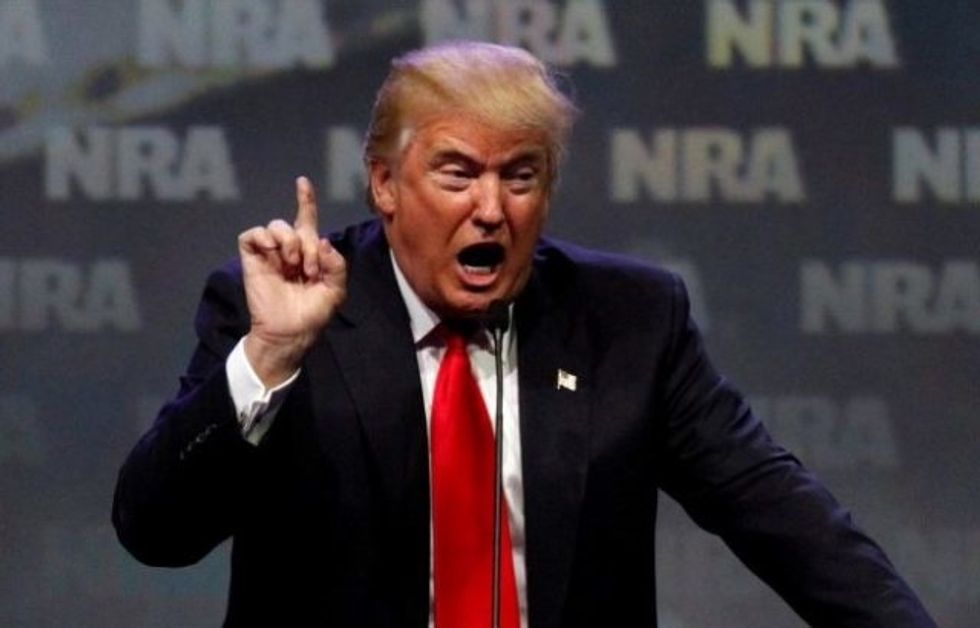 On Thursday — the one-year anniversary of the gun massacre at Marjory Stoneman Douglas High School in Parkland, Florida — Trump decided to insult the survivors of the shooting by trying to pretend that guns had nothing to do with the murders of 17 of their classmates and teachers.
Trump is apparently so eager to please the pro-gun extremists at the National Rifle Association (NRA) that he scrubbed a mention of "gun violence" from his official statement about the anniversary of the tragedy, bizarrely replacing it with the phrase "school violence."
In the original statement released by the White House, Trump said, "Melania and I join all Americans in praying for the continued healing of those in the Parkland community and all communities where lives have been lost to gun violence."
But when he released a tweet with his statement, the accompanying graphic instead referred to the loss of life "as a result of school violence."
The change is a slap in the face to the teenage survivors of the Parkland tragedy, who have spent the last year fiercely campaigning for stricter gun laws.
Unfortunately, the insult is also perfectly in line with Trump's coldhearted and tone-deaf responses to the Parkland shooting and its survivors.
Trump also ignored the subject of gun violence in his initial response to the shooting, which survivors called him out for at the time.
Instead of expressing sympathy for the fallen or anger about the widespread availability of guns, Trump blamed "neighbors and classmates" for not reporting that the shooter "was a big problem." He also snubbed the families dealing with the fallout of the shooting, choosing to only connect with a family that shared his pro-gun extremist views.
He even used the photo of his hospital visit to a shooting survivor to raise money for his campaign.
Those tasked by Trump's administration to deal with school shootings also failed the students. Education Secretary Betsy DeVos went to Stoneman Douglas High for a photo op, but then refused to speak with concerned students.
"You came to our school just for publicity and avoided our questions," wrote student Aly Sheehy, criticizing DeVos.
These slights were among the reasons some of the students cited to explain why they would not attend a White House photo op that had been mounted in response to the tragedy.
Trump is the NRA's lackey. The extremist gun organization spent $35 million in 2016 to elect Trump, and he and Mike Pence have vowed to be the organization's allies — even though the NRA is losing money and becoming politically toxic thanks to the Parkland teens' activism.
The NRA owns Trump — and he acts like it.
Published with permission of The American Independent. 
IMAGE: Donald Trump addresses members of the National Rifle Association at their annual meeting in Louisville, Kentucky, May 20, 2016. REUTERS/John Sommers II