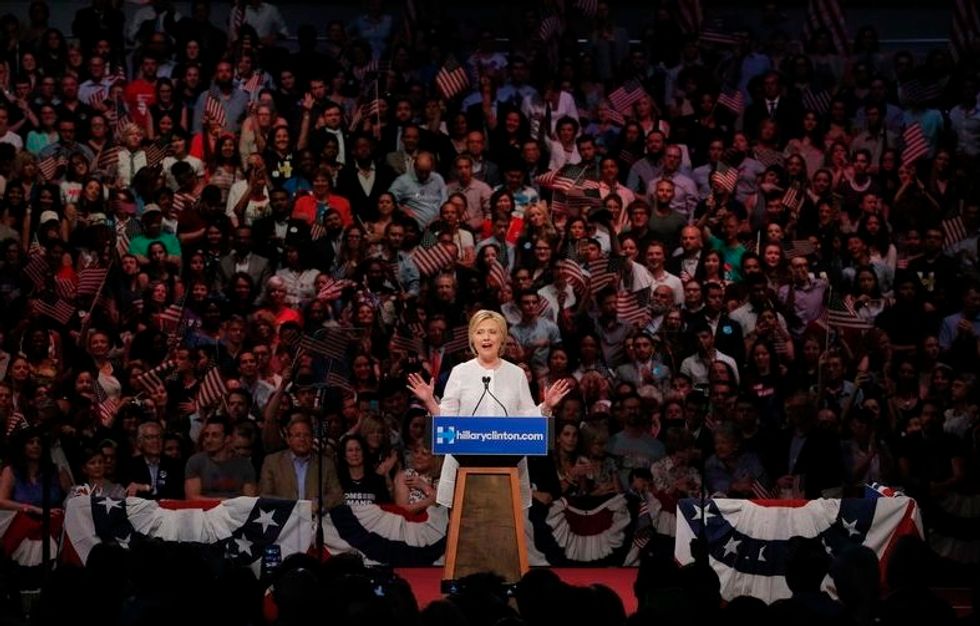 On Tuesday night, after Hillary Clinton had delivered her first speech as the presumptive Democratic nominee for president, it didn't take long for some of us expressing our joy over this historic moment to feel the burn of reprimand.
We should show more understanding toward those who are disappointed, the critics said.
We should not "rub it in."
We were "gloating." We were "insensitive." We should be "more gracious."
I leaned back from my computer in the wee hours of Wednesday morning and thought, "Why does this feel so familiar?"
It didn't take long for me to remember. I called up the column I wrote last June after the U.S. Supreme Court ruled in favor of same-sex marriage. The reprimands were virtually identical.
Here we are again, expected to suppress our happiness so that we don't injure the feelings of those who see nothing to celebrate in this milestone moment of equality. I was impatient last June with this argument, and I find that an additional year of living has done nothing to temper my resolve.
We are not trying to hurt anyone with our enthusiasm, yet it is so very female to lower our voices and dim the signs of our happiness to avoid upsetting those who have no business trying to tamp us down. Let us be done with that.
It's not that I don't understand the pain of Bernie Sanders supporters' wounds. Isn't it true, after all, that what we dislike most in others are the weaknesses we recognize in ourselves? In 2008, it took me a while to bounce back from the heartbreak of Hillary Clinton's primary defeat to Barack Obama. Let's just say you wouldn't have wanted to hang out with me. If that is always true of you, I can't help you here.
In hindsight, I can see that my injury was self-inflicted, a human response to disappointment. Nobody was looking to hurt my feelings, and no one from the Obama camp felt the least bit obligated to court or cajole me out of my sour mood. The duration and course of my recovery were up to me, and by golly, I got there.
Likewise, a lot of Sanders supporters will sulk until they get bored with their grudges, and then most of them will join the fight to keep Donald Trump out of the Oval Office. It's not up to me or anyone else who voted for Clinton to do the hard work of healing for them. Soul-searching is, by definition, a solo act.
Now that we've had a day or so to get used to the idea that the Democratic Party is about to nominate the first viable female candidate for president, it's time to figure out what comes next.
I am delighted by the prospect of a national discussion fueled by the assumption that every issue is a women's issue. That's just one of the life-altering changes sweeping in on the wings of a Hillary Clinton candidacy. Another is the full stop it brings to patronizing speculation about what women — and what girls — cannot do in this world. The reality of a female president blows that door off its hinges.
On Monday, Clinton is scheduled to be in Cleveland, where I live, to emphasize the need for unity. One of her greatest challenges in this campaign is to convince white men who feel abandoned and invisible that she sees them and that she cares. So many women in America will readily believe that she does because this is a central truth of our lives, too. We care about our men, and too many of us love men who are hurting.
We also understand the enduring legacy of negative stereotypes about strong women. Too often, we are cast as everything that is now wrong with America.
Donald Trump will attempt to exploit such suspicions of us because fear is his only strategy. He is living proof that small people come in all sizes. The last thing he thinks he should have to do is compete with a woman. He is the bully we know, the giant boor we've been trying to topple for much of our lives.
At the risk of sounding joyful, I think Hillary Clinton is the warrior we've been waiting for.

Connie Schultz is a Pulitzer Prize-winning columnist and professional in residence at Kent State University's school of journalism. She is the author of two books, including "…and His Lovely Wife," which chronicled the successful race of her husband, Sherrod Brown, for the U.S. Senate. To find out more about Connie Schultz (con.schultz@yahoo.com) and read her past columns, please visit the Creators Syndicate Web page at www.creators.com.
Photo: Democratic U.S. presidential candidate Hillary Clinton speaks during her California primary night rally held in the Brooklyn borough of New York, U.S., June 7, 2016. REUTERS/Lucas Jackson