Outrageous False Trump-Clinton Equivalencies Are Distorting The Election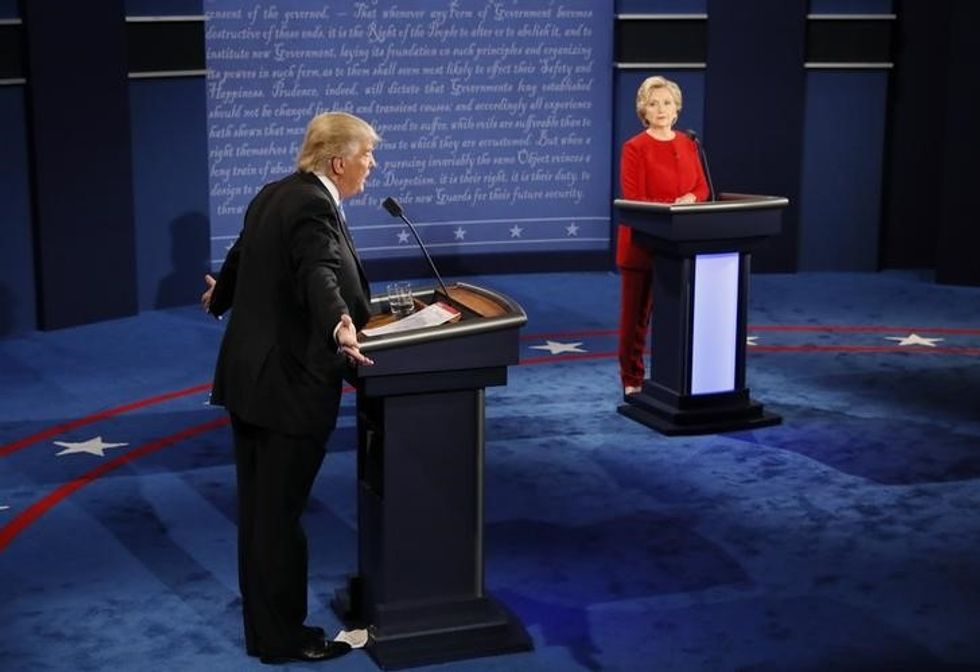 Reprinted with permission from AlterNet. 
As national polls released Tuesday show a tightening or virtually tied presidential race, voters are being deluged with new revelations about Hillary Clinton and Donald Trump that are far from equivalent measures of their characters and fitness for office.
On the Democratic side, the solo and apparently illegal decision by FBI Director James Comey to alert Congress that the agency wants to examine newly discovered emails from the ex-secretary of state has become a gut-punch to a campaign that was rising in the polls. There is no recent precedent for Comey's action, which violates FBI rules of not commenting on investigations and interfering in elections. Yet Comey's letter to Congress last Friday has cut into voter enthusiasm for Clinton, polls released Tuesday found, even though it is long on innuendo and short on substance.
On the Republican side, in contrast, a string of new evidence-based revelations about Trump this week reinforce a lifelong pattern of self-centered and deviant behavior that questions his fitness for any public office. There's his refusal to pay a top campaign consultant nearly three-quarters of a million dollars owed, just as Trump didn't pay hundreds of contractors when building his casinos. There's Trump using now-banned tax-avoidance tactics to evade tens of millions of dollars in federal taxes, basically claiming his investors' losses—other people's money—as his own. There is Trump destroying emails and other legal records over decades of litigation, even as he hits Clinton for erasing personal emails. And most insidiously, there is a series of reports saying he has longstanding links to Russia's government, which is seen as overtly and covertly helping Trump's presidential campaign.
The biggest double standard is that the FBI has been investigating links between Trump and Russia—apparently going beyond this year's hack into Democratic Party and Clinton campaign emails. Yet astoundingly, Comey has said he did not want to tell Congress about that probe on the eve of an election, even though it raises serious national security questions; namely, what are Trump's loyalties and debts to his Russian backers?
Let's go through these false equivalencies and loose ends.
1. The 'Comey Effect' tightens race, cuts enthusiasm for Clinton. The bombshell about the investigation broke last Friday, just before the latest Washington Post/ABC News tracking poll was conducted. That poll, whose results were released Tuesday, found Trump with a one-point lead (46 to 45 percent), which is a statistical tie. More insidious was its finding that Clinton's base suffered a 10-point drop in supporters who are "very enthusiastic." While no single poll can be seen as definitive—especially when 25 million people have already voted nationally—the unambiguous takeaway is that Comey's disclosure has impacted the race and hurt a presidential frontrunner's campaign.
It's important to note that just because the FBI is examining emails from Clinton found on former congressman Anthony Weiner's laptop, there is no indication the agency will announce anything before Election Day. It's very likely the FBI has already seen most of these emails, as it has examined the computers of Weiner's estranged wife, Huma Abedin, who is a top Clinton aide. Should the FBI find previously unseen emails, there's no indication that any would contain classified material and not personal banter. Nonetheless, this new investigation is letting Republicans talk about something other than Trump, which is helping them.
2. There is an FBI investigation of Trump's ties to Russia. There is, without dispute, an FBI investigation into Trump's ties to Russia. The question is not if one exists, but what is its scope? Major newspapers such as the New York Times have reported the FBI is looking into ties between top Trump advisers and Russian financial interests, as well as Russian-led hacking into Democratic Party and Clinton campaign emails. Other breaking news reports this week have pointed to potentially deeper ties. On Monday, Slate.com published a lengthy report based on an investigation by computer scientists who traced a server that was sending messages between Trump's offices and Russia, although they could not tell what its purpose was. Also Monday, MotherJones.com's David Corn wrote a report quoting notes an ex-spy from a U.S. ally gave the FBI about how Russia has for years "tried to co-opt and assist Trump."
In response to MoJo's story, Matthew Miller, a former Department of Justice spokesman, tweeted, "No other conclusion can be drawn from this story but that the FBI is officially investigating Trump for coordination with Moscow." That is not a far-fetched conclusion, considering that Paul Manafort, Trump's ex-campaign manager, was forced to resign last summer over reports he was paid millions in cash while working for pro-Russia candidates in Ukraine.
But let's be clear: There is no equivalency between these probes. On the campaign trail, Trump has called Clinton's use of a private email server, "the biggest scandal since Watergate." That is another huge distortion, as the Watergate scandal involved a presidential conspiracy to target enemies, spy on them, steal their private files, and cover it up. If anything, it is Trump's weird, unexplained links to Russia, and Comey's one-sided decision to talk about Clinton and not Trump, that may be the biggest presidential campaign scandal since Watergate.
3. While Trump assails Clinton over emails, he's destroyed records defying court orders. Also Monday, Newsweek published a report by Kurt Eichenwald tracing Trump's decades-long record of destroying and hiding "thousands" of emails, records and other documents in ongoing lawsuits.
"Over the course of decades, Donald Trump's companies have systematically destroyed or hidden thousands of emails, digital records and paper documents demanded in official proceedings, often in defiance of court orders," the report begins. "These tactics—exposed by a Newsweek review of thousands of pages of court filings, judicial orders and affidavits from an array of court cases—have enraged judges, prosecutors, opposing lawyers and the many ordinary citizens entangled in litigation with Trump. In each instance, Trump and entities he controlled also erected numerous hurdles that made lawsuits drag on for years, forcing courtroom opponents to spend huge sums of money in legal fees as they struggled—sometimes in vain—to obtain records."
Trump's brazen hypocrisy is nothing new. But the false equivalency here is that Clinton has said the 30,000 emails her legal team erased were personal, whereas Trump's missing document trail was business-related and connected to disputes resulting in litigation.
4. More evidence of 'crooked Donald,' the boss who doesn't pay his bills or taxes.There was more evidence as the week began that Trump's word cannot be trusted, adding to his long track record of doing whatever is best for him. It's been widely reported that Trump has stiffed hundreds of small businesses that built his resorts, pushing many into bankruptcy or financial hardship. Now a top Republican pollster hired by the campaign is feeling the same pain, according to the Washington Post.
"The Trump campaign's latest Federal Election Commission report shows that it is disputing nearly $767,000 that Fabrizio's firm says it is still owed," the Post reported Monday. "Fabrizio was an ally of former campaign chairman Paul Manafort, who persuaded a skeptical Trump in the spring that he needed a professional pollster. The abrupt departure of Manafort in August and Trump's hiring of pollster Kellyanne Conway to be his campaign manager raised questions about whether Fabrizio would stay on. There have also been multiple reports that Trump and his son-in-law, Jared Kushner, have rejected Fabrizio's advice."
This pattern of doing whatever is best for Trump at everyone else's expense was also displayed in a New York Timesreport Tuesday, which described how Trump used "a tax avoidance measure so legally dubious his own lawyers advised him that the Internal Revenue Service would most likely declare it improper if he was audited. Thanks to this one maneuver, which was later outlawed by Congress, Mr. Trump potentially escaped paying tens of millions of dollars in federal personal income taxes."
Simply said, Trump claimed the losses his investors suffered in a New Jersey casino project as his own—meaning he used other people's money to avoid paying taxes. He disguised that move by giving his banks and investors shares in a worthless casino partnership. That covered up that he wasn't relieved of that debt (which is taxable) by his investors. "He deducted someone else's losses," a former congressional tax expert told the Times. "He is double-dipping big time."
False Equivalencies, Loose Ends
These new disclosures about Trump—the FBI investigating his ties with Russia; his long record of destroying legal documents related to ongoing lawsuits; not paying in full for agreed-upon services; not paying tens of millions in income taxes—cannot be compared in any substantive way to whatever mistakes Clinton made while using a private email server as secretary of state.
And yet, because FBI director Comey told Congress he wants to look at some more Clinton emails found in a related case, a pall has been cast on her campaign, and its effect is being seen in the latest polls in the form of declining voter enthusiasm and tightening presidential and Senate races. Meanwhile, Comey doesn't think he needs to say anything to Congress about the FBI investigation into the ties between Trump and the Russian government because it might unduly affect the election's outcome. On Tuesday, Clinton's campaign manager, Robbie Mook, accused Comey of a "double standard," but that is an understatement.
It's worth pondering the concluding thoughts in Eichenwald's Newsweek investigation about Trump's real-life behavior. Voters who are having second thoughts about Clinton because of the FBI director's one-sided intrusion into the campaign's finale need to be clear-eyed if they don't vote for her.
"This review of Trump's many decades of abusing the judicial system, ignoring judges, disregarding rules, destroying documents and lying about it is not simply a sordid history lesson," Eichenwald wrote. "Rather, it helps explain his behavior since he declared his candidacy. He promised to turn over his tax returns and his health records—just as he promised to comply with document discovery requirements in so many lawsuits—then reneged. As a result, he has left a sparse evidentiary trail that can be used to assess his wealth, his qualifications for the presidency or even his fitness. Should voters choose him to be the next U.S. president, he will enter the Oval Office as a mystery, a man who has repeatedly flouted the rules. He has solemnly told the country to trust him while refusing to produce any records to prove whether he speaks the truth or has utter contempt for it."
IMAGE: Republican U.S. presidential nominee Donald Trump speaks as Democratic U.S. presidential nominee Hillary Clinton listens during their first presidential debate at Hofstra University in Hempstead, New York, U.S., September 26, 2016. REUTERS/Rick Wilking