North Carolina GOP Candidate Smeared Parkland Survivor As 'Actor'
@jeisrael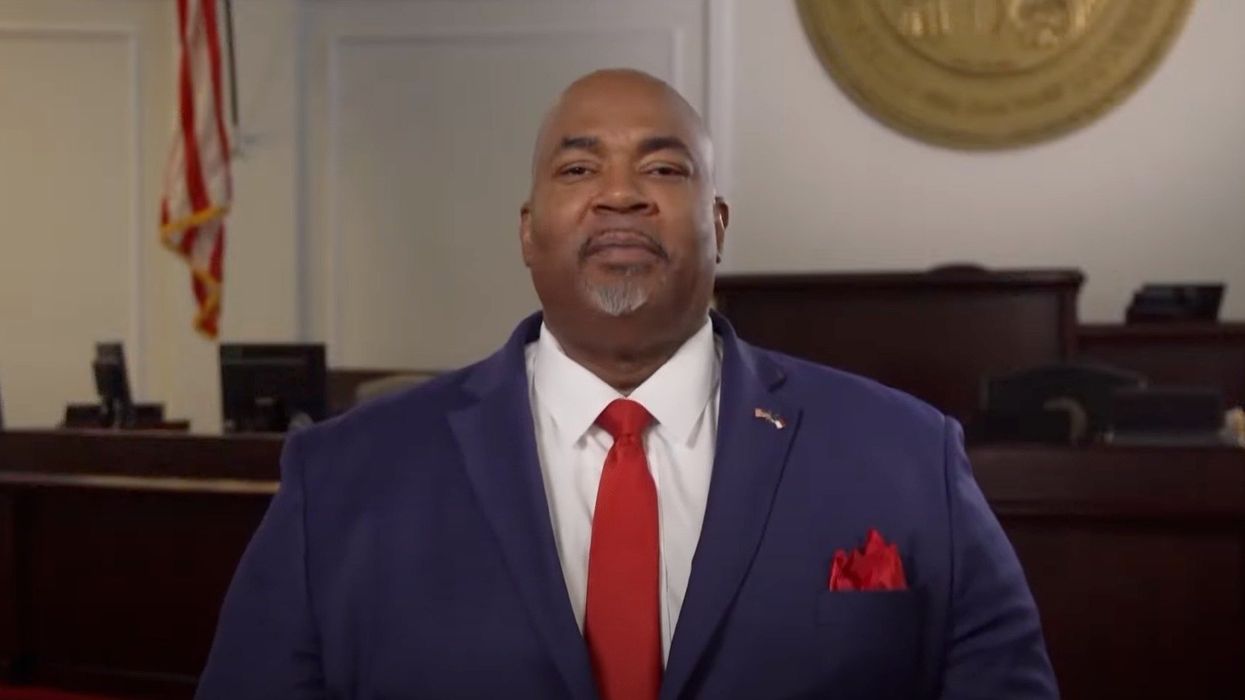 In a now-deleted Facebook comment from 2018, Republican North Carolina Lt. Gov. Mark Robinson falsely accused David Hogg, a survivor of the mass shooting at Marjory Stoneman Douglas High School in Parkland, Florida, of being a paid actor.
Seventeen people, including many of Hogg's classmates, were killed by a shooter at the school on February 14, 2018.
Conspiracy theorists often claim that mass shooting victims are actually "crisis actors" and accuse survivors of being involved in orchestrated plots to achieve their political goals.
Robinson, who is running for the GOP nomination for governor of North Carolina, wrote on Feb. 27, 2018, on Facebook:
Let me see if I have this correct. A spoiled, angry, disobedient CHILD shot and killed 17 of his classmates, and now spoiled, angry, know it all CHILDREN are trying to tell law abiding ADULTS that we must give up our Constitutional RIGHT to own certain weapons. Cue Rod Serling because this must be an episode of the Twilight Zone? David Hogg and the rest of these silly little immature "media prosti-tots" need to grab a passy, have seat in time out, and shut up.
According to CNN, Robinson used social media more than once to attack survivors who were calling for legislation to prevent future gun violence, including Hogg, then a 17-year-old, who had witnessed the shootings and become an outspoken advocate for gun safety.
On February 26, 2018, he posted a series of laughing emojis and a photoshopped picture of Hogg with the name "Media Hogg."
A commenter replied, "An opportunist well trained by his parents."
Another responded: "Nope. A paid actor who graduated in California several years ago."
In his now-deleted reply, Robinson answered: "Yep. Hence the name I gave him," followed by more laughing emojis.
A Robinson spokesperson did not immediately respond to an American Independent Foundation inquiry for this story.
After the CNN story was published, Robinson, who also has a long history of anti-LGBTQ, antisemitic, racist, sexist, and Islamophobic comments, released a statement in which he said: "These coordinated attacks from the elitist politicians like Biden and Stein with activist 'journalists' in the media are just the beginning. … They want to destroy me because they don't think normal people should be elected to the highest office. They think that should be reserved for the elite who sit in ivory towers, judging everyone else while sticking their noses up at the world." He offered no apology for or retraction of his attacks on the Parkland survivors.
Robinson will face former Rep. Mark Walker and current State Treasurer Dale Folwell in the March 2024 Republican gubernatorial primary in North Carolina. The winner will likely face Democratic state Attorney General Josh Stein.
Democratic Gov. Roy Cooper is term-limited.
Reprinted with permission from American Independent.