No Partisan Wave Building For Fall Elections, But GOP Gains Likely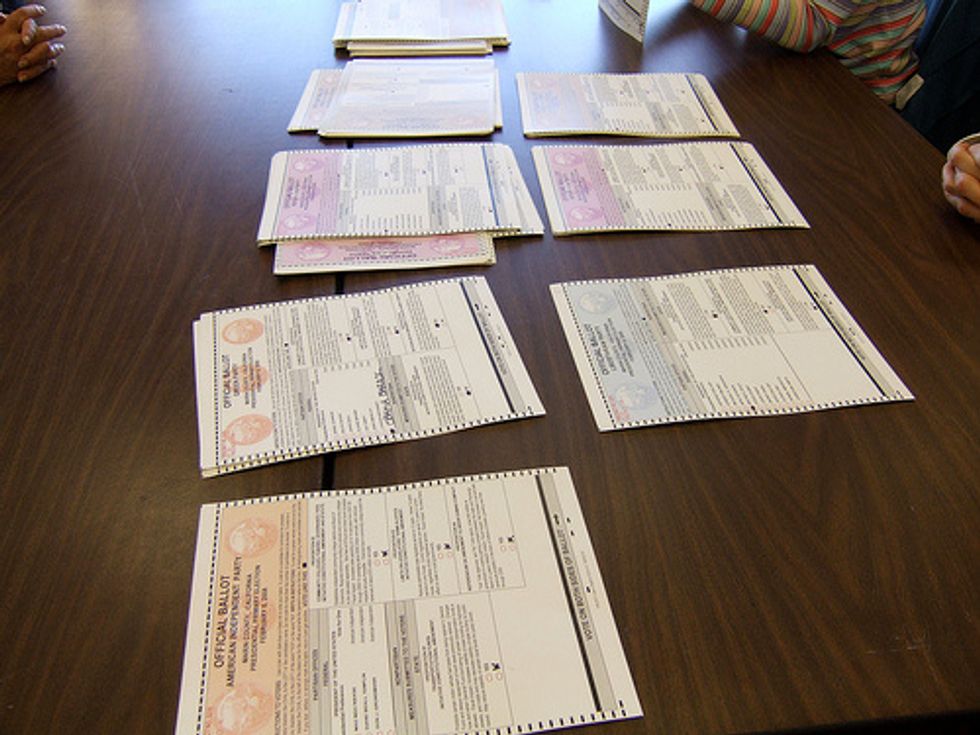 By David Lauter, Tribune Washington Bureau
WASHINGTON — In the last two midterm elections, in 2006 and 2010, partisan waves shaped the outcomes, delivering big victories first to the Democrats, then to the Republicans. This time around, that doesn't seem to be happening.
The latest evidence comes from new polling by the Pew Research Center, which shows Republicans holding an advantage in enthusiasm about the November election, but at a significantly lower level than they had in 2010 or Democrats had four years earlier.
Among registered voters who said they side with the GOP, 45 percent reported they were more enthusiastic than usual about voting, the Pew survey showed. Among Democratic voters, 37 percent did so. That eight-point gap in enthusiasm compares with a 13-point advantage the GOP had at this point four years ago, and a 17-point Democratic advantage in 2006.
Other measures of voter engagement, such as the number who say that they are closely following the election or that they are certain to vote, provide similar results — a Republican edge, but by a smaller margin than in 2010.
Recent state-by-state polls of individual races paint a similar picture of close elections in key states, rather than a strong tide for one party.
In Wisconsin, for example, which often serves as a national bellwether, a poll by Marquette University released Wednesday found the race for governor to be a dead heat between incumbent Gov. Scott Walker, the Republican, and his Democratic challenger, Mary Burke.
All that could change, of course, but for now, the absence of a strong wave comes as something of a setback for Republicans, who had hoped earlier this year that the unpopularity of President Barack Obama's health care law would guarantee big gains for them.
Even so, however, Republicans almost certainly will win several seats in the Senate because most of the hotly contested races take place this year in conservative states that Republican Mitt Romney carried in the 2012 presidential election. Whether Republicans can take the majority in the chamber remains uncertain.
Republicans seem all but certain to take seats currently held by Democrats in West Virginia, Montana, and South Dakota. They would need to win a net of three more seats to take the majority, and have strong possibilities in North Carolina, Louisiana, Arkansas, Iowa, and Alaska, all seats currently held by Democratic senators that appear too close to call. A few other Democratic-held seats could prove vulnerable.
Among Republican-held seats, Democrats have some hope of winning Georgia and have put a lot of effort into the less likely prospect of unseating Senate Republican leader Mitch McConnell in Kentucky.
One unknown factor is whether the current Republican edge on enthusiasm will change between now and the election, particularly among the most ideologically motivated voters. So far, the Pew survey shows, conservative Republicans are less likely to report great enthusiasm about voting than they were four years ago, while liberal Democrats are somewhat more likely to do so than they were in 2010.
Overall, 45 percent of those surveyed said they were less enthusiastic about voting than usual — the highest level of disaffection since 1998, the midterm election that followed the Monica Lewinsky scandal in Bill Clinton's administration. The reported lack of enthusiasm about voting matches up with voter turnout in primaries this year, which has tended to be low.
The public's dismal view of Congress probably accounts for some of that lack of enthusiasm about voting. Only about 1 in 4 of those surveyed said they had a favorable view of Congress, with nearly 7 in 10 having an unfavorable one.
Across party lines, majorities of Americans say that the current Congress has accomplished less than its predecessors. Among those who take that position, 44 percent mostly blame the Republican congressional leadership, 28 percent mostly blame the Democratic leadership and 22 percent said they think both sides are to blame.
The poll also showed a small, but perhaps significant, shift in how Democratic voters look at the election. Democrats were more likely than in the past to say they were taking seriously the issue of which party would control Congress, with 62 percent saying that issue would be a major motivating factor in their vote.
Republicans, as they were in 2010, are motivated by the chance to cast at least a symbolic ballot against Obama. About half of those surveyed said they regarded the fall midterm election as a chance to vote "against" Obama — roughly the same level as in 2010.
Among Democrats, somewhat fewer voters are looking at the midterm election as an opportunity to register a vote in favor of Obama — 36 percent, compared with 44 percent four years ago.
Overall, slightly more voters see the midterm election as a chance to vote against Obama (28 percent) than for him (23 percent). He appears, however, to be less of a motivating factor in the vote than President George W. Bush was in his 6th year in office. Going into the midterm election that year, 38 percent of voters saw their ballot as a chance to vote against Bush, only 15 percent said it was a chance to vote for him. The Pew survey is based on 1,805 telephone interviews conducted July 8-14 and has a margin of error of plus or minus 2.7 percentage points.
Photo: Joebeone via Flickr
Interested in U.S. politics? Sign up for our daily email newsletter!