A Party Double-Cross In Troubled Times
@JamieStiehm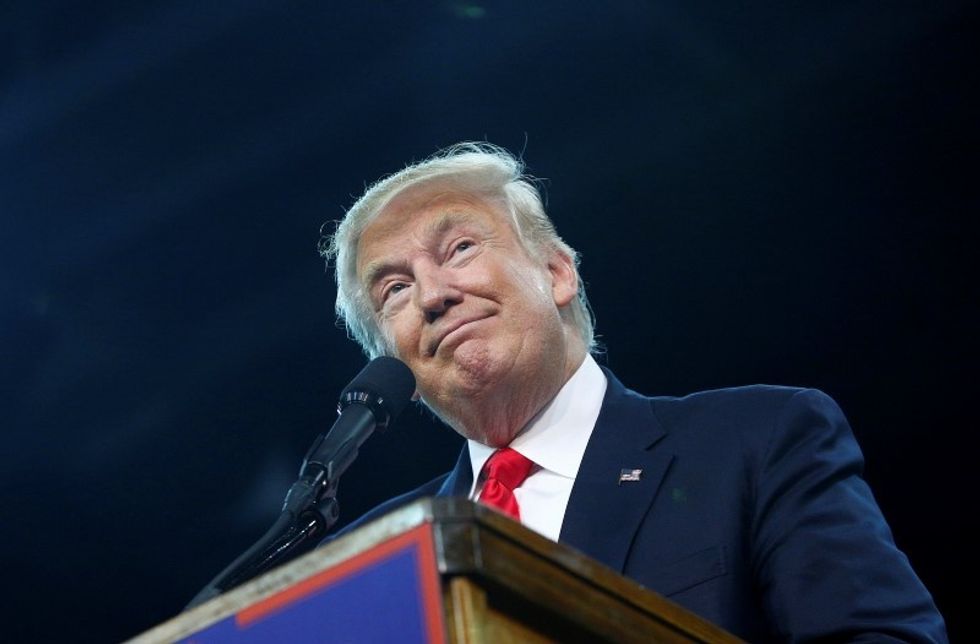 My Republican friend, Richard J. Cross III, is a talented wordsmith who has just crossed over to the other side. He's written many political speeches — even one for the recent Cleveland Republican Convention — but he's leaving the party he loved all his life. But it's all over now, as the bittersweet song goes.
At 49, Cross is now a card-carrying Democrat. He published his change of political heart in pieces in the Baltimore Sun and Los Angeles Times. Starting a wave from coast to coast, Cross illustrates the inner struggle for many Republicans in the surreal summer presidential campaign of 2016. Face to face with your conscience: To vote or not to vote for Donald J. Trump? It's a question of citizenship, all but the most consequential one the electorate will ever face.
As a loyalist, Cross voted for seasoned John Kasich, the conservative Ohio governor, in the primary. The takeaway line in his searing declaration: "The only prospect more terrifying than voting for Hillary Clinton is not voting for her." Take him down to the river to pray for his soul.
Trump, the crude Republican Party standard-bearer, was more than Cross could bear. After seeing how the party had changed up close in Cleveland, he searched for a place where a moderate could breathe and belong in party politics. He particularly hated Trump's venom against Muslims, which, he says, Republican Presidents Eisenhower, Nixon, Reagan and others would never have incited.
There at the volatile convention as a professional volunteer, Cross drafted the vitriolic "Benghazi mom" speech delivered by Patricia Smith, who snarled at Hillary Clinton. It was a real doozy and, as it turns out, a fare-thee-well.
Cleveland on the ground level, Cross says, was akin to "being a witness to history and a train wreck." Still, he was ambivalent about what to do next when he came home to Baltimore, a deep blue Democratic city. Cross lives in charming Fells Point, where young Frederick Douglass worked on the Chesapeake waterfront when he was enslaved. Like me, he gets lost in history. Our friendship across the fence, forged when I worked on the Baltimore Sun city desk, focused more on the past than present. Baltimore has plenty of the past, in all its enclaves.
For now, Cross feels at peace with his decision, writing a note from the netherworld. "I have no political home — a deeply uncomfortable place for me to be. My GOP pals regard me as a renegade, and my Democratic friends don't know quite what to make of me."
In our anxious age, American politics is missing its music of optimism: "What is this election really about? It should be about the future — every election should be. But this election is about the misery of the moment," Cross writes. So we want our children to inherit a nation of anger?
Over the years, Cross worked for a Republican governor of Maryland, Robert Ehrlich, and for a grande dame of Maryland politics, Helen Bentley — a former congresswoman who died earlier this month. His establishment credentials are pretty perfect, with the right schools in Baltimore, including St. Paul's School and Johns Hopkins University.
More to the point, Cross loved the party. He was a believer, even in Richard Nixon, with whom he corresponded late in Nixon's Shakespearean life — when the bitter old man was trying to rehab his name in history.
And I grew up round a family where Nixon's name was spoken often, not in a good way. He never rehabbed his reputation with us.
To me, Richard seems like a Confederate soldier putting on a Yankee uniform in partisan civil war. There is no middle ground.
"This is a time to stand up and be counted — just like supporters of the civil rights movement once chose to do," says my newly liberal friend, cut free after an agonizing journey.
"To choose otherwise embraces fear, as Donald Trump has chosen to do. Fear sometimes wins you elections, but it doesn't create jobs, build schools, reduce crime or improve the quality of life for all citizens. Great political leaders help us transcend our fears."
Cross nailed it.
To find out more about Jamie Stiehm and read features by other Creators writers and cartoonists, visit Creators.com.
Photo: Republican U.S. presidential nominee Donald Trump attends a campaign rally at the Erie Insurance Arena in Erie, Pennsylvania August 12, 2016. REUTERS/Eric Thayer