Perhaps You Remember Tamir Rice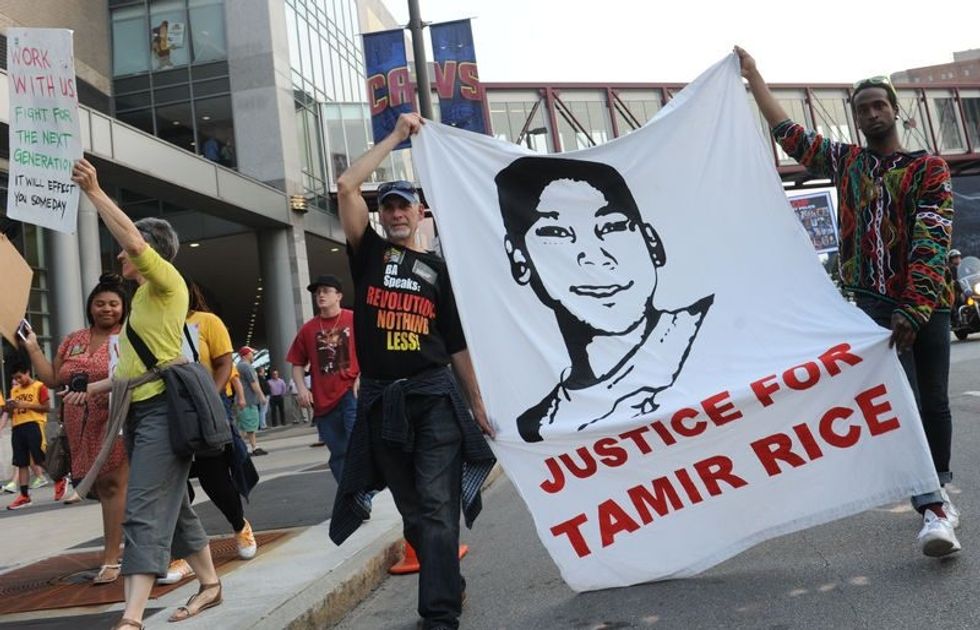 Reprinted with permission from Creators.
Well, that's it then.
That's it for Tamir Rice.
Finally — two and a half years after the 12 year-old black boy was shot dead in a city park in Cleveland — we know the fate of the two white police officers involved in his death.
On Tuesday, Cleveland police announced that Timothy Loehmann, the officer who pulled the trigger within seconds of his arrival, has been fired. Not for killing Tamir. That wasn't even mentioned. He was fired for lying on his job application with Cleveland police.
Frank Garmback, who drove the cruiser to within feet of Tamir before Loehmann opened fire, was suspended for 10 days without pay.
Cleveland Police Patrolmen's Association President Steve Loomis vows to fight Loehmann's firing. Of course he does. He has repeatedly insisted that Tamir Rice was a menacing threat, "a 12-year-old in an adult body."
No matter where you live in the country, you've surely heard Tamir Rice's name. For a while, his death was big news.
You may know that the police dispatcher never told the officers that the person who had called police to complain had said Tamir's gun was "probably fake."
You may have heard that the two police officers did not attempt to help Tamir as he lay on the ground, waiting for the ambulance. Instead, an FBI agent in the neighborhood ran to him to administer first aid.
Perhaps you even know that the police officer who shot him had been fired from his previous police job in a Cleveland suburb, deemed unfit to serve. We didn't learn that right away, as Cleveland police had never bothered to look at his personnel file before hiring him.
Here in Cleveland, where I live, some of the initial media coverage trafficked in the worst assumptions, wounding our community in ways that still cloak this city like a widow's veil. It was as if there had to be a reason, a justification, for this child to be dead beyond what we all saw on the grainy surveillance video.
So, four days after Tamir's death, a local news organization went after Tamir's parents, listing their prior criminal convictions.
Neither parent was with Tamir when he was shot. But, you know. Black kid. Poverty. In the 'hood. There had to be something — something to make this his fault.
Public outcry was immediate — and coast-to-coast. In response, editors added a one-line update: "A line has been added to this story to give insight into the motivation to investigate the parents' background." This was the added line, apparently: "People from across the region have been asking whether Rice grew up around violence."
People? What people? Who would ask this about Tamir Rice, a boy who was not being violent at the time he was shot?
Eleven days after Tamir died, the same news organization ran a story about the officer who killed him, describing him as someone who grew up wanting to be a cop just like his dad.
The first paragraph made clear that Loehmann thought he was justified in killing Tamir Rice. The second paragraph wanted us to know that Loehmann was attending church, socializing with friends and doing "pretty well."
"He's living his life," we were told.
The single source for that story: Timothy Loehmann's dad.
This, too, is our legacy.
Two days later, other reporters revealed Loehmann's personnel file from the police department that had fired him.
Cleveland never should have hired him.
"I'm relieved that Loehmann is fired as he should be," Tamir's mother, Samaria Rice, said Tuesday. "He should never have been a police officer anyway. Garmback should be fired also for pulling up so close to Tamir, to create the murder of Tamir. So now we all must get involved to create a safer community."
She sounds strong and determined, just as she has in the few times we have spoken.
Still, I will never forget her telling me, on the eve of the anniversary of her son's death, that she regularly studied that video showing the last documented moments of her son's life.
"He didn't have a lot of suspicions about people. I look at him in that video and I'm wondering: 'What are you thinking right now? Do you know what's about to happen to you?'"
This veil, it never lifts.
Connie Schultz is a Pulitzer Prize-winning columnist and professional in residence at Kent State University's school of journalism. She is the author of two books, including "…and His Lovely Wife," which chronicled the successful race of her husband, Sherrod Brown, for the U.S. Senate. To find out more about Connie Schultz (con.schultz@yahoo.com) and read her past columns, please visit the Creators Syndicate webpage at www.creators.com.