Poll: Braley Leads Iowa Senate Race, No Thanks To Obama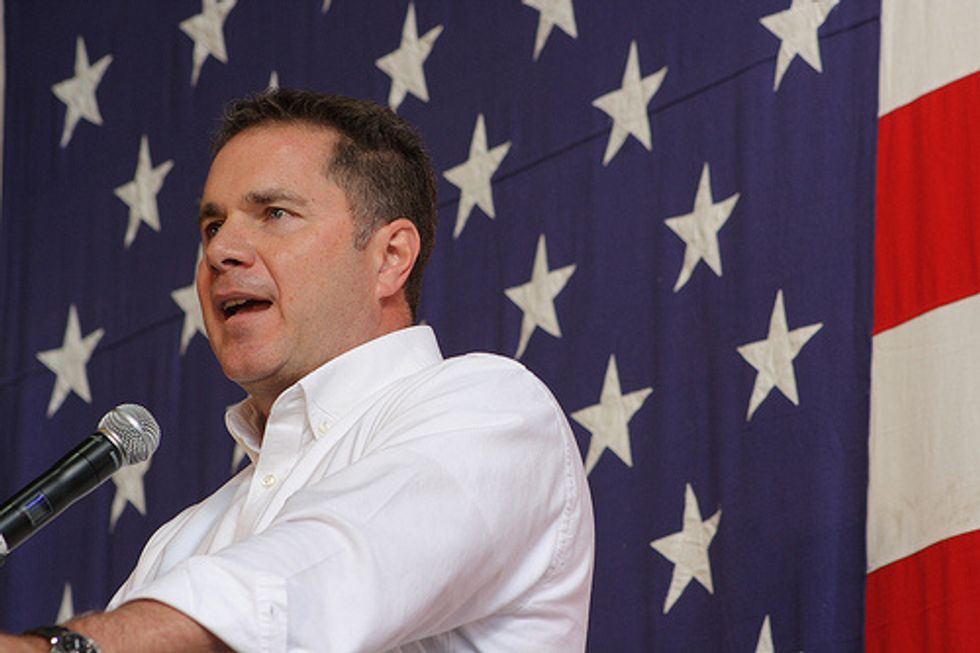 Democratic congressman Bruce Braley still leads the field in the race to replace retiring U.S. Senator Tom Harkin (D-IA), according to the latest survey from Public Policy Polling.
The poll finds Braley, who has represented Iowa's 1st congressional district in the House since 2007, maintaining a solid edge over each of his potential Republican opponents. Braley leads former U.S. Attorney Matt Whitaker 40 to 34 percent, state senator Joni Ernst, former energy CEO Mark Jacobs 41 to 35 percent, and talk-radio host Sam Clovis 42 to 34 percent.
Braley may owe his leads to his superior name recognition across the state — 56 percent of voters know enough about Braley to have formed an opinion of him, a significantly higher number than any of the Republicans has achieved (Jacobs leads the GOP field in name recognition at just 25 percent). He is looked upon favorably by 31 percent, while 25 percent view him unfavorably.
Braley is running unopposed for the Democratic nomination, but the Republican primary appears to be wide open. After prominent potential candidates such as U.S. Reps. Steve King and Tom Latham, Lieutenant Governor Kim Reynolds, and right-wing activist Bob Vander Plaats all declined to run, the GOP was left with a relatively weak group of candidates. Jacobs leads the field at 20 percent, followed by Ernst at 13 percent, Whitaker at 11 percent, and Clovis at 8 percent — 3 percent support minor candidates Scott Schaben and Paul Lunde, and 42 percent are not sure.
If no candidate earns more than 35 percent in the June 3 primary — a possibility that appears increasingly likely — then the nominee will be chosen via a state convention. Such a scenario would favor candidates with significant support among the party's right-wing base, such as Clovis and Ernst.
Early on, it appears that President Barack Obama's diminished standing within the Hawkeye State will be Braley's biggest hurdle. Iowa voters give the president a 40 percent approval rating, with 54 percent disapproving. That dismal number is down a net 10 percent from PPP's previous Iowa poll in July, and corresponds with a small decline in Braley's advantage over his Republican rivals (from an average lead of 11 percent then, to 7 percent now).
President Obama's unpopularity should be making Iowa a solid opportunity to claim a Democratic seat, but so far Republicans have not been able to capitalize. Even if the president never appears on the campaign trail, however, it's a safe bet that his name — and his health care reform law — will dominate the debate.
Photo: Gregory Hauenstein via Flickr