Poll: Less Than 20 Percent Of Conservatives Want Jeb Bush As President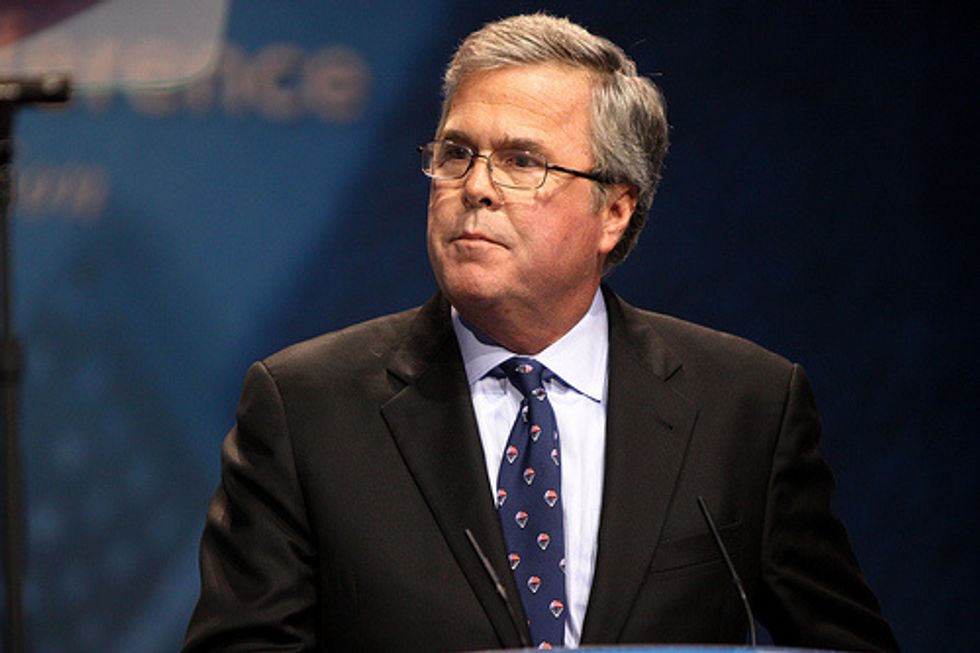 Former Florida governor Jeb Bush acknowledged for the first time on Wednesday that he is "thinking about running for president." According to a new Economist/YouGov poll, however, Bush may want to think again.
The poll finds that just about nobody wants to see another Bush in the White House. Only 15 percent of respondents want Bush to run for president, and just 25 percent of Republicans are rooting for his campaign — 35 percent do not want him to run. Most damning, however, is Bush's standing among self-identified conservatives. Just 18 percent of this demographic say they would support his bid for the presidency, while 43 percent would not back his candidacy.
These statistics put Bush behind Rand Paul and Chris Christie, who is holding on to some voter support despite the Bridgegate scandal. Paul leads the pack, with 36 percent of Republicans backing his bid, while 30 percent say they hope Christie will run. That being said, none of the top Republican candidates are drawing resounding support from their base. Only Paul has more supporters than naysayers, with 27 percent opposing his potential campaign; 38 percent of Republicans, on the other hand, say Christie should stay away from the White House.
These numbers display the internal turmoil of the GOP, whose "civil war" seems to be preventing them from coalescing around any single candidate. Democrats have no such problem; the same YouGov poll found that 69 percent of Democrats would support a 2016 bid from Hillary Clinton.
Unfortunately for Bush, branding himself as a moderate — as he did by calling illegal immigration "an act of love" — may have torpedoed his chances, especially considering the Tea Party's burgeoning influence and penchant for ultra-conservatism. When YouGov asked respondents to describe Bush in one word, "moderate" was often used by the 39 percent of people who viewed him unfavorably. RINO, or Republican In Name Only, was also a popular answer. However, the most common complaint against Bush seems to be his pedigree, as the word "Bush" was used most frequently by his naysayers.
The majority of respondents say that Bush cares little or not at all about the needs and problems of average Americans, and 35 percent are unsure of how well Bush would deal with an international crisis. This may be influenced by his brother's ill-fated dealings with Iraq. Less than a third of respondents believe Bush is qualified to run the country, which may mean that W will be the last Bush to live in the White House for a while.
 Photo: Gage Skidmore via Flickr