Poll: McAuliffe Still Leads Cuccinelli In Virginia Gubernatorial Race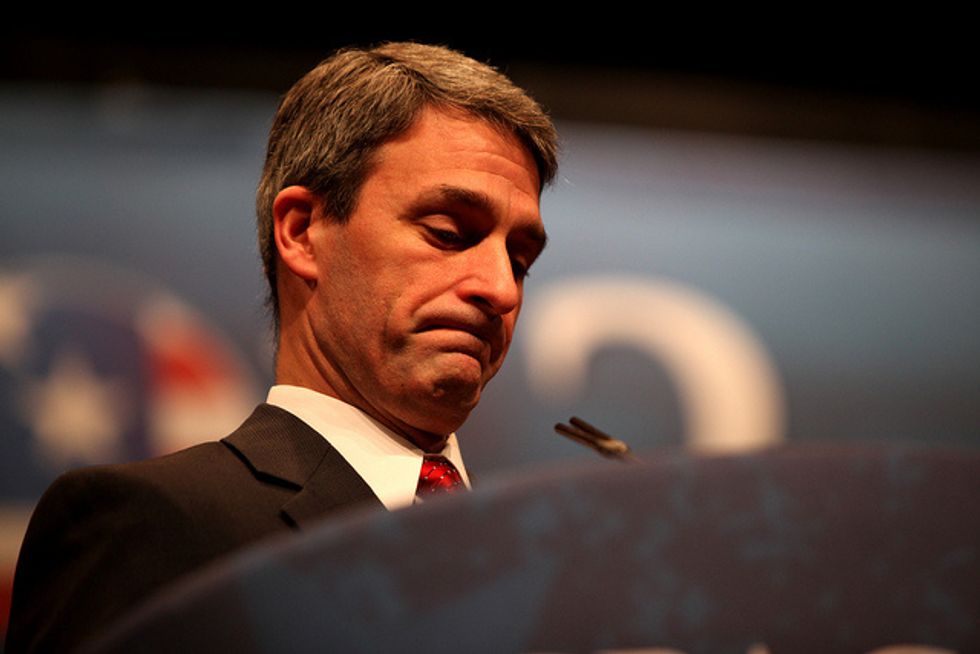 With less than two months left before the Virginia gubernatorial election, a new Quinnipiac poll finds Democrat Terry McAuliffe maintaining his lead over Republican Ken Cuccinelli, the state attorney general.
The poll, released Wednesday morning, finds McAuliffe ahead of Cuccinelli 44 percent to 41 percent. It shows a stark contrast between the candidates' popularity: McAuliffe has a 38-38 percent favorable/unfavorable  rating, while Cuccinelli's is deeply negative, at 34-51 percent.
McAuliffe is supported by 91 percent of Democrats, compared to the 89 percent of Republicans who back Cuccinelli.
Among surveyed voters, honesty was deemed the most important trait to 59 percent; 44 percent of voters who said honesty is extremely important believe Cuccinelli is the most honest candidate, in contrast to the 40 percent of voters who believe McAuliffe is the most honest.
Overall, however, voters are divided on the candidates' honesty; both the candidates are viewed as "honest and trustworthy" by 39 percent of voters. Even so, 49 percent of voters do not find Cuccinelli to be honest, as opposed to the 42 percent who feel the same about McAuliffe.
Wednesday's poll also found that Libertarian candidate Robert Sarvis now has 7 percent of likely voters, despite having only 14 percent name recognition. Those numbers reflect McAuliffe and Cuccinelli's diminished standings after a summer marked by nasty campaigning by both parties.
Assistant director of the Quinnipiac University Polling Institute Peter A. Brown said it's too early to determine "whether Sarvis' candidacy is hurting Cuccinelli more than McAuliffe." However, he did note that if Sarvis "does get 7 percent of the actual vote, that would reflect not just his strength but the weakness of the major party candidates."
Cuccinelli in particular continues to be dogged by negative publicity.
He first spent much time distancing himself from controversial Republican lieutenant governor candidate E.W. Jackson, who remains relatively unknown to voters. Quinnipiac finds that 72 percent of voters do not believe they know enough about Jackson, who is also a pastor and lawyer, to form an opinion of him.
Lately, Cuccinelli seems to have given up on his distancing efforts – over the weekend, he and Jackson stressed that they would be running together on the Virginia ticket – but he has had to deal with other obstacles. After Republican governor Bob McDonnell admitted that he had received thousands of dollars worth of gifts from Star Scientific, it was revealed that Cuccinelli had as well. Although Cuccinelli initially refused to return the gifts, he has since donated their monetary value to a Richmond-based charity.
Most recently, Cuccinelli has had to distance himself from a local Republican Committee chairman who told an anti-Semitic joke at a rally before the attorney general spoke. According to the Washington Post, the incident prompted Cuccinelli's campaign strategist, Chris La Civita, to say, "I don't even know who the guy is. It's wholly inappropriate and not connected to the campaign. And it's not reflective of Ken Cuccinelli."
Yet clarification may not be enough this late in the race. Although the possibility exists that Sarvis can split the Democratic vote — essentially pushing Cuccinelli forward in the process — it remains a little too early to tell, and perhaps a little too late to help.
The Quinnipiac poll was conducted from September 9-15 and surveyed 1,005 likely voters. The poll has an error of margin +/- 3.1 percentage points.
Photo:Gage Skidmore via Flickr.com