Poll Roundup: Is McConnell Safe In Kentucky?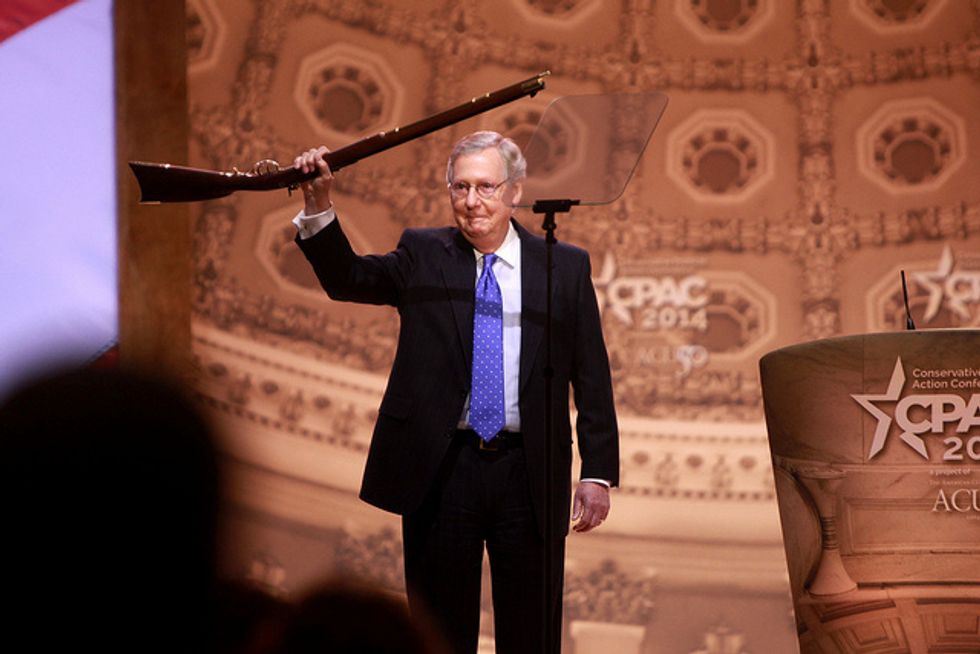 As the 2014 midterm elections draw closer, pollsters across the country will begin releasing masses of data and their predictions of who will control the House of Representatives, the Senate, and statehouses across the country. We'll put those predictions in focus and provide a brief summary of key polls. Here's our roundup from the week of May 25:
Oregon:
Pediatric neurosurgeon and GOP Senate candidate Monica Wehby won the May 20 primary by a 12-point advantage over her closest challenger, Representative Jason Conger (R-OR). November's general election however, is unlikely to provide another easy win for the Wehby camp.
According to a new Public Policy Polling survey released on Thursday, incumbent Democratic senator Jeff Merkley is ahead by 50-36 among Oregon voters. While Merkley's job performance number remains at a tepid 41 percent, the negative news surrounding Wehby's divorce and accusations of stalking may give Merkley an extra boost in the polls.
Said PPP president Dean Debnam, "Democrats in Oregon start out ahead by double digits in the major races for this fall. The Republican candidates aren't that well known at this point, so they do have room to grow. But for now Merkley and [Governor of Oregon John] Kitzhaber are strong favorites."
Mississippi:
In last week's roundup, we cited a Citizens United Political Victory Fund poll that had Tea Party state senator and candidate for U.S. Senate Chris McDaniel ahead of incumbent Senator Thad Cochran (R-MS). But a new poll shows fluctuating opinion among Mississippi voters.
According to a Harper Polling survey conducted this week, Cochran now holds a 5-point advantage over McDaniel—just outside the 4-point margin of error.
McDaniel is currently fighting allegations that individuals affiliated with his campaign illegally broke into a nursing home and videotaped Cochran's wife, who suffers from dementia.
Harper Polling explained in its memo that although Cochran has a slight edge, he is slipping in the polls and faces a tough re-election fight, since the videotape scandal isn't convincing undecided voters to vote against McDaniel. The memo also stated, "The McDaniel campaign has not persuaded voters to dislike Cochran, but the argument for a fresh start is proving compelling. Compelling enough for voters who are in fact fond of the six-term senator to give serious consideration to bringing him home."
Kentucky:
While Senate Minority Leader Mitch McConnell (R-KY) easily defeated Tea Party challenger Matt Bevin in the state's GOP primary, facing Democratic challenger Alison Lundergan Grimes will not be an effortless task for the incumbent senator.
Real Clear Politics shows McConnell with a mere 2-point average over Grimes, six months ahead of the race. Senate polls emerging from the Bluegrass State have been conflicting, however. Real Clear Politics also shows McConnell's advantage over Grimes may be a growing trend. A poll conducted on May 7 was the first that had McConnell ahead, and his small lead seems to be increasing.
Arkansas:
Term limits placed on governors in Arkansas mean that Governor Mike Beebe (D-AR) will be leaving office after 2014. Former U.S. Representatives Mike Ross (D-AR) and Asa Hutchinson (R-AR) are vying for the open seat.
Hutchinson ran in 2006 against Beebe and was defeated by a 55-41 percent margin. According to a Rasmussen Reports poll released on Friday, Hutchinson may have the advantage come November. The poll conducted among likely voters has Hutchinson ahead by a 48-41 percent spread. Hutchinson may be able to hold the advantage over Ross until November and turn the Arkansas capitol red again.
Photo: Gage Skidmore via Flickr
For more election results and analysis, sign up for our daily email newsletter!