Polls: Booker Maintains Double-Digit Lead On Eve Of New Jersey Senate Election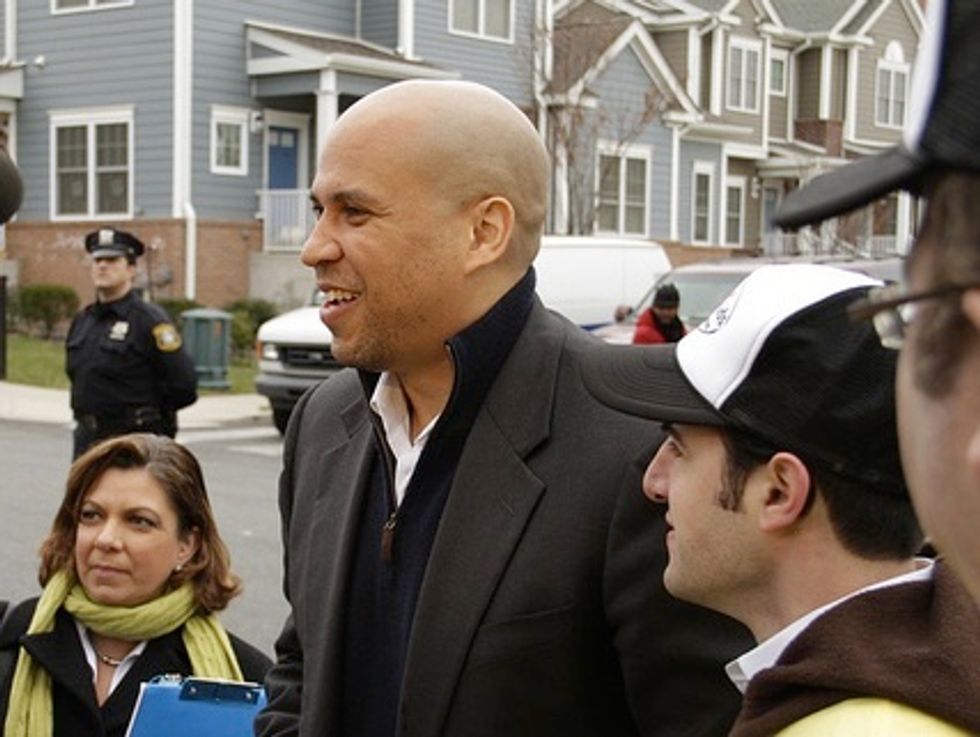 With just hours to go until the polls open, Newark mayor Cory Booker (D) remains the overwhelming favorite to defeat former Bogota mayor Steve Lonegan (R) in New Jersey's special election for U.S. Senate.
After winning the Democratic primary with 59 percent of the vote, Booker quickly raced out to a double-digit lead over Lonegan (which at one point swelled to 35 percent, a figure that Rugters-Eagleton pollster David Redlawsk termed "insurmountable.") In recent weeks, however, Lonegan has whittled away at Booker's lead, pulling to within 10 points in an October 10 Monmouth poll. Booker's narrowing advantage led him to begin running negative ads against Lonegan, accusing the Tea Party leader of being too right-wing for New Jersey.
Indeed, there has been plenty to attack Lonegan over; his decisions to question Booker's sexuality, repudiate Hurricane Sandy aid, and campaign with Sarah Palin are just three of many curious moves for a Republican running in deep-blue New Jersey.
The final poll of the race suggests that Booker's lead is safe. A Quinnipiac survey released Tuesday finds Booker ahead by a 54 to 40 percent margin, virtually unchanged from his 12 percent lead on October 9. Just 5 percent of likely voters remain undecided, and 3 percent of those who chose a candidate say there's a "good chance" that they may change their mind.
That 14 percent lead tracks well with Booker's 14.2 percent advantage in the Real Clear Politics polling average.
"It's a New Jersey habit electing Democrats to the Senate," Quinnipiac University Polling Institute director Maurice Carroll said in a statement. "The liberal mayor of Newark, Cory Booker, holds on to the double-digit lead over the conservative former mayor of Bogota, Steve Lonegan, that we measured when we first looked at likely voters."
The winner of Wednesday's special election will replace Republican Jeff Chiesa, who was appointed by Governor Chris Christie to serve as interim senator after the death of Frank Lautenberg. If Booker wins, as expected, it would expand the Democratic majority to 55 (including independents Angus King and Bernie Sanders, who caucus with the majority).
Photo: Kars4Kids via Flickr