Polls: De Blasio The Favorite Going Into New York City Mayoral Primary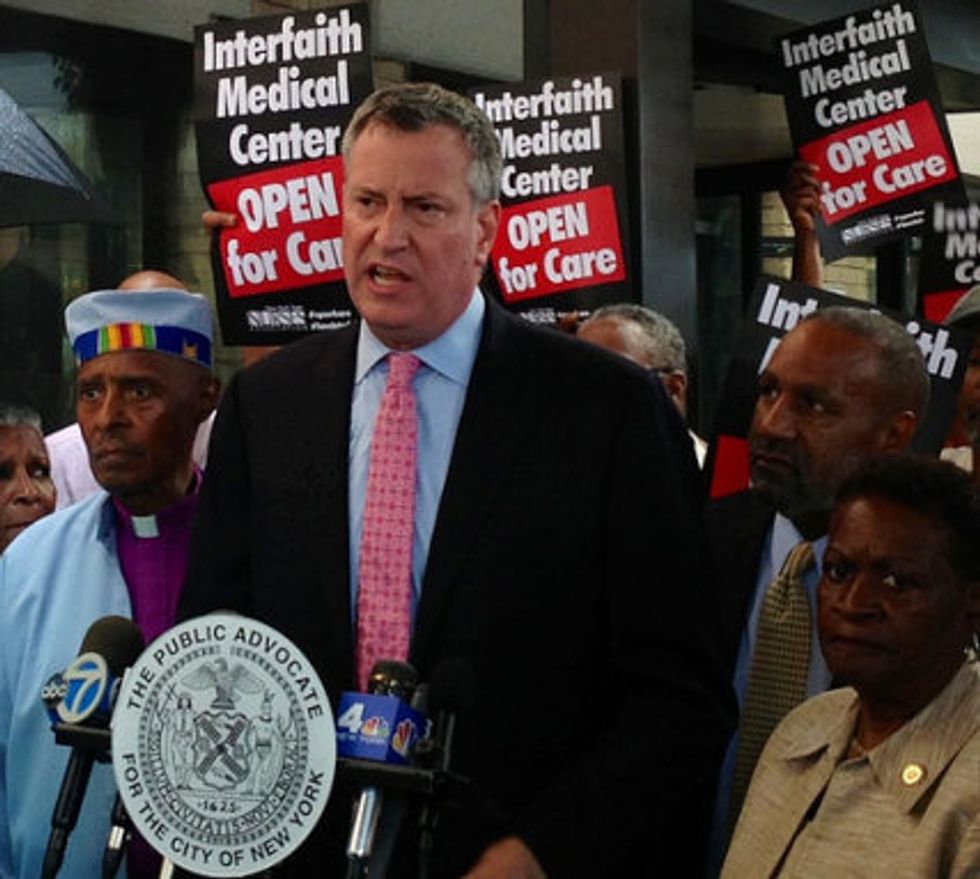 According to the latest polls of the New York City mayoral race, Public Advocate Bill de Blasio is the overwhelming frontrunner to finish first in Tuesday's Democratic primary.
A Quinnipiac poll released Monday finds de Blasio ahead of the field with the support of 39 percent of likely Democratic primary voters. Former New York City comptroller and 2009 Democratic mayoral nominee Bill Thompson is in second with 25 percent, followed by City Coucil Speaker Christine Quinn at 18 percent. Former U.S. Representative Anthony Weiner is in fourth place with just 6 percent, followed by current comptroller John Liu at 4 percent, and former councilmember Sal Albanese at 1 percent — 8 percent remain undecided.
If no candidate cracks 40 percent, the top two finishers will participate in an October 1 runoff election. Although de Blasio was at 43 percent in Quinnipiac's September 3 survey, Monday's poll finds him right on the border of winning the election outright.
"It looks as if Public Advocate Bill de Blasio couldn't hold that 43 percent in a week when he was in the spotlight and he got walloped by everybody. His support by black voters slipped just enough to make a runoff possible. But he's ever so close," Maurice Carroll, director of the Quinnipiac University Polling Institute, said in a press release.
"Remember that there are no undecided voters on Election Day. If de Blasio picks up just a few of those undecided voters, he's over the top. In our last few days of polling, however, we're seeing the movement to 2009 Democratic nominee William Thompson," Carroll added.
Quinnipiac's results mirror those of a Public Policy Polling survey released Sunday, which also found de Blasio on the verge of winning the nomination outright. According to PPP, 38 percent of likely voters support de Blasio, followed by Thompson at 19 percent, Quinn at 13 percent, and Weiner at 9 percent, with 10 percent undecided.
De Blasio's lead is built on his wide appeal throughout New York City's diverse constituencies; the public advocate polls first among men, women, Hispanics, whites, African Americans, Asians, young voters, older voters, liberals, moderates, conservatives, and voters from all five boroughs.
Even if he fails to secure the nomination on Tuesday, de Blasio would be the strong favorite in a runoff. According to PPP, he leads Thompson 53 to 33 percent in a hypothetical head-to-head, and he leads Quinn 67 to 21 percent.
Former deputy mayor Joe Lhota is generally favored to defeat billionaire businessman John Catsimatidis in the Republican primary on Tuesday, but the Democratic nominee is the heavy favorite to win the November general election in deep-blue New York City.
Photo: Public Advocate Bill de Blasio via Flickr.com