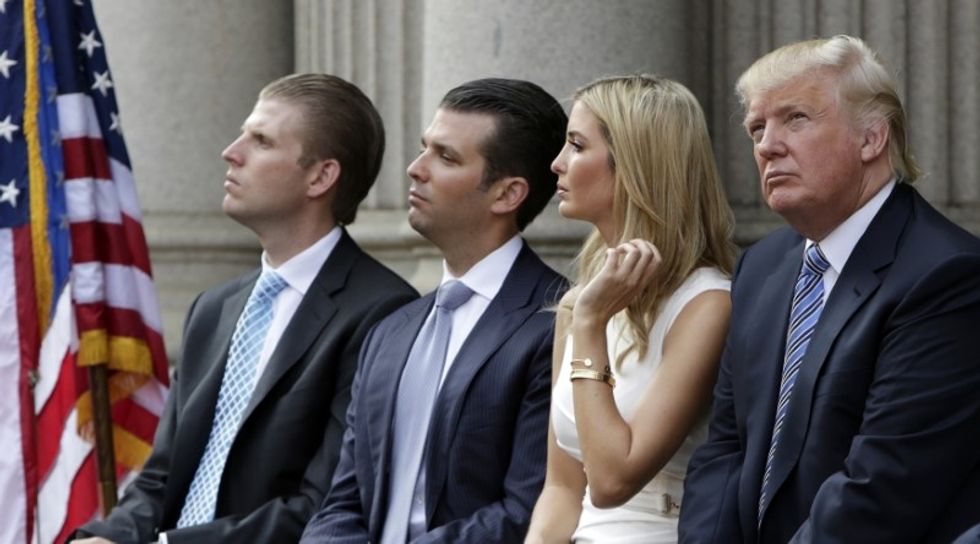 Reprinted with permission from Creators.
This week, the president's second-eldest son went on national television and dropped all pretense of what we knew had never happened anyway.
Instead of weaving yet another magical tale about how the brothers Trump are now rulers of the family empire and keeping it totally separate from Daddy's day job, Eric instead vented his simmering rage against the Democrats. He did this in a rant to Fox News Channel's Sean Hannity.
"To me," Eric said, "they're not even people."
Such a precious Daddy-wannabe moment, boiled down to its essence. In the Trump family, one must villainize opponents and cast them as something less than human, even if the opposition is most of America.
That opposition is growing like kudzu on the vine. The latest Quinnipiac University poll, out this week, shows Donald Trump's approval rating to be the lowest yet, with only 34 percent of voters approving of the job he's doing, or not doing or — never mind.
The majority of voters in that same poll — 68 percent — think Trump's "not levelheaded." Even among Republicans, that percentage is 64.
The majority also told Quinnipiac that Trump is not honest, lacks good leadership skills and does not share their values.
Oh well.
Back to Eric Trump and his desire to prove he should have been the Jr. of the family.
Three months ago, Papa Trump declared journalists to be "the enemy of the American people." What he meant was that he'd had it up to his apparent hairline with those pesky journalists who insist on holding him accountable for his every misstatement. (If we were talking to our children right now, the word we'd use is "lie." Duly noted.)
Trump also hates how journalists keep covering the ways he continues to make himself the object of international scorn and national embarrassment.
Can we talk about that for a moment? Why do so many of us keep saying we're embarrassed by Donald Trump? I didn't tell him to shove aside a world leader and then tug on his lapels like an extra from the movie "Grease," and I'll bet you didn't, either. Like the majority of Americans who voted, I didn't pick him for president. Nothing he says or does reflects even a smidgen of who I am or what our country is supposed to be. To call him an embarrassment is to claim him. No, thank you.
As for Eric, well, bless his heart, wherever it may be. He decided to skip his usual parroting of his father's criticism of journalists and went after Democrats instead.
"It's so, so sad," he told Hannity. "Morality's just gone. Morals have flown out the window. We deserve so much better than this as a country."
Right? I know. It's as if he's channeling the 3 million-plus more Americans who voted for Hillary Clinton than voted for his dad. I felt a kinship in that moment, I don't mind telling you. "Brother," I almost whispered.
The feeling passed faster than a hot flash.
"They try and obstruct a great man," he added. "They try and obstruct his family."
I understand from personal experience the desire to defend a family member under attack by going after the offender, particularly in politics. I also understand why it's important to surround oneself with people who know better than to do something that stupid.
In 2012, I was sitting in the front row of a televised debate between my husband, U.S. Sen. Sherrod Brown, and his opponent. At one point, his opponent called my husband a liar.
Ever so slightly, I started to rise from my seat. Immediately, I felt the firm clasp of John Glenn's hands pressing down on my shoulders.
Already a beloved friend, the astronaut and former U.S. senator became my guiding light in that moment when he leaned forward and whispered into my ear.
"I know," he said. "But not now."
I will always miss our friend John Glenn, who navigated space and this earth with such grace and dignity. But with every passing day of this administration, I miss him just a little bit more.
Connie Schultz is a Pulitzer Prize-winning columnist and professional in residence at Kent State University's school of journalism. She is the author of two books, including "…and His Lovely Wife," which chronicled the successful race of her husband, Sherrod Brown, for the U.S. Senate. To find out more about Connie Schultz (con.schultz@yahoo.com) and read her past columns, please visit the Creators Syndicate webpage at www.creators.com.