Pope Weighs In On Controversial Holy Sites Debate
@AFP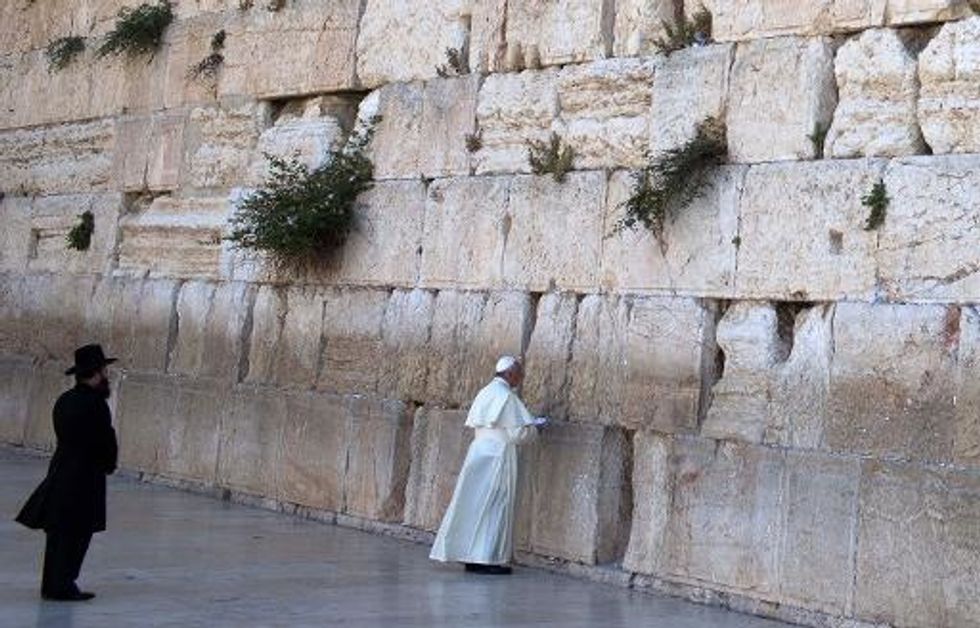 Jerusalem (AFP) – Pope Francis on Monday called for people of all faiths to have access to often hotly-contested sacred sites in Jerusalem, on the final day of his whirlwind Middle East trip.
Francis, who has made interfaith dialogue a cornerstone of his papacy, said believers must be able to pray freely at sites currently contested by Jews, Muslims and Christians.
The pope was winding up a packed trip which saw him issue a unique invitation to the Israeli and Palestinian presidents to pray with him at the Vatican to end their "increasingly unacceptable" conflict.
Francis made an early-morning tour of the holiest sites in Jerusalem's walled Old City, issuing a call for the three religions to "work together for justice and peace" as he was shown around the Al-Aqsa compound, the third holiest site in Islam which Jews also consider sacred.
Entering the exquisite blue-tiled Dome of the Rock with its landmark golden cupola, used as a place of worship for women only, the pope first removed his shoes before walking down to visit the smaller, silver-domed Al-Aqsa mosque.
At the Western Wall, the holiest site at which Jews can pray, he left a note in between the ancient stones before sharing an emotional embrace with two close Jewish and Muslim friends traveling with him.
There, he was briefly heckled by a handful of ultra-Orthodox youngsters who watched his visit to the Western Wall from a distance and shouted "Tragedy, horrible!" in Yiddish.
Francis had promised the three-day pilgrimage, which began on Saturday in Jordan, would steer clear of political issues.
But he ad-libbed from scripted speeches to condemn anti-Semitism and religious intolerance and made an impromptu stop at an Israeli memorial for victims of militant attacks.
The unscheduled gesture, which came as he visited the national cemetery on Mount Herzl, reportedly took place at the personal request of Israeli Prime Minister Benjamin Netanyahu.
It comes a day after the 77-year-old Argentine made another surprise stop to briefly pray at Israel's West Bank security barrier in Bethlehem, in a gesture the Palestinians hailed as an "eloquent and clear message".
During the morning, he also visited the Yad Vashem Holocaust memorial, where he denounced the "abyss" of the Nazi genocide which claimed the lives of six million Jews.
And later, on meeting Israel's two chief rabbis, Francis expressed hope that Jews, particularly "young people", would demonstrate a "growing interest in knowledge of Christianity".
As a gift, the two rabbis gave him a replica of a fragment of the ancient Dead Sea Scrolls on which was written the Ten Commandments.
Israelis have hailed Francis for his close relationship with the Jewish people.
Meirav Bachar, whose 12-year-old daughter greeted Francis in Italian, said this pope's relationship close with the Jewish people was highly valued.
"He wants to move on, to do things and not be stuck in the past. He can communicate with other religions," she said.
Francis will end his trip by celebrating mass at the site known as the Cenacle, or Upper Room, bringing into sharp focus a decades-long debate over prayer rites at the site where Christians believe Jesus had his Last Supper.
The site on Mount Zion, is located in a two-story building also considered holy to Muslims and Jews, who regard it as the place where the biblical figure David was buried.
Lebanon's Maronite Patriarch Beshara Rai, who has made his first visit to Israel to meet with the pope — incurring the anger of Lebanon's powerful Shiite movement Hezbollah — will also attend the mass.
Starting his visit to Israel and the Palestinian territories in Bethlehem on Sunday, he climbed out of his open jeep to pray by the West Bank barrier, his forehead and hand resting against the wall.
Israel says the barrier, which it began building in 2002, is crucial for security. Palestinians see it as a land grab aimed at stealing territory they want for a future state.
Netanyahu defended the barrier to the pope, saying it "has saved thousands of lives. After it was set up, the terror stopped."
"We hope that your call for tolerance and coexistence and an end for incitement, anti-Semitism and terror, will be accepted," he said at a ceremonial meeting with Francis.
But Israel sparked criticism on Monday by approving plans for 50 new settler homes in annexed east Jerusalem, which was occupied during the 1967 Six-Day war and then annexed.
At the end of the open-air mass, the pope weighed in on the Middle East conflict, inviting Palestinian president Mahmud Abbas and his Israeli counterpart Shimon Peres to join him at the Vatican for a "heartfelt prayer" for peace.
Peres told the pope he was happy to accept, while a senior Palestinian official confirmed Abbas would visit the Vatican for the prayer on June 6.
AFP Photo/Thomas Coex