Posthumous McCain Statement Rebukes Trump's Racism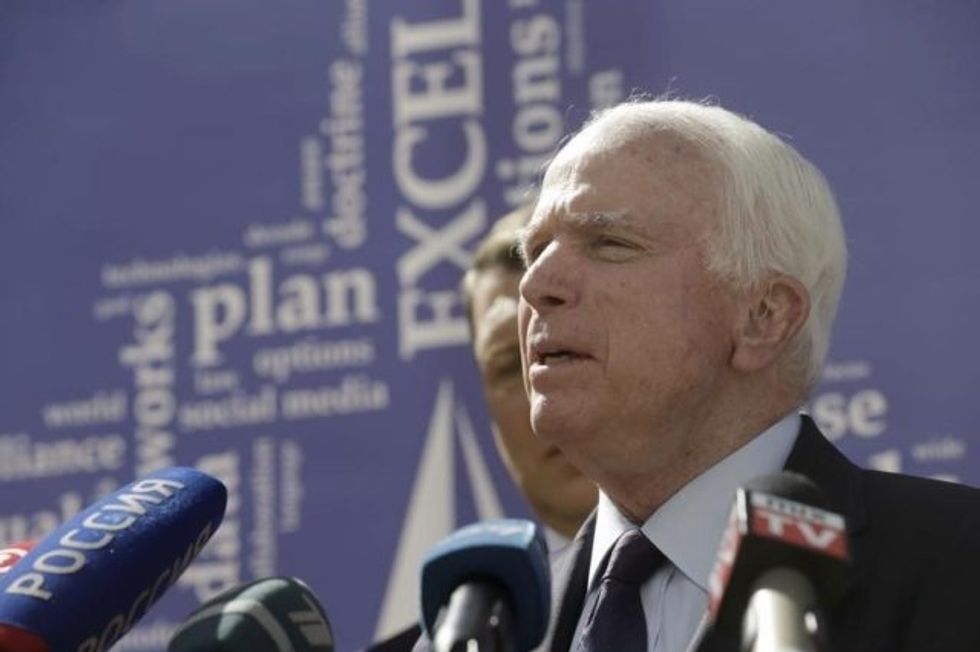 Reprinted with permission from Shareblue.
As Trump spent all of Monday proving his own pettiness to the world with new insults to the late Sen. John McCain, McCain managed to deliver one final rebuke of Trump's racism.
McCain passed away on Saturday, less than 24 hours after announcing that he would no longer receive treatment for his brain cancer.
In a posthumous statement released Monday afternoon, McCain spoke lovingly about his family and about his fellow Americans. But some of his words appeared to be aimed at one person in particular.
"We are citizens of the world's greatest republic, a nation of ideals, not blood and soil," McCain wrote — a reference to the Nazi chant that was adopted by white supremacist protesters at the Charlottesville riot that ended in the murder of Heather Heyer last year.
At the time, Trump said there were "very fine people" among those violent white supremacists.
Another line in McCain's statement seemed to take direct aim at Trump's signature racist campaign issue: constructing a border wall with Mexico, which he promised to make Mexico pay for.
"We weaken our greatness when we confuse our patriotism with tribal rivalries that have sown resentment and hatred and violence in all the corners of the globe," McCain wrote. "We weaken it when we hide behind walls, rather than tear them down."
Trump kicked off his campaign for the White House by calling Mexican immigrants "rapists," and has conducted an overt and unrelentingly racist political campaign ever since.
"Do not despair of our present difficulties," McCain concluded, asking Americans to "believe always in the promise and greatness of America" — a greatness that Trump's trademark red MAGA hats explicitly call into question.
Trump has spent several days reminding Americans of what a small and petty person he is.
First, Trump refused to acknowledge McCain's service to the nation after the senator's passing. Then Trump broke with custom to return the U.S. flags at the White House to full mast after less than 48 hours. Finally, Trump stubbornly refused to answer questions about McCain during his public appearances on Monday.
But McCain's own words will long outlast these petty slights, and remind Americans throughout history of the profound dangers of Trumpism.
Published with permission of The American Independent.