To Preserve Gerrymanders, GOP Mounts Judicial Coups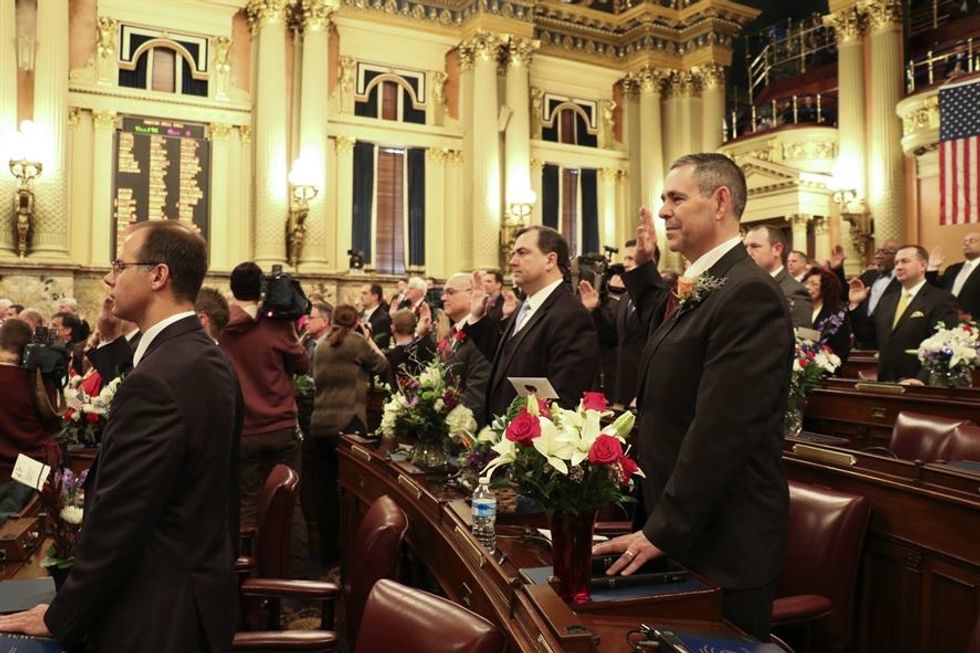 Reprinted with permission from AlterNet.
Hyper-partisan Republican legislators in Pennsylvania are now seeking to impeach five state Supreme Court justices who last month overturned the state's congressional maps drawn in 2011 in an extreme gerrymander that gave the GOP twice as many U.S. House seats as Democrats.
"The five justices who signed this order that blatantly and clearly contradicts the plain language of the Pennsylvania Constitution engaged in misbehavior in office," GOP Rep. Cris Dush said in a letter to all Pennsylvania House members on Monday. "Wherefore each is guilty of an impeachable offense warranting removal from office and disqualification to hold any office or trust or profit under this Commonwealth, I would ask you to please join me in co-sponsoring this legislation."
The legislative threat to impeach a majority of Pennsylvania Supreme Court justices may be an incendiary delay tactic to impede the redrawing of the House district lines before the state's 2018 primary season begins. The state's high court ordered the lines redrawn by this Friday: either the red-run legislature would do it or a court-hired election law expert would step in.
But the threat of a judicial coup to preserve political power also appears to be an emerging strategy Republican-gerrymandered states are using to preserve their power. A similar drama is unfolding in North Carolina, where state and federal courts have ruled, in separate cases including a U.S. Supreme Court decision, that its congressional and state legislative maps were unconstitutional gerrymanders—because the GOP used voters' race to create districts that also resulted in a red supermajority delegation.
As Ari Berman noted for Mother Jones, 14 voting-related laws passed by North Carolina's red-led state legislature have been overturned since 2011—when that state, like Pennsylvania, aggressively redrew political district lines to enshrine supermajority red delegations.
"Now the [North Carolina] legislature is striking back with an effort to radically transform the makeup of the state's courts," Berman wrote last month. "Courts have overturned 14 laws passed by the legislature since 2011, including redistricting maps for the House of Representatives and the state legislature that one federal court called 'among the largest racial gerrymanders ever encountered by a federal court.' Sweeping voting restrictions passed by the legislature in 2013 suffered a similar fate, with a federal appeals court saying they targeted 'African Americans with almost surgical precision.' The legislature's Republican supermajority hasn't fared any better in state courts, which have blocked GOP efforts to strip teachers of tenure and to prevent the state's Democratic governor, Roy Cooper, from appointing a majority of commissioners on state and local boards of elections."
So what are North Carolina Republicans doing to preserve their political power, beyond their efforts to rewrite the rules of voting to favor their base and undermine their opponents? They are seeking, Berman wrote, "to transform the state's courts by gerrymandering judicial maps to elect more Republican judges, preventing [Democratic Gov.] Cooper from making key judicial appointments, and seeking to get rid of judicial elections altogether."
There's a larger pattern here that can also be seen in the attacks on law enforcement and the legal process in Washington by President Trump and his loyalists in Congress, who continue to impugn the ongoing investigation by special counsel Robert Mueller into the Trump campaign's collusion with Russia. Constitutional boundaries long considered red lines not to be crossed—because they relate to the separation of powers, and governing checks and balances—are being breached.
What's emerging is a growing wave of attacks on the judiciary by hyper-partisan Republicans who feel the courts are impeding their power and agenda. The first signs of this dynamic may have been the refusal by U.S. Senate Majority Leader Mitch McConnell to consider President Obama's final Supreme Court nominee, Merrick Garland, during Obama's last year in office.
The latest drama to feature the prospect of a judicial coup—removing five of seven state Supreme Court justices—is in Pennsylvania. This is the only state in 2018 where court rulings on extreme Republican-led gerrymandering are poised to see new U.S. House districts created that would lead to fairer elections—and likely Democratic pickup of several seats.
Last month was North Carolina. This month it's Pennsylvania. Where the next GOP attack on the judiciary will come is an open question. But you can be sure it will come. When a political party is cornered and feeling desperate, it will resort to desperate measures like judicial coups.