Dozens Of Protesters Arrested At North Dakota Pipeline Demonstration
@reuters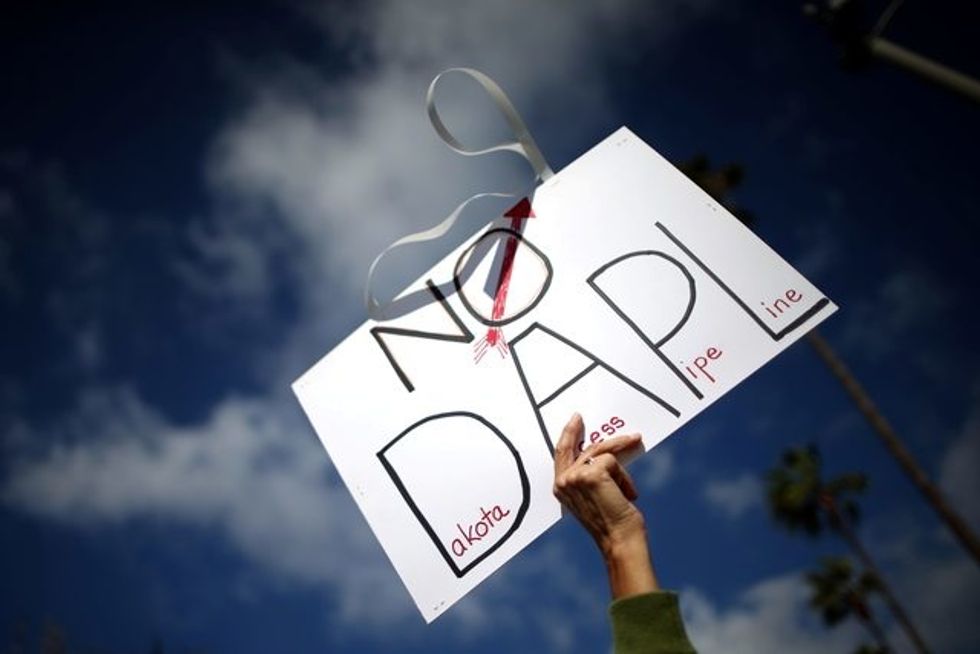 (Reuters) – More than 80 protesters were arrested on Saturday after clashing with police near a pipeline construction site in North Dakota, according to the local sheriff's department, which said pepper spray was used on some demonstrators.
The 83 protesters were arrested near the site of the Dakota Access pipeline on numerous charges ranging from assault on a peace officer to rioting and criminal trespass, the Morton County Sheriff's department said in a statement.
Law enforcement was alerted early Saturday morning to an SUV on private property near the pipeline construction site and found that four men had attached themselves to the vehicle, according to the sheriff's department. Police removed the men from the SUV before arresting them.
Later, around 300 protesters marched toward pipeline construction equipment and tried to breach a police line keeping them from the equipment, the sheriff's department said.
Some were pepper sprayed by law enforcement. One protester attempted to grab a can of pepper spray from an officer, resulting in the officer being sprayed.
The demonstration closed a section of a local highway, but it was reopened on Saturday afternoon.
"Today's situation clearly illustrates what we have been saying for weeks, that this protest is not peaceful or lawful," sheriff Kyle Kirchmeier said in a statement.
"It was obvious to our officers who responded that the protesters engaged in escalated unlawful tactics and behavior during this event. This protest was intentionally coordinated and planned by agitators with the specific intent to engage in illegal activities."
The Standing Rock Sioux tribe and environmental activists have been protesting construction of the 1,100-mile (1,886-km) pipeline in North Dakota for several months, saying it threatens the water supply and sacred sites. Numerous protesters have been arrested near the pipeline.
It was unclear who organized and led the protest. A spokesman for the Standing Rock Sioux could not immediately be reached for comment.
The pipeline, being built by a group of companies led by Energy Transfer Partners LP, would be the first to bring Bakken shale from North Dakota directly to refineries on the U.S. Gulf Coast.
Supporters say it would provide a safer and more cost-effective way to transport Bakken shale to the U.S. Gulf than by road or rail.
Earlier this week, pipeline equipment in Iowa was intentionally lit on fire causing about $2 million in damage, according to local authorities and company officials.
(Reporting by Timothy Mclaughlin in Chicago; Editing by David Gregorio)
Photo: Protesters demonstrate against the Energy Transfer Partners' Dakota Access oil pipeline near the Standing Rock Sioux reservation, in Los Angeles, California, September 13, 2016. REUTERS/Lucy Nicholson/File Photo