Putin Igniting Dangerous Nationalist Fervor Says Top U.S. General
@AFP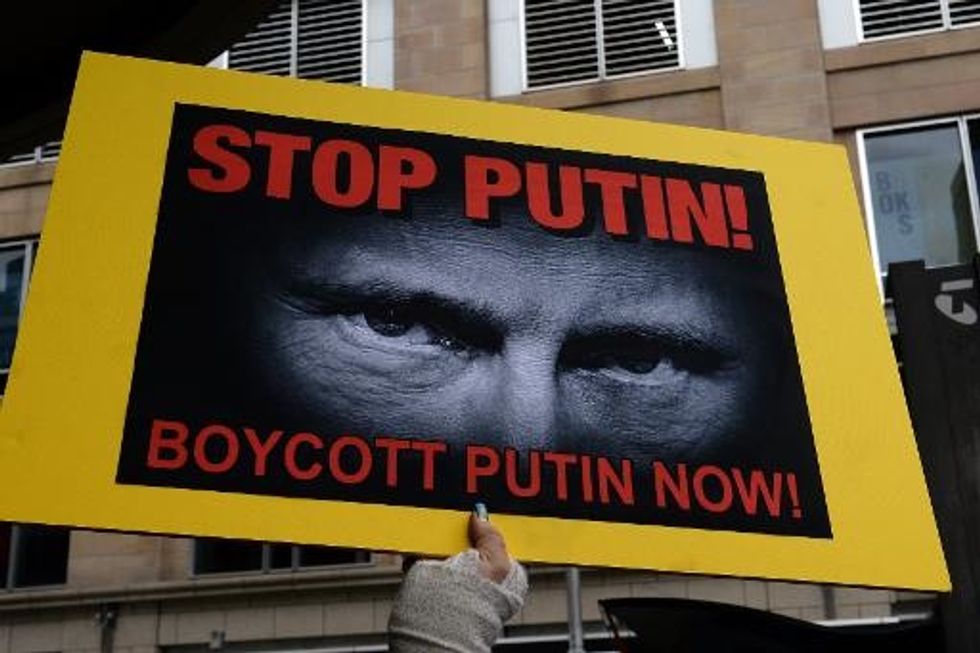 Washington (AFP) — Russian President Vladimir Putin's military intervention in Ukraine is fanning nationalist sentiments that could spread across the region with dangerous, unpredictable consequences, the U.S. military's top officer said.
General Martin Dempsey, the chairman of the U.S. Joint Chiefs of Staff, said Putin was pursuing an "aggressive" agenda that flouts sovereignty and seeks to address alleged grievances harbored by Moscow since the demise of the Soviet Union.
"If I have a fear about this, it's that Putin may actually light a fire that he loses control of," Dempsey said at a security conference in Aspen, Colorado.
Speaking hours after U.S. officials accused Russia of firing artillery across the border at Ukrainian troops, Dempsey said Putin has appealed to Russian-speaking enclaves and bolstered his country's military in a bid to reassert Russian power.
"There's a rising tide of nationalism in Europe right now that's been created in many ways by these Russian activities that I find to be quite dangerous," Dempsey said in remarks broadcast by the Pentagon.
Nationalism "can be a very dangerous instinct and impulse," he said.
"My real concern is, having lit this fire in an isolated part of Eastern Europe, it may not stay in Eastern Europe," he said.
Under Putin, the Russians "are clearly on a path to assert themselves differently," not only in Eastern Europe but towards the rest of Europe and the United States, he said.
"And he's very aggressive about it. He's got a playbook that has worked for him a few times," Dempsey said.
"If you're asking me if there's a change in the relationship (with Russia), I would have to say absolutely," the general said.
Since 2008, Russia's armed forces have increased their combat readiness while investing in "strategic" weapons such as long-range aircraft and cruise missiles, according to Dempsey.
Even amid international outrage over the downing of a Malaysian airliner over Ukraine, which Western governments suspect was shot down by pro-Russian separatists armed by Moscow, Dempsey said Putin is "actually taking a decision to escalate" instead of defusing the conflict.
He said senior U.S. government officials were weighing what assistance to provide the Ukrainian government, which has asked for weapons and electronic jammers to counter missiles employed by the separatists.
"That debate is ongoing," Dempsey said.
Washington was also discussing with its NATO partners how to respond to Moscow's "provocation" by strengthening allied military forces across Europe, he said.
There is "a recognition that we've been a little bit complacent about Europe for probably the last 10 or 15 years," Dempsey said.
AFP Photo/Saeed Khan
Interested in world news? Sign up for our daily email newsletter!