Putin: Russia Has Right To Use 'All Means' In Ukraine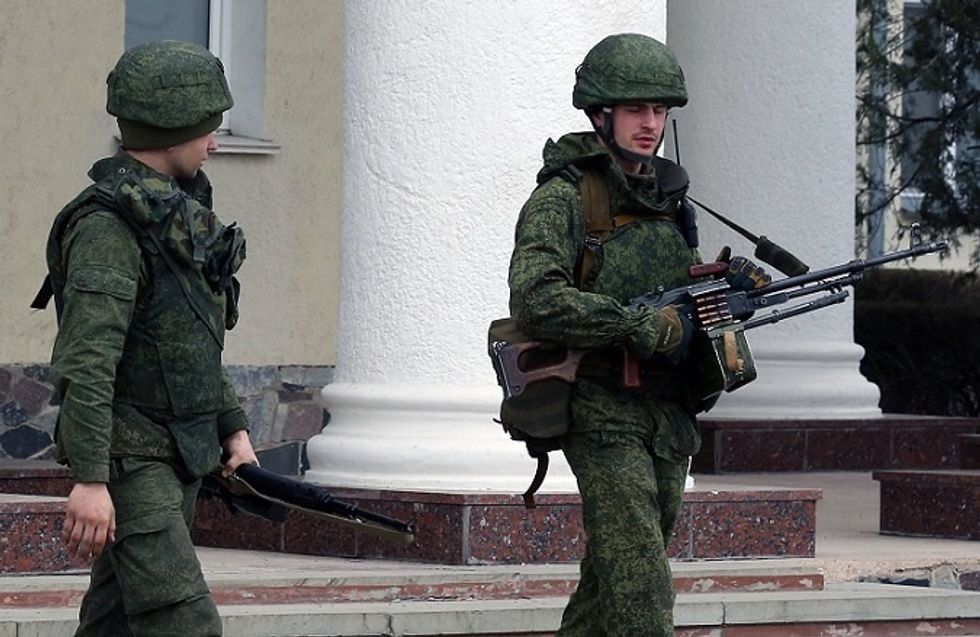 By Carol J. Williams, Los Angeles Times
KIEV, Ukraine — Russian President Vladimir Putin insisted in a televised interview Tuesday that he has the right to use "all means" necessary to protect Russians in Ukraine, but said he had yet to deploy additional forces to the Crimean peninsula where Russia maintains its Black Sea naval fleet and other military installations.
The Kremlin leader said he did not recognize the authority of Ukraine's parliament and considered fugitive ex-President Viktor Yanukovich, now taking refuge in Russia, to be the legitimate leader of Ukraine. Putin's comments were his first since Russian troops seized strategic Crimean venues, setting off an international scandal.
Putin laid out his position on the recent tumult in Ukraine as U.S. Secretary of State John F. Kerry flew to the country to show support for its new leaders, who filled the power vacuum in Kiev after Yanukovich fled the capital city on Feb. 21.
In a small gathering with journalists from Russia's state-controlled media, Putin said he rejected the authority of Kiev's newly named interim government, accusing the recently empowered opposition politicians of having staged "an anti-constitutional coup."
Putin echoed the line of Russia's U.N. ambassador, Vitaly Churkin, on Monday, when he said the parliamentary authorization for use of force by Russian troops on Ukrainian territory had been requested at the urging of Yanukovich. The ousted Ukrainian ex-president has been seen only once since fleeing what he contends were threats to his life 11 days ago, at a press conference in the southern Russian city of Rostov-on-Don, near the border with Ukraine.
Both Putin and Churkin indicated that the Kremlin's support for Yanukovich is lukewarm at best. Putin said the Ukrainian's political career was "finished" and that Moscow granted him asylum to save his life.
Yanukovich spurred the three-month rebellion that eventually drove him from power when he refused to sign an association agreement with the European Union that had been under negotiation for three years. Ukraine's urban and Western-oriented residents want closer ties with Europe, while the Russian-speaking east wants to maintain the country's traditional dependence on economic integration with Russia.
Russian politicians and media have cast the protests that turned Kiev's Independence Square into a deadly face-off with Yanukovich's corrupt government as a "bandits' coup." They say the Russian minority in the country — about 17 percent of Ukraine's 46 million people — were exposed to reprisals by the victorious opposition forces.
No incidents of ethnic violence have been reported, but Moscow's constant drumbeat of warnings about dangers posed by "radicals" and "fascists" now running Kiev instilled widespread fear and rebellion among Russians, who are a majority in Crimea.
Putin said in his news conference that he didn't believe he would need to deploy troops to eastern Ukraine, where cities such as Kharkiv, Donetsk and other industrial strongholds have also been wracked by pro-Moscow demonstrators in recent days.
The Kremlin also announced Tuesday that military exercises involving 150,000 troops ordered last week had concluded and Russian forces were returning to their bases.
The announcement of an end to the military maneuvers, which had been scheduled to run only through Monday, may have been an attempt to mollify Western governments that have insisted Putin take steps to de-escalate the dangerous armed face-off gripping Crimea.
On Tuesday, an Israeli journalist videoed a confrontation between Ukrainian military troops marching on a Russian armed patrol around the Ukrainians' air force base in the town of Belbek, near Sevastopol. The troops demanded that they be allowed back in to their posts. A handful of Russian troops were standing guard at the base entrance and fired warning shots over the Ukrainians' heads, threatening to shoot at their legs if they tried to get by the roadblock.
In a further sign of the eroding relationship between Russia and Ukraine, the Gazprom energy behemoth announced that it was cutting its 30 percent subsidy to Kiev on gas exports because the country is in arrears on payments for past shipments to the tune of $1.55 billion.
Photo: Sergei L. Loiko/Los Angeles Times/MCT